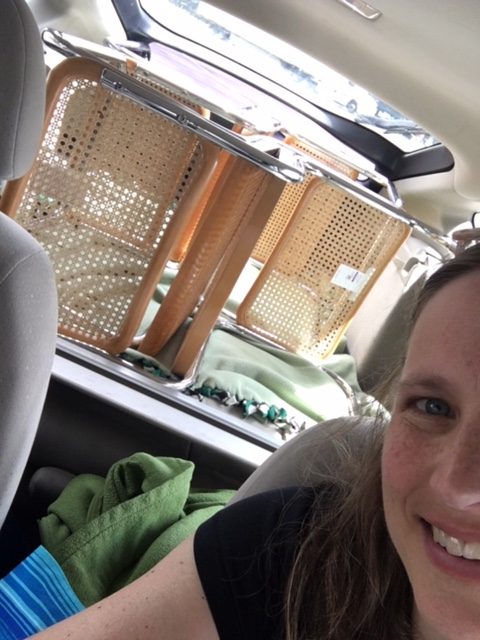 I did sell the vintage suitcase that I mentioned in the last blog post, as well as one more Thorns soccer ticket. (I've been getting these for free through a 76 gas station promotion.) But the biggest sale of the week was a set of four knock-off Breuer style chairs that I picked up at the Albany, Oregon Goodwill, and proceeded to sell within two hours through Facebook Marketplace. If only it was always that easy.

I got together with my friend Lise to parallel play while we both worked on our laptops. Instead of going to a pricey café, we hit Ikea to enjoy the free coffee offered through their Ikea Family program.

I use the term "parallel play" to describe when a friend and I get together socially, but instead of chatting we both work on our individual projects. Of course, we catch one another up on our lives during the drive, but once the laptops open, we focus on our own tasks.

I also recycled some crusty AA batteries from some Goodwill Furbies and Lise returned some towels.

I was on a solo road trip the other day and working on a ravenous hunger. I didn't feel like spending a significant amount of money, so I made a plan to stop into a Costco for one of their infamous $1.50 hotdogs. (Yeah, it's not the healthiest, but I rationalize it by piling on the sauerkraut and choosing straight seltzer instead of a sugary soda.) I was also running low on olive oil.

However, I was saved from spending the $1.50 by a boon of free samples, the likes of which have never been seen. It's kind of a blur of tortellini and beef jerky, but I would estimate that there were close to twenty sample stations, yet miraculously no lines!

I then hit the water fountain and was back on the road. Stomach stated and wallet intact.

I returned my library edition of A Woman of No Importance and picked up a hold copy of The Secret Keeper, my husband brought home an armload of used bubble wrap from his workplace, I sold one of my son's unwanted soccer scarves through my eBay account, I picked up a paid writing assignment, I scavenged the fridge for makeshift meals and I accepted a neighbor's hand me down air conditioner that's better than what my son is currently using.

I didn't buy a Lear Jet or a vulgar gold-plated apartment in the sky.
Now your turn. What frugal things have you been up to?
Katy Wolk-Stanley    
"Use it up, wear it out, make it do or do without."