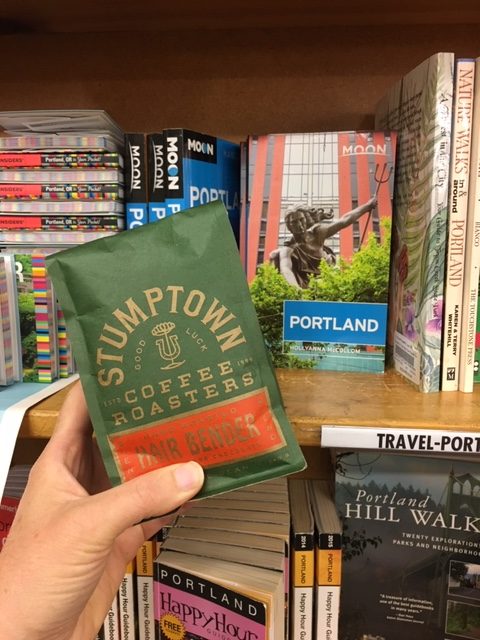 I sold a few things here and there, including a pair of cute wooden clogs, a vintage light globe, a cute printed metal recipe box and more free Thorns soccer tickets. I also turned in a paid writing assignment and listed a few more things on eBay, Facebook Marketplace and Craigslist. No one of these income hacks will individually transform me into a Rockefeller, but they're still worth the effort.

I attended a co-worker's baby shower that was being held in a lovely downtown restaurant. I made sure to eat ahead of time and just ordered a coffee. (I did chip in $5 towards the total.) I used store credit from Powell's Books to pick up three different CatWings books as a gift for the baby's big sister. It was nice to see people outside of work and to celebrate the joy of new life.

I was dropping my daughter off downtown and realized that Sunday evening was the perfect time to stop into Powell's City of Books as free parking was rich and plentiful. You may remember that I'd sold them a couple boxes of books after gleaning garage sale leftovers a few weeks back, which left me in possession of some juicy store credit.

I love books, and pretty much always have a couple going at once, but I'm a read-em-and-return-em kind of library gal. However, Powell's sells stuff besides books, including . . .  locally roasted coffee beans for the tourist crowd! Which means I was able to magically transform other's people's garage sale leftovers into delicious caffeine liquid.

Just like Rumplestiltskin.

I finished reading a library copy of the marvelous The Secret Keeper, I was able to hand a lightweight eBay box to the mail carrier instead of driving to the post office, I picked up a library DVD of Coal Miner's Daughter after putting it on hold for my daughter and I bought ice cream at New Season's Market, as they put one brand on sale every weekend in the summer, which bring their food down to my budget as there's no way I can swing $8 for a half gallon of ice cream!

I didn't buy a Lear Jet or a vulgar gold-plated apartment in the sky.
Now your turn. What frugal things have you been up to?
Katy Wolk-Stanley    
"Use it up, wear it out, make it do or do without."