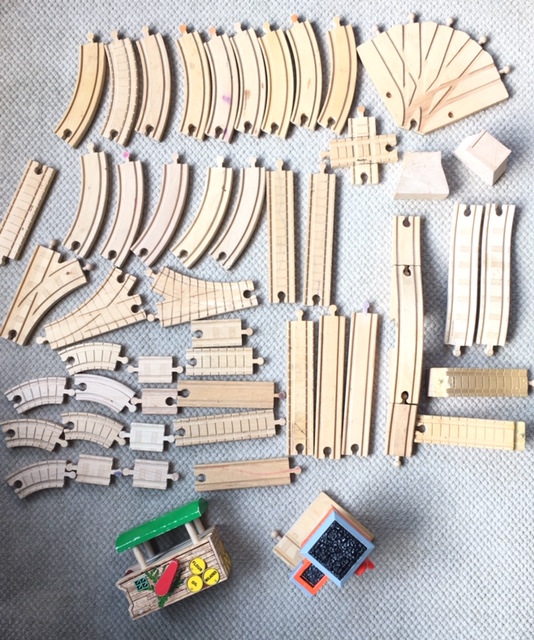 I didn't sell much this week, although I made my favorite sale of 2019, which was the ornate wooden feet from my couch-that-must-not-be-named for $35 on eBay! Considering that I spent $50 on said couch, it's a miraculous work of alchemy.

My friend Lise needed to go to the fabric store, and asked if I wanted to tag along and then hit up the nearby pay-by-the-pound Goodwill Outlet store together.

Hmm . . . let me think that over. I'd just watched a couple of The Recycled Life, YouTube videos that night before was itching for a trip to "the bins." So yes, my answer was an emphatic YES!

I started out slow, and probably spent a good twenty minutes poking through the blue wheeled bins before getting into the groove. I ended completely filling my blue Ikea bag, which seriously dug into my shoulder, especially after I hit a deep pocket of heavy Brio track pieces.

Here's what I bought:

– 54 Brio and Thomas The Tank pieces.
– One new looking Hydroflask water bottle.
– Two stuffed animal/blanket "lovies."
– One Scrabble mug with the letter "J."
– Four brand new Mikasa "fromage" plates.
– One Nasa dress-up jumpsuit.
– One new with tags Disney park stuffed animal.
– Three Calico Critters animals.
– One pair of Chico's pants for myself.
– One large macrame bunting.
– One mini stainless steel bowl.
– One antique bedknob.
– One Electrical something or other.
– One vintage rosary.
– One antique Blue Ball jar that reads "Improved."
– One water bottle lid to replace one that my daughter broke.

Total: $44 for everything, including Lise's stuff.

I then spent a pleasant few hours on the front porch cleaning, photographing and listing said items on Facebook Marketplace and eBay. My happy place.

Lise and I pulled the car over near the fabric store as there was a row, probably 100 yards long of wild blackberries heavily laden with ripe berries. Neither of us had a container to collect the berries, but we did help ourselves to the berries for a good ten minutes or so. My plan is to go back tomorrow in long sleeves and closed toe shoes for more. Only one bandaid was required.

I stopped at the Franz Bakery outlet store in a quest to see if they sold discounted gluten-free bread. Unfortunately theirs was just as expensive as any regular store. (Five dollars!) However, I discovered that they have a bargain area in the back stocked with mostly $1 loaves including their fake Dave's Killer Bread and other whole grain items. I've been buying bread from The Dollar Tree lately, but it's super hit or miss, so I think I'll switch this errand over to Franz.

I didn't buy a Lear Jet or a vulgar gold-plated apartment in the sky.
Now your turn. What frugal things have you been up to?
Katy Wolk-Stanley    
"Use it up, wear it out, make it do or do without."