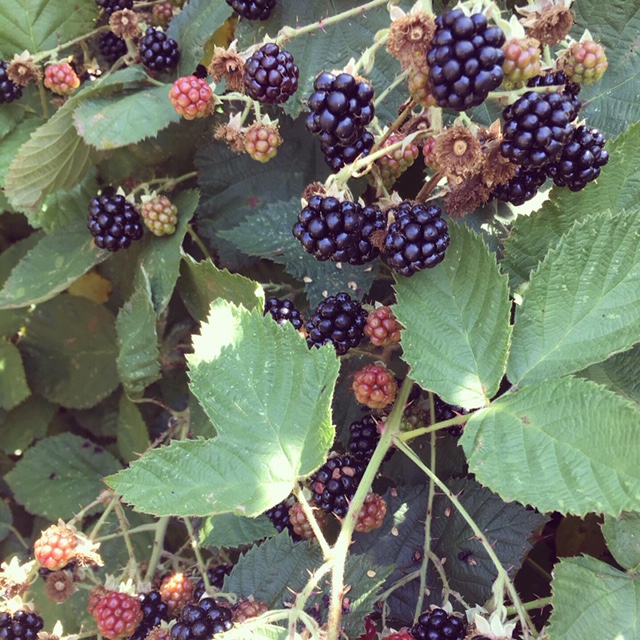 I sold a random hodge-podge of items which included a Marimekko tray that I picked up from the Seattle Goodwill a few months ago, four more Thorns soccer tickets and a macrame wall hanging that I nabbed from a Goodwill pay-by-the-pound outlet store, (aka "the bins.") I turned in some paid writing and thrifted a few more pieces to sell both on eBay and Facebook Marketplace.

I returned to my newly discovered wild blackberry patch with bowls and a picking bucket that I McGuyver-ed from a milk jug. I braved the poky vines, (after first donning a protective layer of jeans, long sleeves and sneakers) and filled three large bowls with the sweet free berries. Enough to make jam, or . . . to make a single blackberry coffee cake and then eat by the handful.

I brought a still warm bowl of berries to my friend Lise as she was with me during the discovery of this secret garden.

I'll go back later this week as I love berries, but rarely splurge on them.

My son is working a food service job this summer and gets to bring home leftovers, which means that I've been opening my fridge to discover such delights as poached salmon, shredded jerk chicken, turkey meatballs and fried rice! It's like the Food Fairy has chosen to grace us with daily visits!

My husband and I started watching the third season of The Handmaid's Tale through my friend's Hulu account, I listened to the audiobook of Pride and Prejudice through the free Libby library app, I donated a bin of unwanted but perfectly good stuff to Goodwill and I bought a few too many half-off pints of Ben & Jerry's from New Seasons Market, (they mark one brand 50%-off every weekend throughout the summer)

I didn't buy a Lear Jet or a vulgar gold-plated apartment in the sky.
Now your turn. What frugal things have you been up to?
Katy Wolk-Stanley    
"Use it up, wear it out, make it do or do without."