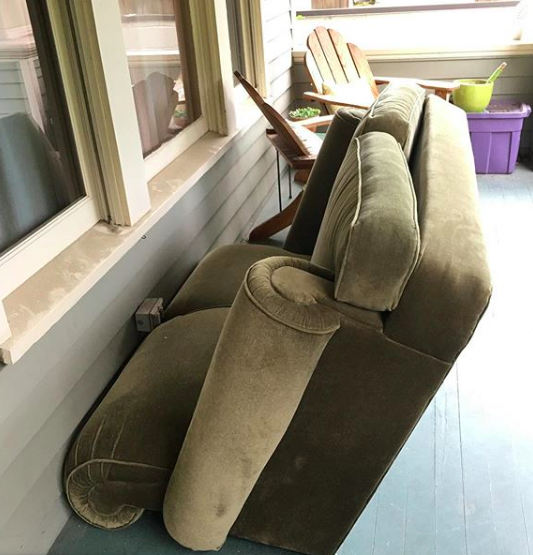 Sales this week were not too shabby. I finally sold the thrifted Yakima bike rack system, as well as another Starbucks travel tumbler, a carved piece of wood from an antique piano, some brand new racquetball equipment (that I plucked from a free pile) and three more Portland Thorns soccer tickets. (Most of the tickets are for August games, so I expect to sell the bulk of them next month.) Once again, I got the tickets for free by taking advantage of an easy 76 gas station promotion.)

I finally got mad enough at my couch to heave it out of the living room and onto the front porch. Some mothers can harness Hulk-level strength to lift automobiles off their precious children, but my muscular prowess is reserved for urine scented furniture.

Yes, this is the $50 couch that I just bought mere months ago. The couch I bought to replace my beloved yet cat urine soaked vintage couch. Because as much as I laundered the cushion covers, doused gallons of enzymatic cleaner onto every non-launderable surface and even pressure washed the seat cushions, it still emitted a slight funk.

NOT OKAY, PEOPLE!

I'd rather have zero couches in my living room than a living room that everyone avoids.

However, this couch had really ornate carved wooden feet that were easy enough to remove. I'm asking $35 on eBay*. Edit: I sold the couch feet!!!!!!!!!!!

Addendum: The cats (Zelda and Hyena) are fine, and have been deemed healthy by the veterinarian. We added an extra litter box to the nearby bathroom and have not had any inappropriate urination since. It just took awhile for my decision making brain to catch up to my irate nose.

My friend Dezsea was gifted an absolutely ginormous TV and generously offered us her hand-me-down plasma screen TV. It'll replace the four-foot thick/not so energy efficient version that we currently watch. I thanked her with a Goodwill gift card. Thank you, Dezsea!

Our next door neighbors replaced their five-year-old air conditioner and offered it to us. (there was nothing wrong with it, they just worried that it was getting old.) Since my son's window unit is easily twenty years old, we were happy to accept their generous offer. I thanked her with a latch hook rug kit for their energetic granddaughter.

Both these items will be more energy efficient than their predecessors, and I look forward to some savings. Sometimes it's nice to be on the receiving end.

I used a 2-for-1 coupon to treat my son to some slices of pizza, I thrifted a fancy Arcteryx brand backback, which I quickly cleaned up and listed on Facebook Marketplace, I made another batch of homemade Everything But The Bagel mix, I finished my library copy of Lost Roses and started a Lucky Day copy of The Lost Girls of Paris, and I stopped into New Season's Market for ice cream, balked at the $7.50 price tags and walked the extra two blocks to Fred Meyer for their $2.50 store brand.

I didn't buy a Lear Jet or a vulgar gold-plated apartment in the sky.
Now your turn. What frugal things have you been up to?
Katy Wolk-Stanley    
"Use it up, wear it out, make it do or do without."
Click HERE to follow The Non-Consumer Advocate on Twitter.
Click HERE to follow The Non-Consumer Advocate on Instagram.
Click HERE to join The Non-Consumer Advocate Facebook group.
Click HERE to follow The Non-Consumer Advocate on Pinterest.
This eBay link is an affiliate link, so if you choose to buy anything from eBay over the next few days I'll make a few cents at no extra cost to you.