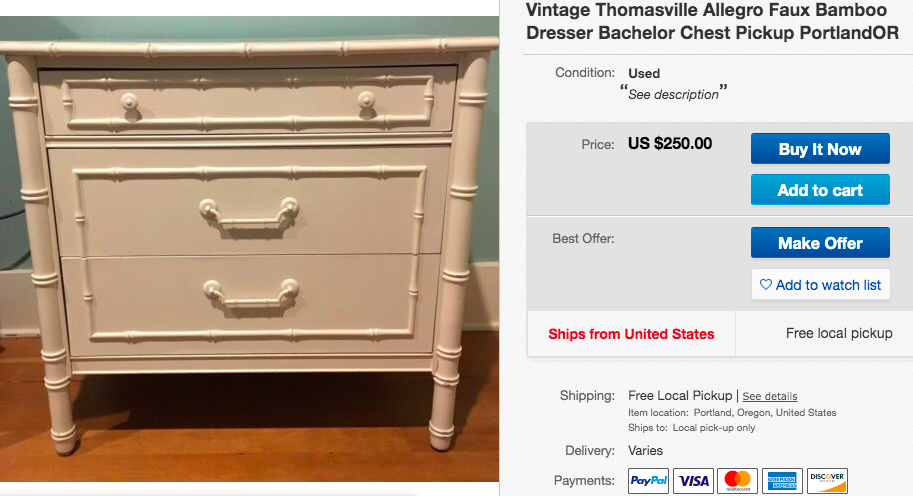 I continue to sell a few things here and there including a vintage picnic basket, some midcentury salad tongs and a Portland Thorns scarf.

I listed a small dresser on eBay, which is a first for me as I normally sell furniture locally through Craigslist and Facebook Marketplace. I have zero interest in packaging and shipping enormously heavy items, so I marked this piece as "local pickup only" as an experiment. It's a semi-desirable piece, so I figured I'd try to widen the net. It's from the vintage (but currently popular) Thomasville "Allegro" line, which people love to repaint in shiny bright colors, so I'm hoping this will help find a buyer who's looking for this exact piece.

Needless to say, it's a $4.99 Goodwill find.

I had a buy-one-get-one-free coupon for a nearby pizza joint, so my son and I walked the half-mile or so to the restaurant. I knew my son would appreciate the pizza slices more than I would, so I slammed down a PB&J before leaving the house. I was able to treat him to dinner for $3.25 (plus $1 tip) and ended up accepting a free slice as they'd initially messed up his order.

We also walked past a free box which included a cool baseball cap for him, as well as two cheese shaped cardboard cat scratchers, which I normally cost $27 apiece. I came home and washed up the cap and subjected the scratchers to a thorough inspection before sprinkling them with fresh catnip and setting them next to our couches.

Not bad for $4.25!

I bought tickets for my son and I to visit New York City for the second half of August. My son'll be hanging out with his cousin, and I'll be helping my sister set up her Bronx high school classroom where she's been hired to teach Earth Science.

I should have bought the tickets ages ago, but was unsure of dates, which means that I have no crazy cheap fare to brag about. However, I did watch fares closely enough to know to I needed to pounce when they hit just (ha!) $400 apiece. I stalked costs through Google Flights, which I like better than the popup hell that is Expedia or Travelocity.

There's inevitable buyer's remorse when booking travel, as there will always be a cheaper flight, but in the end it's done and time to move on. To fun stuff like what I can only assume is the joy of a non-air conditioned NYC classroom in late August.

I started listening to Jeanette Wells' "The Silver Star" through the free Libby app, my daughter and I went in person to her medical clinic to investigate why a bill was being denied by insurance and I bought nothing except groceries. I'll need spending money for my NYC trip!

I didn't buy a Lear Jet or a vulgar gold-plated apartment in the sky.
Now your turn. What frugal things have you been up to?
Katy Wolk-Stanley    
"Use it up, wear it out, make it do or do without."
Click HERE to follow The Non-Consumer Advocate on Twitter.
Click HERE to follow The Non-Consumer Advocate on Instagram.
Click HERE to join The Non-Consumer Advocate Facebook group.
Click HERE to follow The Non-Consumer Advocate on Pinterest.
Disclosure: The eBay link is an affiliate link, which means that I earn a small percentage from any purchases you make through eBay within a few days of clicking on my link. This costs nothing extra to you.
The Amazon link is not an affiliate link, as I would prefer that people buy used or buy local.