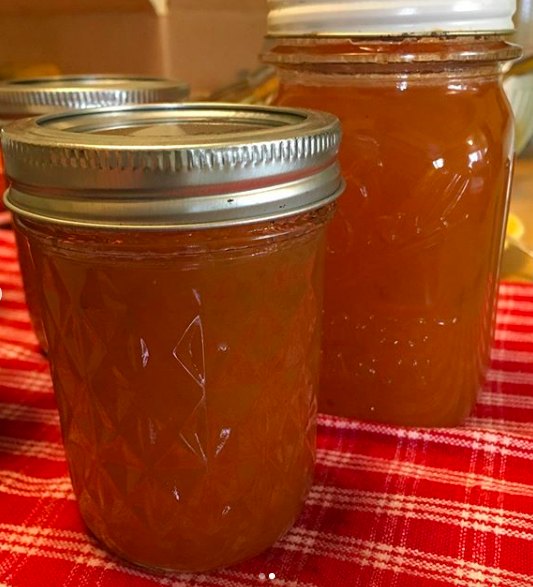 I sold a few things here and there including some Doc Martin Mary Janes, 50 Fiestaware paper napkins, a small set of vintage dishware, a couple mugs and the last of my free general admission Thorns soccer tickets. (I still have a few miscellaneous assigned Thorns seats left, but those are harder to sell.) I also sent out a two invoices for paid work.

My son and I drove to the Oregon coast for the day and stopped at our favorite Mexican food cart in Tillamook. They had large boxes of fresh yellow plums with a "free" sign, so I filled a small bag. I started up a conversation with the owner's adult daughter and she ended up offering me an entire large box of the plums, which I gratefully accepted.

I ended up making a dozen or so jars of jams and then cutting up the rest for the freezer. I would estimate that there were approximately 73.4 bajillion plums and it took an entire day to process them all, but nevertheless I persisted.

I treated my kids (plus my daughter's girlfriend) to a night at the movies, but kept the cost under control by going on 2-for-1 Tuesday. So yeah . . . I paid $8 for the four of us to see The Goonies on the big screen! I'd never seen the movie before and actually really enjoyed it.

I enjoyed a simple morning sipping home brewed coffee with my childhood best friend Carol, I cleaned out the impressively filthy interior of my car with a standard vacuum cleaner, I stopped into Goodwill to return a pair of Nike sneakers that didn't properly fit my son, (possible with the receipt and original price tag still attached) I picked up a Blues Brothers mug and vintage Finish casserole dish to sell, I made an appointment to get a free inspection of a slowly leaking tire at Costco, (part of their warranty) I saved the skimmed-off plum jam foam to use in a chicken marinade, I foraged more wild blackberries with my friend Lise, I listened to the audiobooks Why Not Me and Silver Star through the free Libby app and I picked up a bag of $1 bagels from Dollar Tree.

I didn't buy a Lear Jet or a vulgar gold-plated apartment in the sky.
Now your turn. What frugal things have you been up to?
Katy Wolk-Stanley    
"Use it up, wear it out, make it do or do without."