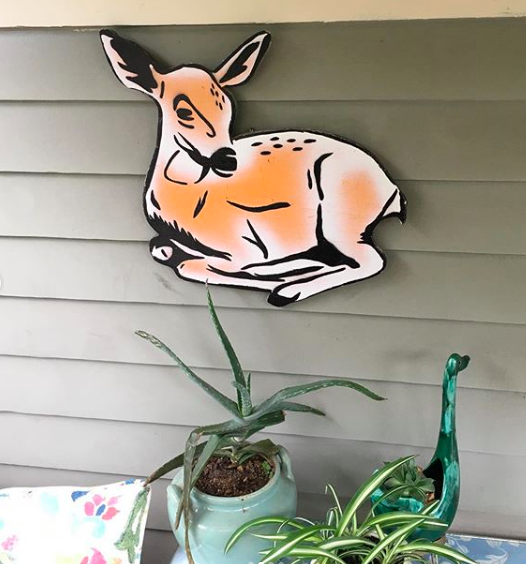 My Facebook Marketplace and eBay sales picked up this week, and I sold a number of items including an Arcteryx backpack, some Yakima bike rack pieces, a pair of Doc Martins, a Jonathan Adler wine stopper, a Portland Timbers scarf, one soccer ticket and the $4.99 vintage dresser that I picked up a few weeks ago.

I also stopped into a couple Goodwills yesterday while running errands and picked up an armload of fresh inventory. Especially impressive was a $4.99 bag of collectable Funko Pop figures which I've pieced out into six different eBay lots. I should make a couple hundred from this find alone! I also grabbed an $4.99 All-Clad sauté pan, which should sell this morning.

I haven't been in the mood to do any cooking lately, but still force myself to prepare inexpensive meals. (My husband works 5 P.M. to 5 A.M., so I do all the cooking.) I fired up the ol' Instant Pot and pressure cooked white beans for a batch of The Prudent Homemaker's white bean rosemary soup as well as some black beans to stash in the fridge. I also pulled two packs of clearance priced chicken breasts from the freezer for some tasty marinated Asian style chicken.

Mind you, we do splurge on food here and there. For example, my 21-year-old son woke up the other day and mentioned that he was "craving jerk chicken." I did some quick internet sleuthing and found a nearby Jamaican food cart with good reviews. (Gotta love Portland's food cart scene!) An hour later my son was sitting in front of a steaming plate of jerk chicken and I was $11 poorer. Worth every penny.

My son and I are heading out to visit my sister and her kids in New York City at the end of the week. Because we have a free place to stay, being there is barely more expensive than our normal humdrum Portland existence. Just like at home, we'll buy groceries but eat some few meals out, fill up our Metro subway cards instead of our gas tank and enjoy some generally simple (read inexpensive) NYC activities.

We'll be there a couple of weeks, so you'll be able to follow along with our adventures through the blog as well as The Non-Consumer Advocate Instagram. I've reinstalled the Pret a Manger and Pain Quotidian apps on my phone as they keep sending me emails about how they "miss me" and that I should come enjoy a free coffee/baked good/some such thing. Free coffee? Twist my arm!

We'll also be celebrating my niece's 15th birthday, so I'll be treating her to a Birthday Day of Adventures. I guess I'll have to scour through The Skint to research free and almost free opportunities.

I listened to Sophie Kinsella's My Not So Perfect Life through the Libby app and then started listening to Jeanette Walls' Half Broke Horses, (both great, I highly recommend!) I thrifted a $2.99 wooden cutout of an adorable fawn which now graces my front porch, (cheap decor for the win!) I forced myself to break down and buy a swimsuit at Goodwill, which was a necessary purchase as my last one had disintegrated and become see through, (NOPE!) I was gifted a basil plant as a thank you from a neighbor, (I'd given her a large bowl of yellow plums) I chopped and planted a sprouted sweet potato, I pounced on a billowy mountain of bubble wrap that came with a guitar my son ordered from Japan, (I exclusively wrap my eBay sales in used packaging) I slathered benzoyl peroxide over pen marks on a $4.99 thrifted American Girl doll to ready her for resale, (great tip for anyone whose doll-loving kid is a budding Picasso) and I returned a blouse to Goodwill that was so voluminous as to potentially get me congratulated.

I didn't buy a Lear Jet or a vulgar gold-plated apartment in the sky.
Now your turn. What frugal things have you been up to?
Katy Wolk-Stanley    
"Use it up, wear it out, make it do or do without."
Click HERE to follow The Non-Consumer Advocate on Twitter.
Click HERE to follow The Non-Consumer Advocate on Instagram.
Click HERE to join The Non-Consumer Advocate Facebook group.
Click HERE to follow The Non-Consumer Advocate on Pinterest.
Disclosure: The eBay link is an affiliate link, which means that I would earn a small percentage from any purchases you make through eBay within a few days of clicking on my link. This costs nothing extra to you.