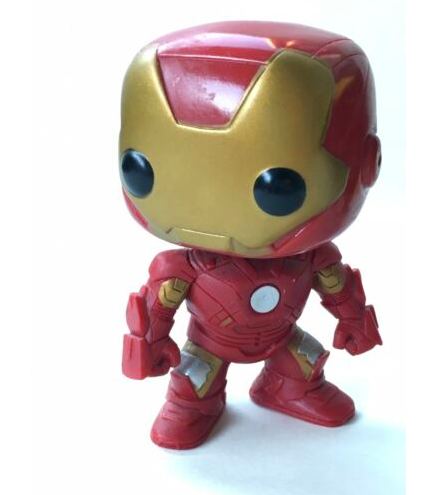 I continue to sell things at a slow but steady pace. I sold a Funko Pop Iron Man bobble head that was jumbled in a $4.99 bag of similar items, I also sold a vaseline glass sugar bowl and mustard pot to a friend, a Jonathan Adler wine stopper, an All-Clad sauté pan and a student tech thingy that I nabbed from an after-garage sale free pile. No one of these things will trigger a clickbait article titled "You'll Never Believe What This Woman Found at Goodwill," but together they add up quite respectably.

My son and I are flying out to New York City tomorrow, so I'm spending the day spinning my wheels ticking off small tasks from a lengthy to-do list. It's kind of overwhelming, but I'm hoping that this being my fourth (!!) to trip to New York over the past ten months to have a slim chance of achieving packing perfection. However, there will always be something that falls off the radar.

My son didn't have a great carry-on suitcase, so I let him choose from the three available at the West Burnside Goodwill. He wisely picked out a Samsonite "spinner" suitcase that was in almost new condition. $14.99 later and he now owns the nicest piece of luggage of anyone in the family.

I'm giddy with excitement that my sister will be able to pick us up from the airport, as it saves us $26, but mostly because we don't have to take New Jersey Railroad into Penn station. Something I'm normally 103% willing to do, but also 104% happy not to do.

I'll pack food, as well as reusable water bottles and coffee mugs for the journey. Plus I always bring a sealed treat for the overworked and underappreciated flight attendants.

I've been keeping an eye out for a used Soda Stream seltzer maker, specifically one with glass bottles. I wasn't actively looking for one, so there was no urgency to my search. I liked one that my friend Lisa has in her kitchen because it has the requisite glass bottles, but mostly because it's shaped like an adorable penguin! So there was I was perusing my local Goodwill shelves when suddenly a tall, dark and handsome penguin caught my eye. $14.99 and it included two glass bottles. SOLD! It wasn't until I got home that I realized that they sell for $380 new!

I need to buy the CO2 canister, but I can do that after I get back from New York. My new tuxedo-d boyfriend can wait for me.

I grabbed my reusable shopping bags and bought a metric ton of Winco groceries to get my husband and daughter through the first week that we're gone, (my husband works night shift and is often in a fog) I picked up a pair of high falutin' artisan crafted pepper mills to sell on eBay, I got another paid writing assignment, I gave a jar of homemade applesauce to a friend, I enjoyed a restaurant lunch courtesy of my father, I finished listening to an audiobook of Half-Broke Horses (I highly recommend!) then started listening to At The Water's Edge through the free Libby app, and I resisted the urge to get a haircut to ready myself for the trip. Nobody cares what I look like.

I didn't buy a Lear Jet and I won't be visiting any vulgar gold-plated apartments in the sky.
Now your turn. What frugal things have you been up to?
Katy Wolk-Stanley    
"Use it up, wear it out, make it do or do without."
Click HERE to follow The Non-Consumer Advocate on Twitter.
Click HERE to follow The Non-Consumer Advocate on Instagram.
Click HERE to join The Non-Consumer Advocate Facebook group.
Click HERE to follow The Non-Consumer Advocate on Pinterest.
Disclosure: The eBay link is an affiliate link, which means that I earn a small percentage from any purchases you make through eBay within a few days of clicking on my link. This costs nothing extra to you.