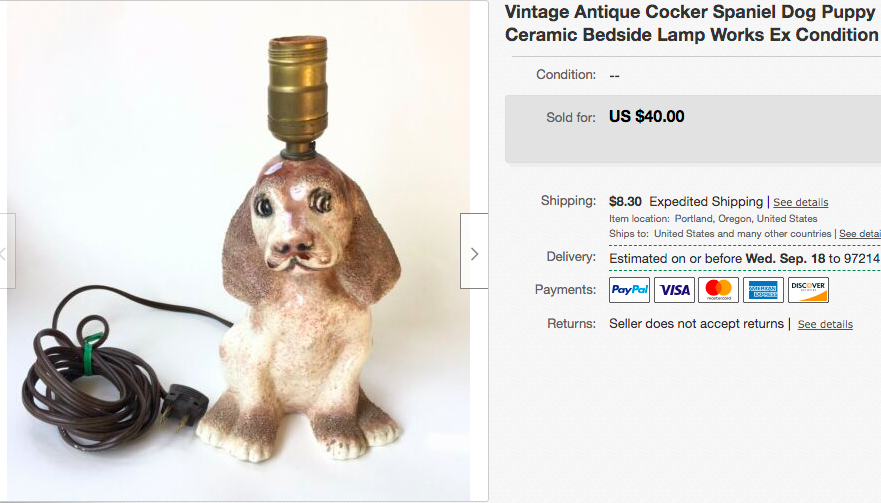 After having written that my eBay sales have been sluggish, I've actually sold a couple things over the past few days. This includes an Irish wool cap and an adorable vintage puppy lamp. The lamp was a bit of an impulse purchase as I couldn't check exact completed listings for comparison, but in the end my intuition was correct on this one. Seriously, so cute!

I also listed a few new items including a thrifted Roseville Sun and Moon planter, a free-pile bowl, a collectible spoon shelf, a cribbage board and a Fiestaware mini disc pitcher.

My neighbor is out of town and asked if I'd like her weekly CSA (community sponsored agriculture) box. My son and I picked it up last night, so I'm now the proud owner of some extremely random produce. Mind you, I'll be sure to figure out how to incorporate everything into meals, but it's a reminder of why I've never signed up for a CSA. I'm someone who needs to buy her groceries for specific meals, rather than working backwards.

I'm very grateful that my neighbor gave us her weekly allotment, but it's a bit of a head scratcher. Luckily, she forwarded me a suggested recipe email that should help.

Here's what I got:
– 3 red potatoes
– 2 small Jonagold apples
– 1 white onion
– 1 bunch of chives
– 1 bunch of fresh oregano
–  2 tomatoes
– 1 green pepper
– 1 poblano pepper

I'm switching the web hosting for The Non-Consumer Advocate over to a company that'll save me $50 per month. I got the referral from my pal Kristen over at The Frugal Girl, who swears that this company has been nothing but amazing and helpful. I tend to experience paralysis when it comes to tech decisions, so I deeply appreciate her help with this matter. She's also nudging me to switch over to a more profitable ad network, but there's some behind the scenes tech stuff that would need to happen first.

I made a decision a zillion years ago to not fully monetize The Non-Consumer Advocate, as doing so would be hypocritical to my core premise to buy used and shop locally. That's why you'll never see an Amazon affiliate link or a sponsored post for some random subscription service here. I could have made a lot of money over the past 11 years of blogging, but instead made this unprofitable choice.

One of the lift gate struts on our minivan stopped working, so my husband ordered $13.50 replacement ones and installed them himself, I cooked up a large Instantpot of black beans which served for multiple meals, (nachos, quesadillas, Mexi-bowls etc.) I snagged six bags of 58¢ clearance-priced chocolate chips, my son picked up a pair of Bose speakers for just $10 at Goodwill, I swapped out a Buy Nothing Group Soda Stream CO2 canister for a $15 full one and I'm soaking a pair of leather work gloves that I found flattened by traffic.

I didn't buy a Lear Jet or a vulgar gold-plated apartment in the sky.
Now your turn. What frugal things have you been up to?
Katy Wolk-Stanley    
"Use it up, wear it out, make it do or do without."
Click HERE to follow The Non-Consumer Advocate on Twitter.
Click HERE to follow The Non-Consumer Advocate on Instagram.
Click HERE to join The Non-Consumer Advocate Facebook group.
Click HERE to follow The Non-Consumer Advocate on Pinterest.
Disclosure: The eBay link is an affiliate link, which means that I would earn a small percentage from any purchases you make through eBay within a few days of clicking on my link. This costs nothing extra to you.