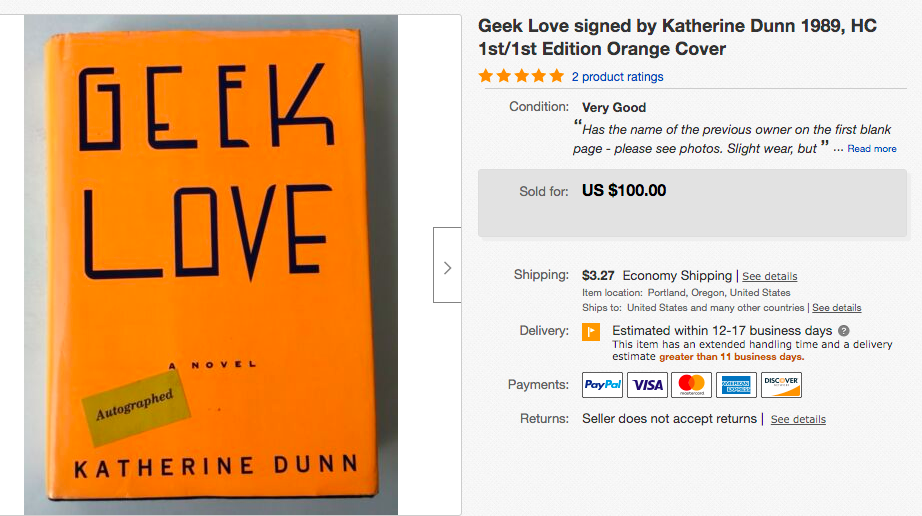 I sold an autographed copy of Katherine Dunn's Geek Love that I'd found at the Goodwill Outlet, (I accepted an offer on the book, but still made a good profit) as well as four Mary Engelbreit magazines from 1992.

I also picked up a set of four $6.99 vintage dining room chair for resale. I actually had them sold, (the person loved them so much that she Paypal'd me the money) but returned the funds when I realized they were wobblier than I first realized. I'm going to reglue a few joints and anticipate being able to sell them again without any problem. Meanwhile, my dining room is sporting that "furniture showroom" aesthetic that often invades my home.

My friend Lise and I took our laptops to Ikea so we could "parallel play" while slurping down their free coffee. I finished up an article I'd already drafted at home and then answered some important emails and sent out invoices.

It's certainly more of a schlep to go to Ikea rather than a local coffee shop, but the bean juice is free and we don't feel bad about hogging a table for an extended period of time.

Lise returned a set of twin-XL sheets that her daughter never opened, and then redeemed part of her store credit to treat me to a bagel with lox. Thanks, Lise!

My husband and I forked over two bucks apiece to see a movie at the Academy Theater here in Portland. They normally charge just $4 per ticket, but that price gets cuts in half on Tuesdays. (So yes, we see a lot of Tuesday movies!) We chose The Farewell, which was a wonderful movie about a family's decision to not tell their grandmother she was dying of cancer. Set mostly in China, it was a moving and insightful glimpse into this family's dynamics and culture.

I nipped into Costco for cat food, chicken broth and gasoline as it was close to Ikea, I picked up library hold books, I mended a sheet, I cooked up a huge batch of chicken soup with rice, I stopped into Trader Joe's and bought nothing more than their 19¢ bananas, I wore the same jeans three (four?) days in a row, I'm cooking up bulk purchased pinto beans for tonight's burrito bar dinner, I watched a couple episodes of Rich House, Poor House on YouTube, my husband attended a free social event through work that included an open bar and free hors d'eouvres, (I could have gone, but didn't feel up for an evening of small talk) and I handed my packaged book over to the mail carrier instead of driving to the post office.

I didn't buy a Lear Jet or a vulgar gold-plated apartment in the sky.
Now your turn. What frugal things have you been up to?
Katy Wolk-Stanley    
"Use it up, wear it out, make it do or do without."
Click HERE to follow The Non-Consumer Advocate on Twitter.
Click HERE to follow The Non-Consumer Advocate on Instagram.
Click HERE to join The Non-Consumer Advocate Facebook group.
Click HERE to follow The Non-Consumer Advocate on Pinterest.
Disclosure: The eBay link is an affiliate link, which means that I earn a small percentage from any purchases you make through eBay within a few days of clicking on my link. This costs nothing extra to you.