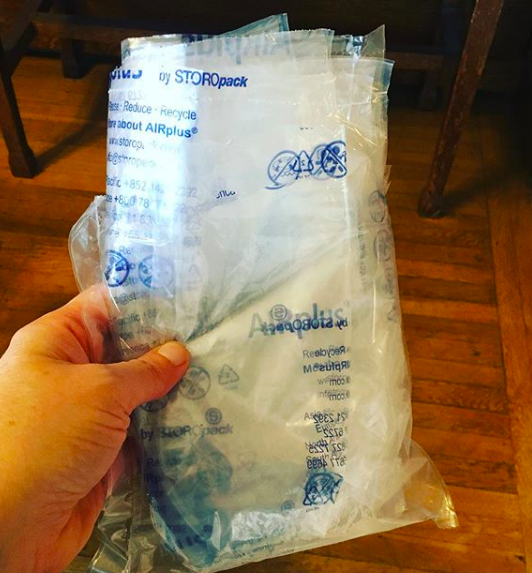 I've sold nothing, although I did pick up a cool midcentury kitchen clock and quickly listed it on eBay. I have a big blue Ikea bag of miscellaneous thrifted items to list, and may start on that task this afternoon. I'm scheduled to help my mother clean out her rental cottage between tenants, so I'll definitely bring in some side income.

Yesterday was my mother's 77th birthday, so we invited her and my step father over for dinner. I made meatloaf, mashed potatoes and peas, as well as butternut squash soup and an apple crisp. Nothing to impress an elite gourmand, but all perfectly satisfying for a crisp (aka "soggy" as I do live in  Oregon) fall celebration.

I gifted my mother with a hand written voucher for a "Birthday Day of Adventures," as well as a tin of stroopwaffels, which are her absolute favorite treat. We'll figure out a date to venture out and experience what the Portland area has to offer, but for now I'm busy digesting a particularly heavy meal.

At this point in my life, I've transitioned to giving consumables and experiential gifts instead of traditional store bought things. I may give a few thrifted items come the holiday season, but for family birthdays, it's straight up experiences and food. Very few of us need more things, yet most of us would welcome an afternoon of indulgence, food and fun activities.

I grabbed a huge bag of packaging air pillows from a local shop, but around half of them were too big to be practical. However, they were big enough to serve as dog poop bags, so I spent a few minutes cutting the tops open. My friend Lise has a small-ish dog, and was more than happy to give these items one more life. This delays her next purchase of brand new plastic bags, which would trigger the manufacture of ones made from virgin materials.

I picked up a neighbor's free framed poster, a old college friend came through town and gave me a half loaf of amazing bakery bread, (thanks, Diana!) a member of my Buy Nothing Group gifted me with a bag of bubble wrap and my daughter and I watched a library DVD of Hidden Figures.

I didn't buy a Lear Jet or a vulgar gold-plated apartment in the sky.
Now your turn. What frugal things have you been up to?
Katy Wolk-Stanley    
"Use it up, wear it out, make it do or do without."