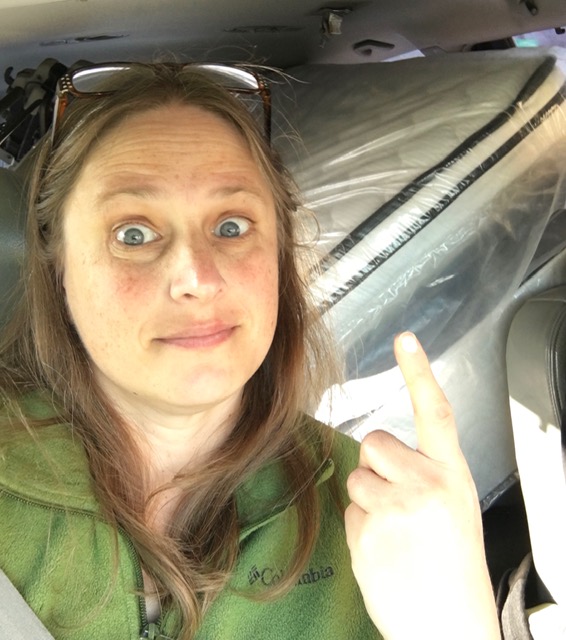 My eBay sales perked up a bit. Not an avalanche of cash by any means, but most sales were higher value items, which makes my credit union account a wee bit happier. Sure, I get a serious dopamine hit with any little sale, but I'd rather sell a $70 pair of thrifted sneakers than a jumble of $15 tchotchkes.

Here's what I sold:

– A pair of Chippendale-style brass drawer handles that I pulled from a free pile.

– A like-new pair of of sample Adidas sneakers. (Portland is "Sneaker Town," so it's not unusual to find production samples at Goodwill.)

– A studio art pepper grinder. (This went to Spain!)

– A cross stitch kit that had been languishing in my "death pile."

I'm working with my 24-year-old daughter to convert her room from its childhood configuration to something more like a studio apartment. Step one was to upgrade her circa-1960s mattress set to something more modern. I'd been eyeing the brand new ones from Goodwill for a couple of years, and finally took the leap and bought a full-size set.

I had enough Goodwill gift cards to cover most of the cost, and since my husband and I have held onto our soccer mom minivan, we were even able to transport it home with minimal fuss.

I put the old mattress set up on my Buy Nothing Group, and got a reply from a neighbor who's coming by for it this afternoon. I do try to buy nothing new, but since the mattress is made in the United States (and supports a nonprofit) I think I can file this under "J" for "justifiable purchase."

Bonus: It's really comfortable!

My daughter's girlfriend showed up with a package of gourmet bacon which prompted a "breakfast for dinner" that used up a satisfying number of random refrigerator contents. Mashed potatoes, eggs and the end of a jar of gluten-free breadcrumbs transformed into potato patties; sautéed onions and peppers garnished each plate and the last of an 18-pack of eggs scrambled themselves up and were topped with the grated end of some hardened cheddar cheese. I also served everyone a tiny bowl of leftover butternut squash soup.

I do love when a meal is able to incorporate the 10,001 tiny containers of leftovers that populate my refrigerator. And since the meal was delicious, absolutely zero sacrifice was required.

I reset our programmable thermostat to better reflect my family's current schedule, I once again set out the Halloween decorations that an old neighbor gave to me maybe 15 years ago, (without ever feeling the need to add to the collection) I renewed some Craigslist listings, I dropped off our ballots at the library which saved $1.65 (the cost of three stamps) and my friend Lise just texted to ask if I wanted a half-bunch of cilantro.

I didn't buy a Lear Jet or a vulgar gold-plated apartment in the sky.
Now your turn. What frugal things have you been up to?
Katy Wolk-Stanley    
"Use it up, wear it out, make it do or do without."
Click HERE to follow The Non-Consumer Advocate on Twitter.
Click HERE to follow The Non-Consumer Advocate on Instagram.
Click HERE to join The Non-Consumer Advocate Facebook group.
Click HERE to follow The Non-Consumer Advocate on Pinterest.
Disclosure: The eBay link is an affiliate link, which means that I earn a small percentage from any purchases you make through eBay within a few days of clicking over. This costs nothing extra to you.