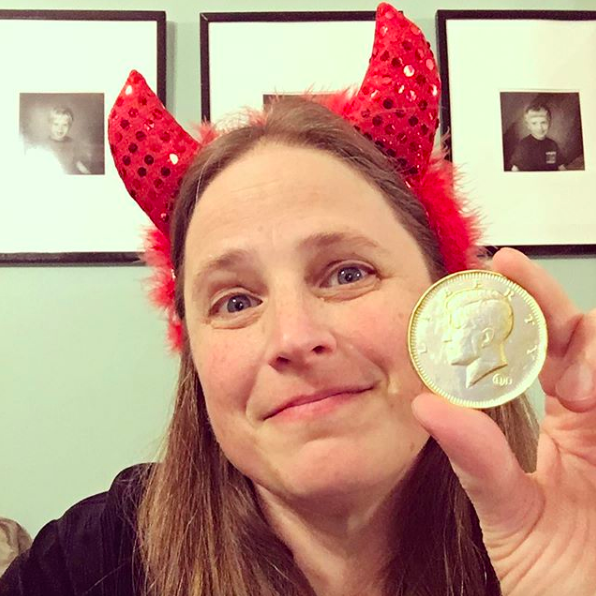 I've made a couple of eBay sales, including a North Face toddler-size goose down puffer jacket and a tube of M.C. Escher posters. Both were Goodwill finds, but my favorite was the lightweight coat. It was a pay-by-the-pound bins find, so the profit margin was enjoyably impressive as I likely spent 50¢ on it.

I drove past Albany, Oregon yesterday, so I stopped into their Goodwill as it's currently my favorite. (Sorry, all other Goodwills.) I picked up a vintage craftsman-style plant stand, a pair of like-new Danskos and a groovy chrome kitchen wax paper/foil/paper towel dispenser that tugged at my heart. The total for all three items was $22.97, which is not too shabby. Of course it helped that the shoes and the plant stand both sported green tags which saved an additional 50%.

I'm in the midst of slicking up all three items so they can look their best for resale. Just think of it as their spa treatment. Ahh . . . .

I get a lot of trick-or-treaters at my house, and don't like to scrimp. However, I'm not fond of all the plastic waste that tags along with traditional candy purchases. So this year I investigated Winco's bulk candy section and scooped up a big bag of foil wrapped chocolate coins and a bag of paper wrapped Whoppers. My goal was to choose candy with recyclable non-plastic packaging. Whether any of the packaging actually gets recycled is out of my control, but I feel good with the effort.

The coins were a huge hit, so I think I'll just buy them and nothing else for 2020.

I noticed that the pretty wooden gilt wastebasket in our spare bedroom had split along two of its seams. Nothing too terrible, but I wanted to deal with it before it became unfixable. I rifled through our glue options and chose a small bottle of clear Gorilla Glue, which I then ran along the detached areas. The design tapers open, so I simply used a handful of thick rubber bands to hold it tight as it dried, as a standard clamp would have been tricky.

The project took maybe 15 minutes from my day, and I've now repaired something that others might have chosen to throw away. Not only did I keep an item from the landfill, but I saved money, as well as the effort of having to replace this practical household item.

Click HERE to see photos from the process.

I drove through a McDonald's for a free 6-pack of McNuggets as our basketball team had scored over 100 points, (road trip food!) I cooked up a huge pot of chili from scratch, I discovered that Winco sells Bob's Red Mill gluten-free flour in bulk for $1.99/pound. (This is a huge savings as a 2-pound bag can cost as much as $9.99!) my husband brought home another armload of free bubble wrap from work, I'm slowly working my way though Veronica Mars through a friend's Hulu account, I'm holding off from a haircut until the Supercuts training center does their next round of free services and I accepted a friend's offer of two uncut pumpkins that I can turn into puree for the freezer.

I didn't buy a Lear Jet or a vulgar gold-plated apartment in the sky.
Now your turn. What frugal things have you been up to?
Katy Wolk-Stanley    
"Use it up, wear it out, make it do or do without."