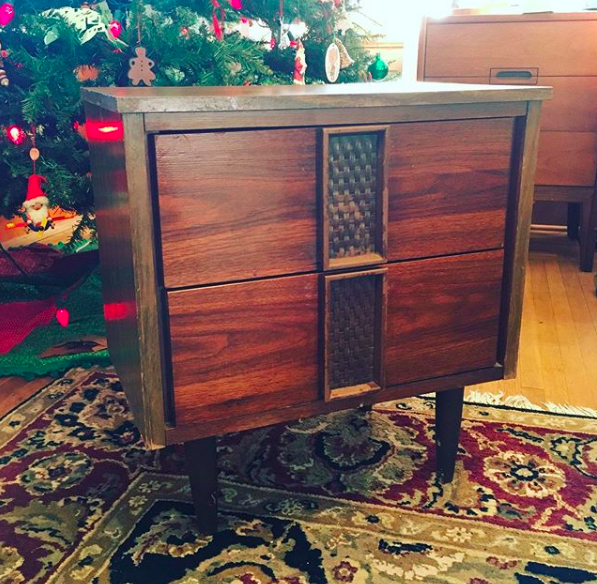 Christmas came and went, although Chanukah lingers on in our home. We don't do Chanukah gifts, as I long ago gave my kids the choice to either receive gifts on one holiday or the other, but not both. They chose Christmas. However, we do still light candles, (I snap up menorah candles whenever I find them at Goodwill) we play an obligatory game of dreidel and then fry up an oily batch of latkes.

We kept Christmas pretty simple this year, with minimal gifts and few, (okay, no) complicated meals or overwrought activities. Two, (yes, two!) Harry Potter library DVDs were watched, one takeout Chinese meal was brought by my generous mother and step father and a single nap was taken by yours truly.

Gifts were all either thrifted, edible or straight up cash.

I did stop into the Goodwill Outlet "bins" on Christmas Eve, as I felt my gifts for the kids were a bit too light. I picked up a lovely winter scarf for my daughter as well as a plaid flannel shirt for my son. I roped my mother into joining me, (by the way that "rope" is the thinnest of gossamer threads, as she is a nanosecond from hitting the bins at any given moment.) I also bought a couple items for resale which I quickly listed on eBay.

I woke up yesterday to a text from my friend Lise informing me of a shared neighbor's free pile. I walked over to "shop" and carried home a midcentury nightstand and then back for a vintage patio chair. The nightstand needed a bit of a cleaning, but I ended up selling it through Facebook Marketplace before the sun went down. (I may have underpriced it at $40, as I had four people who all wanted to buy it.) Maybe five hours elapsed between strolling over to the free pile and having that sweet cash in hand.

The vintage patio chair is one of those 1980s-era white grid stacking chairs that were all the rage when I was in high school. However, this one is the actual Italian "Emu Rio" chair, while most others were knockoffs. They sell for $80-$100 apiece online, so I listed mine for $50. No interest so far, but that's okay. I'm patient.

I served a dinner tonight where each person ate an entirely different meal, which quite nicely helped to A) clean out the fridge, and B) avoid food waste, I dropped off books at the library and then picked out new ones, we played the dreidel game using my collection of random foreign coins instead of chocolates, we took advantage of the free McNuggets deal as the Blazers basketball team scored over 100 points, (we actually did this two days in a row as our Japanese exchange student mentioned how he missed McDonalds, specifically nuggets) my husband received a hand-me-down pair of expensive skis from a co-worker, I borrowed my neighbor's fondue pot and she borrowed my insulated casserole carrier, (mutual moochiness for the win!) and my son watched The Mandalorian through a friend's Disney+ account.

I didn't buy a Lear Jet or a vulgar gold-plated apartment in the sky.
Now your turn. What frugal things have you been up to?
Katy Wolk-Stanley    
"Use it up, wear it out, make it do or do without."
Click HERE to follow The Non-Consumer Advocate on Twitter.
Click HERE to follow The Non-Consumer Advocate on Instagram.
Click HERE to join The Non-Consumer Advocate Facebook group.
Click HERE to follow The Non-Consumer Advocate on Pinterest.
Disclosure: This blog post includes an eBay affiliate link, which means that I earn a small percentage from any purchases you make within a few days of clicking over. This costs nothing extra to you.