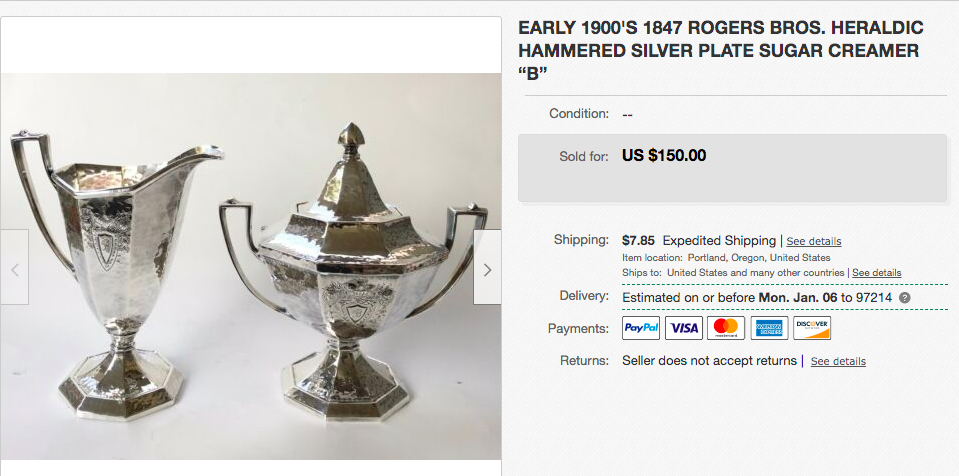 Although I did earn some money since publishing my last blog post, it's still been a financially lopsided month for us. My son's college tuition was due January 1st, which coincided with the renewal of my nursing license, an unexpected car repair, leftover physical therapy bills from my husband's foot surgery, our semi-annual garbage bill and a few other miscellaneous bills that added up to a nasty wallop to end the decade.

January is going to be ridiculously lean, but we'll pull through as we always do. My husband and I are both A-okay with dirt and buttons rice and beans, if it supports the big picture of a debt-free lifestyle. My birthday is coming up this weekend, and I already have a zero-spend "Birthday day of Adventures" planned out for us.

In a perverse way I'm looking forward to the challenge of spending almost nothing while earning as much as possible. Okay, January . . . bring it on!

I sold the silver set for $100, (I accepted an offer from the buyer) but since I simultaneously wrote out a check for $95 for the unglamorous expense of "garbage service," I consider this to fall under the umbrella of "it sometimes sucks to be an adult."

I logged onto my library's website at 12:01 on New Year's Day, as I knew their cultural passes would reload. I was able to reserve double admission for both the Portland Art Museum and The Japanese Gardens, that my husband and I can enjoy later in the year. The two sets of tickets will save us $74 and will be something fun to look forward to.

I encourage you to check and see if your library system offers similar cultural passes to their patrons.

I hosted a family post-Christmas gathering using food I already had on hand, I lit candles on every single night of Chanukah with candles that I thrifted from Goodwill, I began reupholstering a cute thrifted midcentury stool, I agreed to watch a friend's dog while she's out of town for a few days, I accepted a lunch out with my father, I watched two library movies, (and read one library book) I've been really successful with not letting leftovers go to waste and I somehow survived hosting a Japanese exchange student without letting our budget go to pot.

I didn't buy a Lear Jet or a vulgar gold-plated apartment in the sky.
Now your turn. What frugal things have you been up to?
Katy Wolk-Stanley    
"Use it up, wear it out, make it do or do without."
Click HERE to follow The Non-Consumer Advocate on Twitter.
Click HERE to follow The Non-Consumer Advocate on Instagram.
Click HERE to join The Non-Consumer Advocate Facebook group.
Click HERE to follow The Non-Consumer Advocate on Pinterest.
Disclosure: This blog post includes an eBay affiliate link, which means that I earn a small percentage from any purchases you make within a few days of clicking over. This costs nothing extra to you.