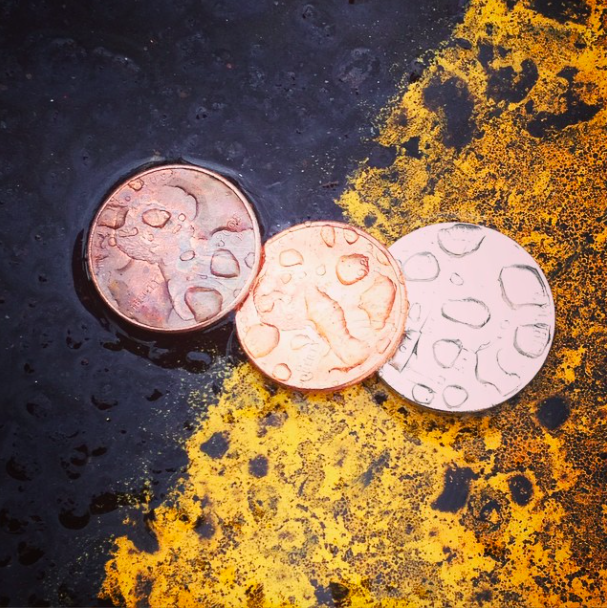 I stopped into The Grocery Outlet yesterday while my son was having his Japanese tutoring, as they're in the same neighborhood. (I batch errands whenever possible!) I didn't spend enough money to use one of my $3-off-$25 coupons, although I did fill 2-1/2 bags with 3/$1 Tillamook yogurts, frozen pierogis, bananas, red potatoes, jam, avocados, tomatoes, sour cream, tamales and 99¢ kielbasa. I then found 7¢ in the parking lot, which has since been added to my Found Change Challenge jar.
I was dangerously drooping after my grocery shopping, and still had another half-hour to kill while waiting for my son's tutoring to finish. The library is attached to a coffee shop and I started fantasizing about how glorious it would be to sit down with a strong cup of coffee. But I changed my mind at the last second when I saw a sign proclaiming that they served "Infused Red Bull," which is the most disgusting thing I've ever heard of. This shocked me out of my stupor, and instead I answered a few e-mails on my phone and picked out a couple of library books. And when I did get home, I enjoyed a 4¢ cup of strong and glorious Red Rose tea.
My neighbors are going on vacation and stopped by to return a plate that I'd taken over with some pumpkin scones. She also brought the latest Sunset magazine for me, as she'd received an extra one. Having a give-and-take relationship with neighbors not only strengthens community, but also saves money.
I'm transitioning my cats' litter boxes from an upstairs hallway down to the basement, which means we currently have a three litter box upstairs-downstairs situation going on. Because having litter boxes in two areas is for a minimal period of time, I'd rather not buy an extra scoop. Instead of walking a scoop down two flights of stairs, I'm using an inside-out bread bag doggy style. It does the job without requiring an extra purchase to be made and an extra plastic doodad to be manufactured. This is definitely a make it doo opportunity.
My older son's computer mouse stopped working a few months ago, and he keeps stealing his brother's one. Today I'm taking him to Goodwill to pick out a used one. It may not be pleasing to the eye and aerodynamically streamlined like a new one would be, but it'll be functional. And peace will hopefully prevail again in our home sweet home.
Now your turn. What frugal things have you been up to? 
Katy Wolk-Stanley
"Use it up, wear it out, make it do or do without."