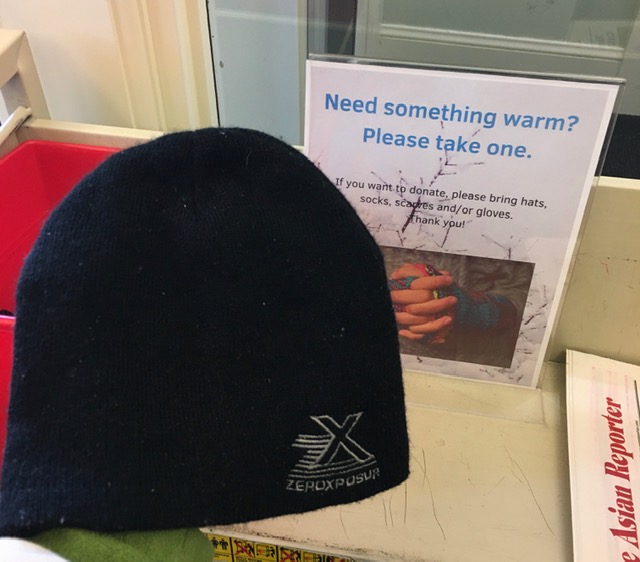 I haven't sold much, although I did sell a Wells Fargo zipper pouch, a vintage pin, a pair of Polish pottery mugs, a bag of Pendleton wool remnant pieces and a set of high-end bike fenders. I did put together a couple of new eBay listings yesterday, including a Pendleton Wool blanket that I picked up for just $14.99, (thank you Goodwill!) and a two-pound bag of Pendleton wool remnants. And why yes . . . Pendleton is a local company!

I picked up a soggy knit cap in a parking lot, which I promptly brought home to launder. It cleaned up beautifully, so I brought it over to my local library for their donation box. I often come across lost or abandoned garments, which usually need nothing more than a rinse and a wash to come back to usefulness.

We live in a throwaway society, (which includes people cycling through buying and donating in order to make room for new stuff) which motivates my ongoing decision to buy nothing new. Twelve years so far, baby!

Portland, Oregon has started requiring stores to charge a nickel per bag, which means that I'm now saving 5¢ – 30¢ whenever I grocery shop. I've been bringing my own bags for years, and always have a reusable one in my purse. (A large nylon bag that folds into its own tiny pouch.)

I finished reading one library book, (The Distant Hours, by Kate Morton) and then started another, (Wunderland, by Jennifer Cody Epstein) I put together a huge pot of cheap af black bean soup one evening using my Instant Pot, (even though I was mortally exhausted and wanted nothing more than to nap on the couch!) I snagged $1 bags of both limes and green peppers from the Fred Meyer (Kroger) markdown shelf, I located a free sample of weather proofing goo to rub into my winter boots, (where it came from, I'll never know) I listened to the audiobook of Gaby Dunn's Bad With Money, through the library's Libby app, my friend Lise treated me to a cup of coffee and I took an overnight trip using my Diane Von Furstenberg suitcase that I pulled out of a Westchester County Goodwill dumpster.

I didn't buy a Lear Jet or a vulgar gold-plated apartment in the sky.
Now your turn. What frugal things have you been up to?
Katy Wolk-Stanley    
"Use it up, wear it out, make it do or do without."
Click HERE to follow The Non-Consumer Advocate on Twitter.
Click HERE to follow The Non-Consumer Advocate on Instagram.
Click HERE to join The Non-Consumer Advocate Facebook group.
Click HERE to follow The Non-Consumer Advocate on Pinterest.
Disclosure: This blog post includes eBay affiliate links, which earn a small percentage from any purchases you make within a few days of clicking over. This costs nothing extra to you.