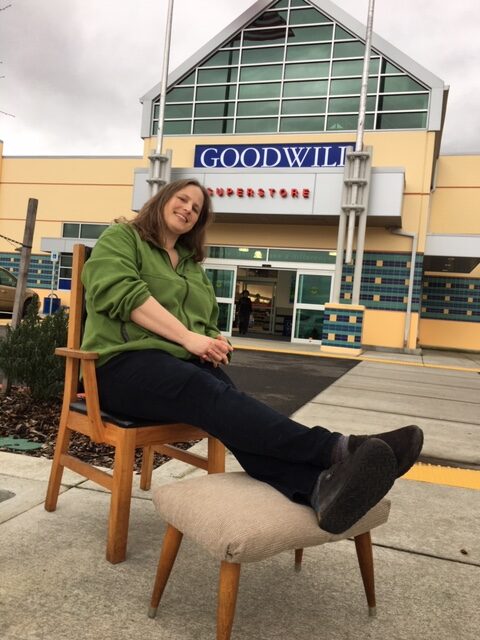 I sold a few things here and there through eBay, including a pair of Starbucks mugs, a Mary Engelbreit magazine, (I used to subscribe, and have been slowly selling them off) a Jonathan Adler holiday ornament, a baboon puppet, some pretty midcentury-style Japanese fabric and a long sleeve merino wool shirt that was gathering dust in the back of my dresser. I also sold a cool vintage chair through Facebook Marketplace a mere 18 hours after snagging it at Goodwill.

No single sale will make you green with envy, but it still added up to a tidy little amount.

My fridge was overly full of perishable food that fell under the unfortunate category of "ingredients" rather than "grab-n-go," so I dedicated an evening to assembling meals out of available supplies. I managed to pull together a ginormous pot of chicken soup, as well as pans of enchiladas and twice-baked potatoes. It probably took an hour or so of hands on work, and we've been enjoying the meals ever since.

I love it when past Katy does favors for present day Katy. Not only did this save me from the daily drama of "Blarg, what's for dinner?!" but it helped us avoid the temptation to get takeout or make unnecessary grocery store trips.

I'm not someone who loves to cook, so I pat myself on the back for even a modicum of extra effort.

My college pal Maura and and I hit up a Vancouver, Washington Goodwill that neither of us had been to. I snagged the aforementioned vintage chair as well as a midcentury footstool with dynamite brass-footed tapered wooden legs. Total cost? $12.98!

I think of the drive to Vancouver as being a big ol' schlep, but it actually took just 25 minutes. We went to the Orchards location at 14201 N.E. Fourth Plan blvd, which was amazing. Super clean and organized!

Afterwards Maura and I caravanned to her new house where she fed me lunch with multiple cups of coffee. January/February in the Pacific Northwest is super dreary, so anything we can do to brighten our days is an accomplishment. Seasonal Affective Disorder is no joke.

I dropped off library books right before they were overdue and picked up a book that I'd put on hold, my friend Kristen from The Frugal Girl mailed me a book she thought I'd like, my son came home for the weekend and we're feeding him homemade meals rather than using it as an excuse to eat out, I met with a city official to determine whether our property qualified for a free rain garden, (it didn't) and I put all the Star Trek: The Next Generation movies on hold at the library to help put the Picard show in better context.

I didn't buy a Lear Jet or a vulgar gold-plated apartment in the sky.
Now your turn. What frugal things have you been up to?
Katy Wolk-Stanley    
"Use it up, wear it out, make it do or do without."
Click HERE to follow The Non-Consumer Advocate on Twitter.
Click HERE to follow The Non-Consumer Advocate on Instagram.
Click HERE to join The Non-Consumer Advocate Facebook group.
Click HERE to follow The Non-Consumer Advocate on Pinterest.
Disclosure: This blog post includes affiliate links, which may earn you a discount, as well as a small commission for me. This costs nothing extra to you.