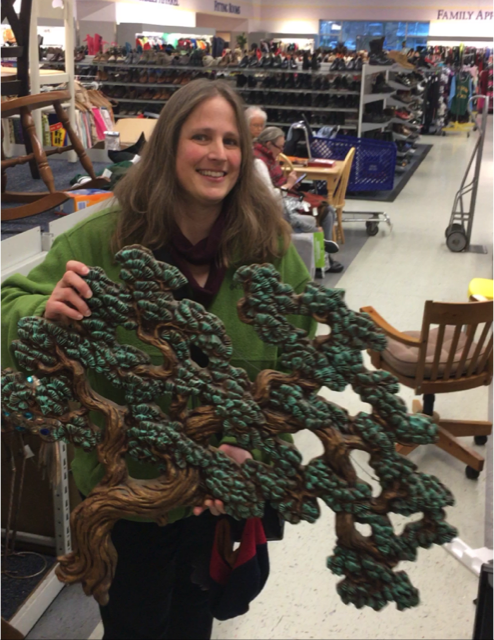 I sold a few items, mainly on Facebook Marketplace as most items would be tricky to mail. This included a midcentury end table from the Albany, Oregon Goodwill, (my current favorite Goodwill location!) a delightfully groovy vintage lamp, a midcentury footstool and a faux-wood piece of wall art shaped like a big ol' bonsai tree.

The footstool was a $3.99 Goodwill find that I reupholstered, (ha!) by stapling on a rectangle of red velvet. It took an hour or so and turned a dated piece of furniture into an on-trend item that quickly found a new home. Click HERE to see the before-and-after.

On eBay I sold five more Mary Engelbreit magazines, a length of lovely wool fabric and a pair of 1950s pink hand towels that I listed back in April. I call this "playing the long game."

I roped my friend Lise into going to Winco with me, as I was feeling unmotivated for the dull task of grocery shopping and thought a friend would help the situation. We also snuck in a quick trip to Goodwill as well as the Fubonn Asian grocery store.

I thanked her by driving us through Best Baguette for their egg, cheese and avocado croissant sandwiches, which are what I'm currently craving morning, noon and night. Great . . . now I'm craving them again!

I'm not really a "let's meet up for drinks" kind of friend. Want to be my friend? You've been warned!

The tailgate handle on our Prius had been broken for a couple months, which was an annoyance but wasn't affecting the functionality of the vehicle. My husband ordered the $73 replacement part, which then sat for a couple weeks until he found a time when he wasn't working/it wasn't raining/he could force himself to install it. These factors finally coalesced a few days ago, and we can finally open up the back of the car again.

I don't know how much it would have cost to hire a mechanic, but I'm sure we saved at least $100. Whether it's darning a sock, cooking from scratch or doing minor home and car repairs, we save thousands of dollars per year by choosing to hire out as little as possible.

I finished one library book and started another, I binge watched the new season of Shrill through my friend Lisa's Hulu account, my mom washed my daughter's huge comforter for us in her large-capacity machine, (I then thanked her by inviting her and my step father over for a burrito-buffet night) I thrifted two more glass bottles, (with lids!) for our Soda Stream, a blog reader gave me a mostly full container of laundry detergent that didn't work in her machine and we lent our Sawzall to our neighbor, with whom we have a symbiotic moochy relationship.

I didn't buy a Lear Jet or a vulgar gold-plated apartment in the sky.
Now your turn. What frugal things have you been up to?
Katy Wolk-Stanley    
"Use it up, wear it out, make it do or do without."