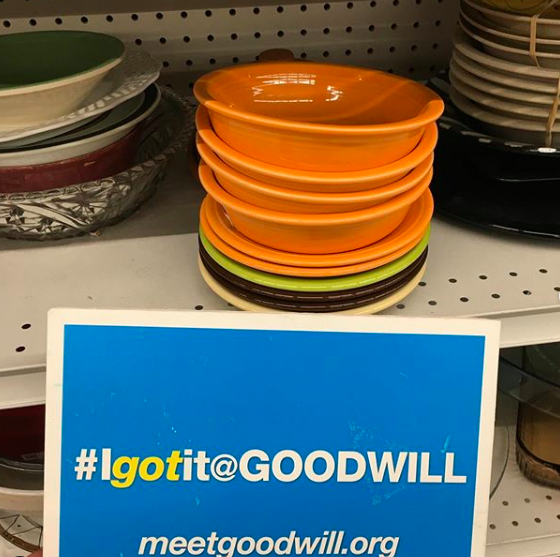 I sold just two things last week, specifically a Goodwill "bins" T-shirt and two yards of some thrifted but brand-new fabric. Yawn . . .

However, a neighbor down the street has been cleaning out his basement, (or so it seems) and I lugged home a set of expensive ski bindings as well as a jumble of rough Thule bike rack parts. (This is the same neighbor who put out the ski gloves last week.) I scrubbed the roof rack parts, which are admittedly rough, but I should still be able to sell some of it to a local shop that specializes in second-hand bike racks. The ski bindings are listed on eBay.

Even if only some of this stuff sells, it was all free to me and all it took to ready it for a new owner was an hour or so of elbow grease.

My sister flew into town last week for a short trip for our aunt's memorial service. Although the reason for her visit was a sad one, we still enjoyed the opportunity to spend time together, as well as to see family — both nuclear and extended.

We ended up indulging in multiple restaurant meals, all of which were on the dime of our parents, (Thanks, Mom! Thanks, Dad!) but I think I'm ready for a week or so of deliberately healthy home cooked meals.

My sister is just as big a fan of thrifting as I am, so we ended up hitting two Goodwills over a three day period. I didn't find anything to buy, but my sister nabbed the above stack of colorful Fiestaware bowls, as well as a ceramic Starbucks tumbler to replace one that had broken. Come to think of it, the bowls were also purchased to replace a dwindling stack due to breakage. (Her last house had tile floors in the kitchen, which was hostile to both sore feet and crockery!)

I gave an an interview for a Nerd Wallet/USA Today article titled, Having a Baby? These Are The Money Saving Items You Need. I'm very pleased that the author, Laura McMullen quoted me liberally throughout the piece including this important point:

"We owe it to future generations to take a step back from the consumer culture and think about how these purchases are affecting the planet."

I often give interviews where I make this type of statement, and then get quoted as saying "Wolk-Stanley encourages people to check out their local thrift store." Sure, that's one thing I said, but I also talked about big picture issues such as the environment, overmanufacture of consumer goods, buy nothing groups and the utter ridiculousness of needlessly gendered baby items.

It's good to get my message across.

I gave away an unused queen-size duvet on my buy nothing group, my friend Lise picked up four loaves of bargain bread for me at the Bob's Killer Bread outlet store, (I did reimburse her) my daughter cleaned and decluttered her bedroom, which unearthed an excessive amount of straight-up garbage; but our lovely next door neighbors let us put an extra bag in their outgoing can, (Thanks, Nancy!) I fed a neighbor's cat while they were out of town, I renewed library books before they were overdue and I picked up a Blu-Ray of Star Trek: Generations as we're currently rewatching all The Next Generation movies.

I didn't buy a Lear Jet or a vulgar gold-plated apartment in the sky.
Now your turn. What frugal things have you been up to?
Katy Wolk-Stanley    
"Use it up, wear it out, make it do or do without."