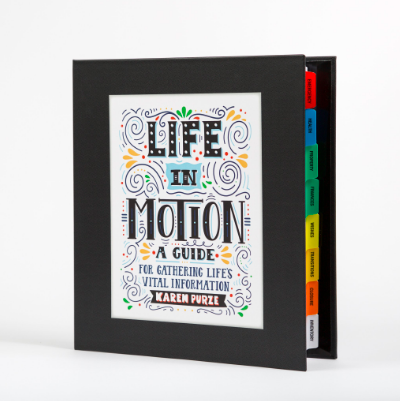 A friend of mine posted on Facebook about how she and her husband had recently drawn up a will. She showed a photo of an notebook with organized estate planning information and my FOMO ("fear of missing out") kicked into gear.

• My first thought was "I wish I had the money on hand to hire an estate attorney."
• My second thought was "Wow, cool notebook!"
• My third thought was "I bet you can buy a similar notebook without the expense of an attorney."

I went into research mode and found a well rated version on Amazon. It was $50, but that's a drop in the bucket compared to actual legal fees. I put it into my cart to let the purchase simmer. It then occurred to me that I might be able to find it on eBay. Although eBay didn't provide the exact book, I was able to "Save" the search, which means that I'll get a notification when an eBay seller lists one.

At 51, I'm at an age where many of my friends are dealing with the death of their parents, and never once have I heard that it was an easy task. Clearing out houses, conflict with family members and then tracking down bank, insurance and investment information sounds like an absolute freaking nightmare. Especially while grieving. I absolutely don't want to hand this nightmare down to my kids.

Hopefully some random eBay seller will list one in the near future. I have deep ethical issues with supporting Jeff Bezos and his Amazonian empire, and do all I can to source from alternate retailers whenever possible.

I've been sucked into watching multiple seasons of the TV show Alone from The History Channel. This isn't a show that I would naturally be drawn towards. Survivalists competing to see who can last the longest out in the wilderness? Not a natural fit for an indoorsy Jewish woman.

Only the sixth season was available on Netflix. Set in the Canadian arctic, this season has a decent mix of contestants, many of whom are women who speak about "permaculture." This assuaged my fear that the show would be aimed towards those whose survivalism come from a place of racism, antisemitism and a culture of conspiracy theories.

As a child I loved Island of the Blue Dolphins,  My Side of The Mountain, and Julie of The Wolves, rereading all three throughout the years. The idea of having to survive alone in the wild is an intriguing concept, and I can see why this TV show has been renewed for multiple seasons. I'm very much an indoor cat, and the two (three?) times I've gone camping have been unpleasant experiences. But that doesn't mean that I can't cuddle up on the couch and watch others immerse themselves in what nature has to offer.

For those interested in the show — The sixth season is available on Netflix, the third through fifth seasons are on Hulu and the first and second seasons are available through the History channel app/website. The seventh season is currently airing.

I stopped into Goodwill again, walking out with a $1.99 collectible Veuve Clicquot tin, a $4.99 Michael Graves for Target alarm clock and a $14.99 pair of Dansko clogs. I'm still skittish about unnecessary shopping, but with my N-95 mask and gloves I feel much more secure in my safety.

My father celebrated his 85th birthday the other day. He doesn't like a fuss, but I was able to convince him to let us come over to mark the occasion. My son and I stopped into the Murray's Cheese kiosk in Fred Meyer and let the cheese monger recommend a selection of treats. (Needless to say I brought a reusable gift bag from home.) I mostly give consumables to family members, which skirts around my "buy nothing new" self guideline. No one complains about receiving delicious food!

Together the three of us walked over to his favorite locally owned bookstore, (Broadway Books) where the owners wished him a hearty "happy birthday!" (I'd already stopped by to let them know it was his birthday.) We then sat apart in the backyard and chatted until our bladders called an end to the afternoon.

I didn't buy a Lear Jet or a vulgar gold-plated apartment in the sky.
Now your turn. What frugal things have you been up to?
Katy Wolk-Stanley    
"Use it up, wear it out, make it do or do without."
Click HERE to follow The Non-Consumer Advocate on Twitter.
Click HERE to follow The Non-Consumer Advocate on Instagram.
Click HERE to join The Non-Consumer Advocate Facebook group.
Click HERE to follow The Non-Consumer Advocate on Pinterest.
Disclosure: This blog post includes affiliate links, which may earn you a discount, as well as a small commission for me. This costs nothing extra to you. The Amazon link is not an affiliate link.