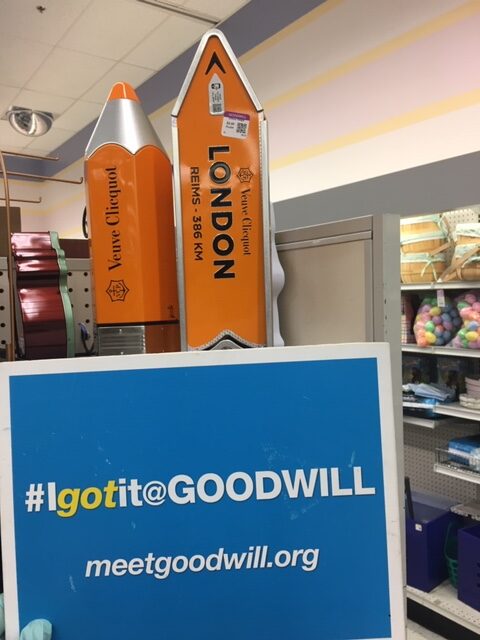 I sold just a few things on eBay and absolutely nothing through Facebook Marketplace. However, the eBay sales were enjoyable as you can see:

• A plastic Fiestaware cheese knife set that had been relegated to the back of a cupboard for at least twenty years. $80? Yes, please!

• A collectible Vueve Clicquot champagne tin that I just thrifted for $2.99. $60? You betcha!

• The very last from a pile of brand new curtains that I thrifted at least a year ago. $25? Get it out of my sight!

I continue to think about estate planning and did pull the trigger on buying the Life in Motion end-of-life planning notebook. (Worry not, we're all in good health.) I ended up purchasing it directly from the author's website using a $10-off promo code I'd received for signing up for the newsletter. I haven't started filling it out yet, but I'm looking forward to the peace of mind knowing that all of our information will be in a single place.

There's usually a way to bypass Jeff Bezos' behemoth consumer machine, (such as clicking over to the manufacturer's website) and I'm always happy when I'm able to make this happen.

Note: This is neither a sponsored post, nor is it an affiliate link.

I made the stupid decision to hit my Fred Meyer (Kroger) grocery store on the afternoon of July third, not thinking about how it was the day before a major U.S. holiday. (Such a crowded $h*†$h0w!) I was motivated by a handful of about-to-expire personalized coupons items for practical items like eggs, broccoli, cilantro, ice cream, pasta sauce, etc. I ended up bringing home five bags of groceries for just $36.41. Very cheap, but oh so very stressful.

I rubber banded a plastic bag over a lidless glass pitcher in order to make a batch of sun tea, I gathered and then took a hand saw to fallen branches in the back yard for our fire pit, I cooked up a large pot of rosemary white bean soup and even served it for dinner on the fourth, I finished watching all the available episodes of Alone through my mother's Amazon account, my husband gave our Prius a quicky wash at work as the neighborhood birds had been scatalogically industrious, a neighbor brought by a couple books for me to read, I stopped into the Franz Bakery Outlet for $1 loaves while out running errands and Portland's weather has been mild enough to use simple fans instead of window air conditioners.

I didn't buy a Lear Jet or a vulgar gold-plated apartment in the sky.
Now your turn. What frugal things have you been up to?
Katy Wolk-Stanley    
"Use it up, wear it out, make it do or do without."
Click HERE to follow The Non-Consumer Advocate on Twitter.
Click HERE to follow The Non-Consumer Advocate on Instagram.
Click HERE to join The Non-Consumer Advocate Facebook group.
Click HERE to follow The Non-Consumer Advocate on Pinterest.
Disclosure: This blog post includes affiliate links, which may earn you a discount, as well as a small commission for me. This costs nothing extra to you. The Amazon link is not an affiliate link.