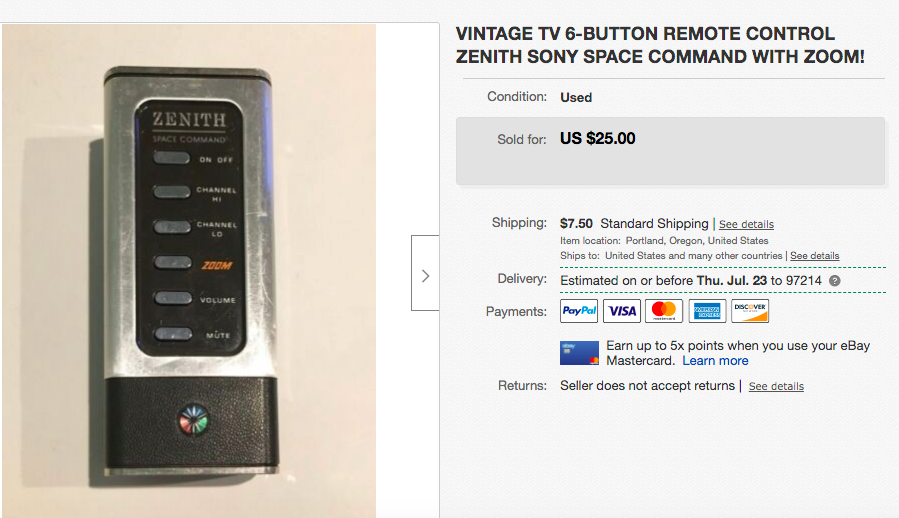 I sold a few things here and there, 100% through eBay as few people seem to comfortable buying through in-person platforms such as Facebook marketplace and Craigslist. I get it. Here's some of what sold:

• A groovy vintage TV remote that's now on its way to Germany to be used as a movie prop.

• An avocado green rotary phone that spent the past year or so sitting on my mantle.

• A pair of plastic Dansko clogs that I picked up at Goodwill a couple of weeks ago.

• A pair of vintage Italian glasses frames that I plucked from a Goodwill Outlet bin in the "before times."

I also have someone supposedly coming by today to buy a vintage cast iron skillet, although I know better than to count my chickens before they hatch.

Edit: It sold!

My next door neighbors ended up having to put their ancient kitty to sleep and gave me all of Colette's leftover unused cat litter, cat food, plus their cat carrier, as I've borrowed it in the past. I was actually driving to Costco to buy cat litter when her text came through with the offer, although I continued on with the errand as I already had my palate set for one of their $4.99 roasted chickens.

I brought her flowers last week when I heard about her cat's passing.

My friend Lise needed to have a tree removed that was growing too close to her house's foundation and roof. And savvy woman that she is, she shaved a few bucks off the bid by having the arborist dump all the shredded wood chips on her property rather than driving them to a waste station. (Luckily the two previous chipped trees from that day were a cedar tree and a Douglas fir.) She and I then drove five (maybe six?) trips between our two houses hauling bins of wood chips to re-landscape the path along the side of my house. The job took an hour or so as we live just two blocks apart, and my side yard now smells amazing and more importantly will absorb more of Portland's never ending and bountiful rainfall. My cost? The price of one tall frosty matcha boba tea!

Click HERE for some satisfying before-and-after pictures!

I utilized my public library system's My Librarian service to request some book recommendations. I explained what I was looking for, to which she asked a few follow up questions to hone in on my reading preferences. She then recommended ten different books, which amazingly included three that I'd already read, most of which were from authors I'd enjoyed in the past or at least had heard of. I like to read, but don't consider myself a prolific reader, so this is damned clairvoyant!

Hilariously, she titled my personalized list as Quality Distraction, which I think is genius, pure and simple! This list is public so you can actually check it out for your own "quality distraction." My plan at this point is to continue to pepper her with questions until I'm able to transform her into my own personal life coach. This woman gets me!

I didn't buy a Lear Jet or a vulgar gold-plated apartment in the sky.
Now your turn. What frugal things have you been up to?
Katy Wolk-Stanley    
"Use it up, wear it out, make it do or do without."
Click HERE to follow The Non-Consumer Advocate on Twitter.
Click HERE to follow The Non-Consumer Advocate on Instagram.
Click HERE to join The Non-Consumer Advocate Facebook group.
Click HERE to follow The Non-Consumer Advocate on Pinterest.
Disclosure: This blog post includes affiliate links, which may earn you a discount, as well as a small commission for me. This costs nothing extra to you. The Amazon link is not an affiliate link.