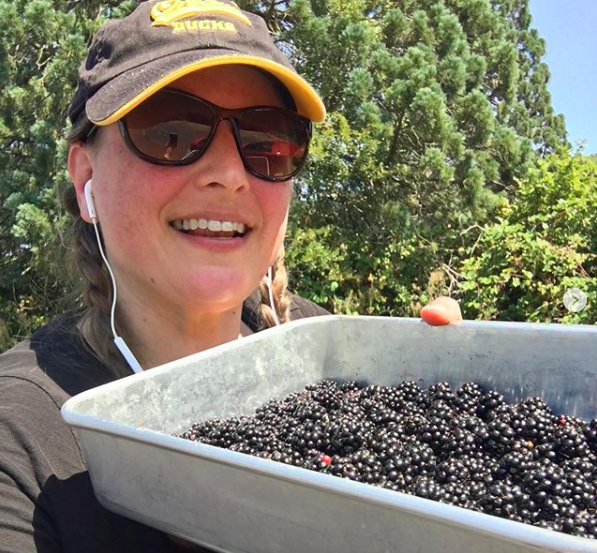 I sold just a couple of things, including:

• An extra Oakley accessory kit that went with an old pair of my husband's work sunglasses.

• A set of my son's Mega Man electronic game chips.

Actually, that's all that sold. Lucky son.

I went for a masked walk around the neighborhood with my friend Dezsea. In the before times we might have gone out for coffee or lunch, so I suppose this falls under the umbrella of "frugal activities," even though there's a deeply sad back story.

However, she did call me up the next day asking if I wanted "a gallon of milk and a bag of potatoes."

Umm . . . let me think that over for a bit. Just kidding, of course I jumped at the offer and gladly accepted her generosity. Milk is super friendly to being frozen for a future date, you just have to pour off a bit extra to make room for expansion.

I drove to my secret spot for wild blackberries, making sure to wear a long sleeve shirt, long pants and closed toe shoes. (Those thorns are no joke!) Unfortunately, Oregon's dry hot summer resulted in mostly shriveled up berries, although I did find some plump ones growing the shade. I'll probably go back in a couple days as we've had some rain and cooler temperatures, which should result in sweeter juicier berries.

However, even lesser berries are still delicious berries. Plus, free is my very favorite price!

For those who might enjoy this detail, the "Oregon Ducks" hat in the above photo was purchased at a pay-by-the-pound Goodwill Outlet store. (So . . . maybe 15¢?) That school has enough of my hard earned money, thank you very much!

I used Fred Meyer (Kroger) coupons for broccoli and eggs, my single pair of Birkenstock sandals are wearing out, so I found a replacement pair on eBay for $34.99, (I then clicked through from Swagbucks, I used my own eBay referral code and messaged the seller to see if they'd use a $8.40 flat rate envelope instead of the $15.05 flat rate box) I fed my neighbors' cat while they were out of town, I gave away two tubes of toothpaste on my Buy Nothing Group as I'd accidentally bought the spicy "Cinnamint" flavor, my husband signed up for a free YouTube TV trial, which is allowing us to finally watch the final season of Schitt's Creek, I finished the last of a loaf of my father's sourdough bread, (which I slice and store in the freezer) and I sat on the couch screaming into a second hand pillow.

I didn't buy a Lear Jet or a vulgar gold-plated apartment in the sky.
Now your turn. What frugal things have you been up to?
Katy Wolk-Stanley    
"Use it up, wear it out, make it do or do without."
Click HERE to follow The Non-Consumer Advocate on Twitter.
Click HERE to follow The Non-Consumer Advocate on Instagram.
Click HERE to join The Non-Consumer Advocate Facebook group.
Click HERE to follow The Non-Consumer Advocate on Pinterest.
Disclosure: This blog post includes affiliate links, which may earn you a discount, as well as a small commission for me. This costs nothing extra to you.