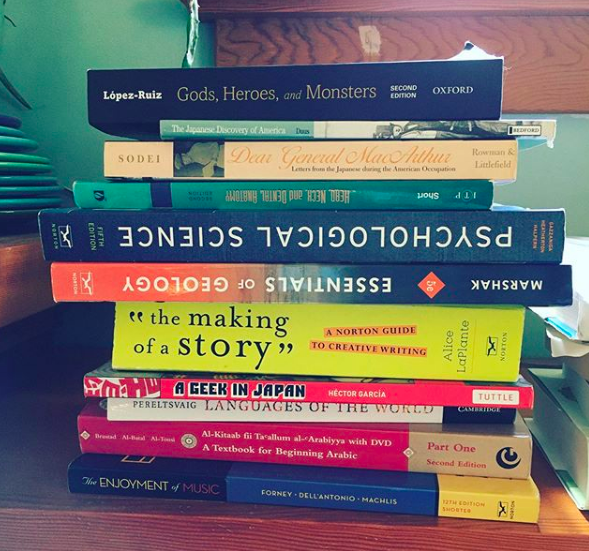 I sold a number of things including:

• A Thule bike rack that I bought at Goodwill for $4.99 and quickly sold for $75.
• A stack of free pile law school books that sold for between $15 and $100.
• A free pile Title Nine exercise skirt that sold in precisely 18 minutes for $25.
• Six or seven of my son's old textbooks, which continue to sell every other day-ish.
• My husband's old prescription Oakley brand eyeglasses, which are currently on their way to England. Fifty bucks!
• A $7.99 new-with-tags Queen Bee Creations shoulder bag that sold overnight for $75.

I was somehow able to get my insurance company to pay the $300 to install an anti-theft catalytic converter shield after some jackass stole the catalytic converter from under my Prius. A crime that I've since learned has become increasingly common across this great so-so nation of ours.

Mind you, we still had to pay the $500 deductible.

We discovered that a semi-local Mexican food cart sells their tacos for a buck apiece on Tuesdays, which has gifted us a sorely needed break from the monotony of cooking. Plus, it gives us something to look forward, which is otherwise lacking in our lives right now. We've since hit week three of Taco Tuesdays and I'd like to send a ginormous wave of gratitude out to Su Casa Tacqueria!

My son has rented an unfinished apartment for his last year of college, which differs from his previous apartments which only required he provide furnishings and supplies for the kitchen, bathroom and bedroom. He'll have three roommates, but only one of them is from Oregon. I was able to score a free nice couch from a neighbor who is transitioning her den into an in-home classroom for her sons and I found a great end table that another neighbor had put out for free.

We'll pull out his last apartment's stuff from the attic next week to clarify what still needs to be sourced. We moved him out of his last apartment in a rush last March, and I have a strong recollection that we packed up some dirty dishes.

I didn't buy a Lear Jet or a vulgar gold-plated apartment in the sky.
Now your turn. What frugal things have you been up to?
Katy Wolk-Stanley    
"Use it up, wear it out, make it do or do without."
Click HERE to follow The Non-Consumer Advocate on Twitter.
Click HERE to follow The Non-Consumer Advocate on Instagram.
Click HERE to join The Non-Consumer Advocate Facebook group.
Click HERE to follow The Non-Consumer Advocate on Pinterest.
Disclosure: This blog post includes affiliate links, which may earn you a discount, as well as a small commission for me. This costs nothing extra to you.