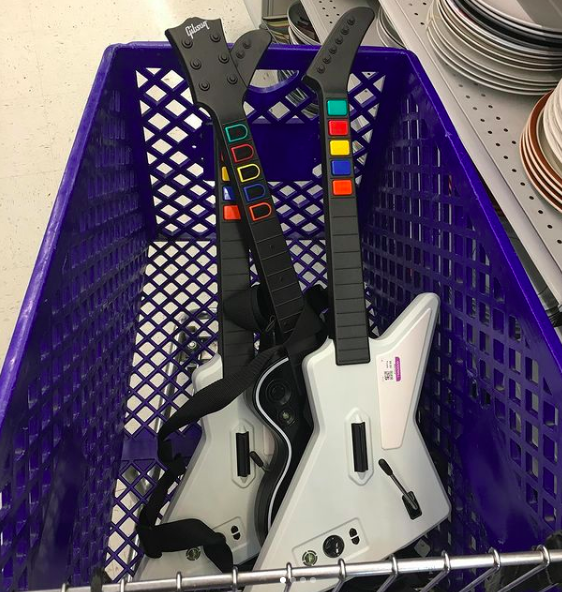 I combined a few necessary errands with Goodwill trips over the past week and came home with some nifty items to sell both on eBay and Facebook Marketplace. My favorite flips were a trio of Rockband Guitar Hero controllers. I'd seen other sellers do well with them, so I took a gamble as they were priced at just $6.99 apiece.

I like to think of this as "market testing a category."

All three sold in under 48 hours for $60, $60 and $55. So yeah . . . I'll start picking these bad boys up whenever possible.

Oh, and for those who wonder how I ship such unwieldy items, I used the free USPS large flat rate boxes that are designed for board games.

I've started making a deliberate effort to always have a tub of homemade soup in the refrigerator. All four of us enjoy soup, so it never gets wasted. Plus it's my favorite trifecta — delicious, healthy and cheap as hell!

Want to know the secret to my delicious soups? I sauté chopped onion and then purée it with chicken broth before adding the other ingredients. This imparts a deep layer of flavor that only intensifies the savory goodness. For anyone who may wonder about "the why" behind this step, my daughter has a lifelong aversion to the texture of onions, so we purée whenever possible. It being tastier is an accidental side effect.

I cross posted a couple of eBay items on Facebook Marketplace, which I always think is going to be a pain in the tuchus but actually takes just a few minutes as the photos are already taken and the description is written. This resulted in one quick $65 sale.

I also looked through my expired Facebook Marketplace listings and put together fresh new listings from otherwise stale merchandise. This resulted in quick $30 and $20 sales!

Minimal effort with a $115 reward.

I'm listening to an audiobook of Before We Were Yours, by Lisa Wingate through the free Libby app after having finished Such a Fun Age, by Kiley Reid; I borrowed a manual air pump from someone in my Buy Nothing group, I made a Costco trip and bought just the cat litter, olive oil and roasted chicken from my list without succumbing to any impulse purchases, (I'm talking to you, $1.50 hot dog!) I found two dimes and six pennies while out, masked and about, I picked up two big bags of free packaging supplies from a local business, I finished reupholstering a thrifted midcentury foot stool that I'd started and apparently lost interest in completing, and lastly I sold two curb-picked items — a wooden planter for $10 and then a cupboard that garnered me a sweet hundred bucks!

I didn't buy a Lear Jet.
Katy Wolk-Stanley    
"Use it up, wear it out, make it do or do without."
Click HERE to follow The Non-Consumer Advocate on Twitter.
Click HERE to follow The Non-Consumer Advocate on Instagram.
Click HERE to join The Non-Consumer Advocate Facebook group.
Click HERE to follow The Non-Consumer Advocate on Pinterest.
Disclosure: This blog post includes eBay affiliate links, which may earn you a discount, as well as a small commission for me. This costs nothing extra to you.