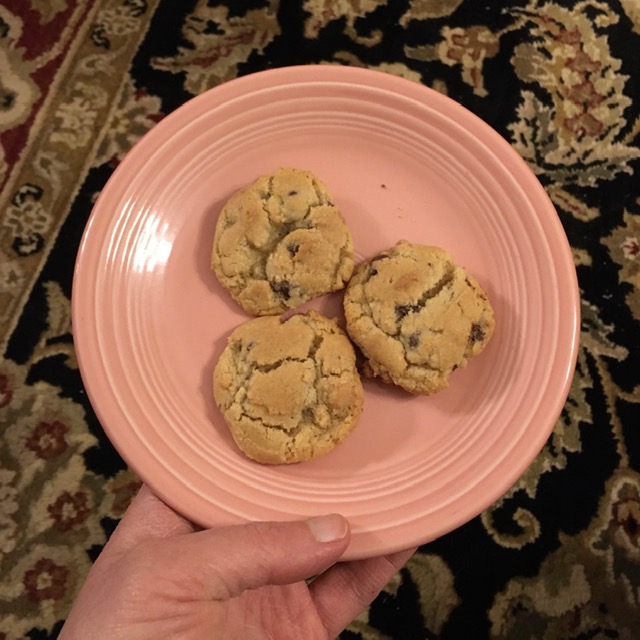 I sold more (mostly) thrifted items on eBay at a satisfyingly steady pace.

• A $35 stainless steel Kitchenaid bowl that I thrifted for $4.99.
• A $35 pair of LL Bean shearling slippers that were gathering dust in my closet.
• A $75 weird exercise strap thingy that I bought for $20.
• A $30 Stumptown artist collaboration coffee mug that I picked up for $1.99.
• A $60 Guitar Hero Rock Band guitar that I snagged for $6.99.
• A $25 pair of LL Bean fleece slippers that were $4.99.
• A $35 vintage wooden chess/checkers/backgammon set. I picked it up at Goodwill for $4.99, even though it was missing a few of the chess pieces.
• A $30 Calico Critters car that I bought for $4.99.
• Two pounds of Pendleton Wool fabric scraps for $30 that I bought at the Pendelton Wool outlet store for a couple of bucks.

I bought 44 bags of "Bailey's Irish Cream" chocolate chips for 10¢ apiece. (Yes, you read that right!) These were tucked away in Winco's clearance section, and initially I bought four bags, but then returned the next day for the additional 40 bags. I immediately donated four bags to a Little Free Pantry, and then made a batch of cookies to ensure there was nothing wrong with them. As you can see, there wasn't.

My plan is to resell these seasonal items on eBay, and if my wacky plan doesn't pan out I can always donate, gift or add to my pantry.

I snagged this vintage corner cupboard from someone's curb pile. It'll take some love to bring it to its full potential, but it shouldn't require the purchase of any supplies. I think it's super cute, so I'll make sure to post more as I get going on it.

My mother and step father dropped off a couple bags of books for our Little Free Library, we treated ourselves to $1 tacos from Su Casa Tacquería, I started listening to Emma Straub's All Adults Here through the free Libby app, I boiled up a leftover Costco roasted chicken, which provided enough broth and chicken for a huge pot of soup, plus enough chicken and broth for additional meals, I gave away some extra Christmas ornaments through my Buy Nothing group and I used the discount USPS Pirate Ship website to mail off a bunch of mediocre birthday gifts to my sister even though her birthday was IN DECEMBER!

I didn't buy a Lear Jet.
Katy Wolk-Stanley    
"Use it up, wear it out, make it do or do without."
Click HERE to follow The Non-Consumer Advocate on Twitter.
Click HERE to follow The Non-Consumer Advocate on Instagram.
Click HERE to join The Non-Consumer Advocate Facebook group.
Click HERE to follow The Non-Consumer Advocate on Pinterest.
Disclosure: This blog post includes eBay affiliate links, which may earn you a discount, as well as a small commission for me. This costs nothing extra to you.