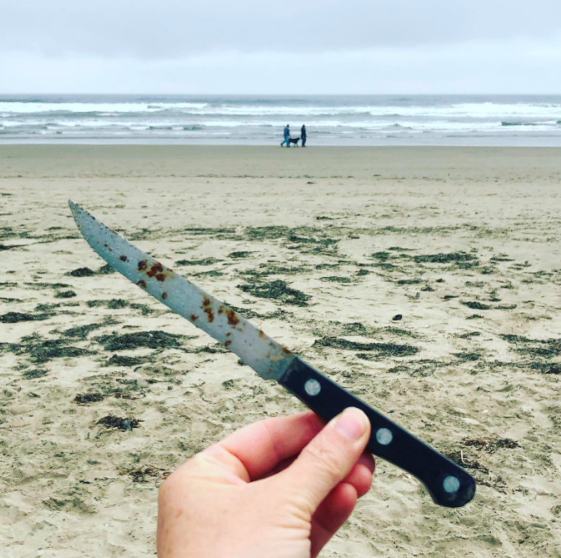 I've been putting off publishing a blog post, as I felt it needed to be amazing and extra special since it's been awhile. However, this mindset was a barrier to getting back in the game, so I present to you . . . a regular, run of the mill post!
Sorry about the lapse in blogging, I just needed to let my life be my own for a bit. 
My husband and I recently returned from a two week trip to NYC that included a five day detour to Pittsburgh for a family wedding. The plane tickets were painfully expensive. However, we consistently lives below our means, which means that we could absorb the extra expense. Did we then use the YOLO (you only live once) mindset to justify unfettered spending? Nope! We did have a few surprise expenses, specifically a highly recommended "you have to go there" bagel joint in Pittsburgh that bafflingly set us back more than $90! Still annoyed. Seriously.

I sold a number of things, through both Facebook Marketplace and eBay.

Notably I sold:

• The last of the 10¢ Bailey's Irish Cream chocolate chips from earlier this year. I lotted them up as groups of four for twenty bucks apiece and gradually sold them all. I made more than $200 from ten cent chocolate chips. Kind of a fun experiment in retail arbitrage. Update: I had a few extra bags, so I upped the price to $20 for two bags, and sold some to Australia!

• A $35 Breuer chair back piece that I garbage picked while visiting friends in Brooklyn, NY.

• Two yards of discontinued IKEA fabric that I thrifted for $4.99 and quickly sold for $50. I pick up IKEA fabric whenever I come across it as it's always a quick seller.

• A 99¢ Cutco knife that sold almost immediately for $35. By the way, Cutco is a fantastic brand to scan for while thrifting!

• A number of quality Halloween costumes, including a $75 Harry Potter cape, a $55 Back to The Future jacket and a $39 Captain Picard uniform shirt. (all adult size costumes, which is why I priced them so high.) I'm kind of nervous that I bought too many costumes, as I'm now sitting on a dozen or so kid's Halloween costumes. Hopefully the run up to October 31st will prompt buyers to find me on eBay. Update: I've sold six additional costumes since I wrote that last sentence.

After two weeks of extremely mediocre New York and Pittsburgh restaurant meals, (which were preceded by two weeks of hosting out of town family for an additional two weeks!) I came home with fresh motivation for frugal yet delicious home cooked meals.

Cool evenings have ushered in soup season, which means I pretty much always have a pot of homemade soup in the fridge that everyone can just ladle from. Chicken soup, (both traditional and Mexican-style) chili, white bean rosemary soup, red lentil soup — it's all a hit with my family, especially when paired with crushed tortilla chips, dumplings, cornbread or biscuits.

Tonight I'll assemble a couple of homemade pizzas and top them with some leftover sautéed onions with spinach from last night's burrito buffet. And if all goes well, there should be leftovers for tomorrow. Update: my son had a friend over and there was precisely zero leftover pizza.

I love indulging in an occasional restaurant meal, but sometimes enough is enough. Especially when not all restaurant meals are worth the splurge.

I found a slightly rusty Westhof knife on the Oregon coast that I brought back to life with some Barkeeper's Friend, my husband and I have been watching Only Murders in The Building through my friend Lisa's Hulu subscription, I'm listening to The Personal Librarian through the library's free Libby app, my husband and I each enjoyed a free Krispy Kreme donut thanks to our Covid-19 vaccination cards, my friend Lise and I have been going on evening walks, which ticks my "social life" box, I bought tickets to see a play that my friend is directing, as non-consumerism is about being deliberate with spending rather than being cheap for cheap's sake.

I didn't buy a Lear Jet.
Katy Wolk-Stanley    
"Use it up, wear it out, make it do or do without."
Click HERE to follow The Non-Consumer Advocate on Twitter.
Click HERE to follow The Non-Consumer Advocate on Instagram.
Click HERE to join The Non-Consumer Advocate Facebook group.
Click HERE to follow The Non-Consumer Advocate on Pinterest.
Disclosure: This blog post includes eBay affiliate links, which earns a small commission for me. This costs nothing extra to you.