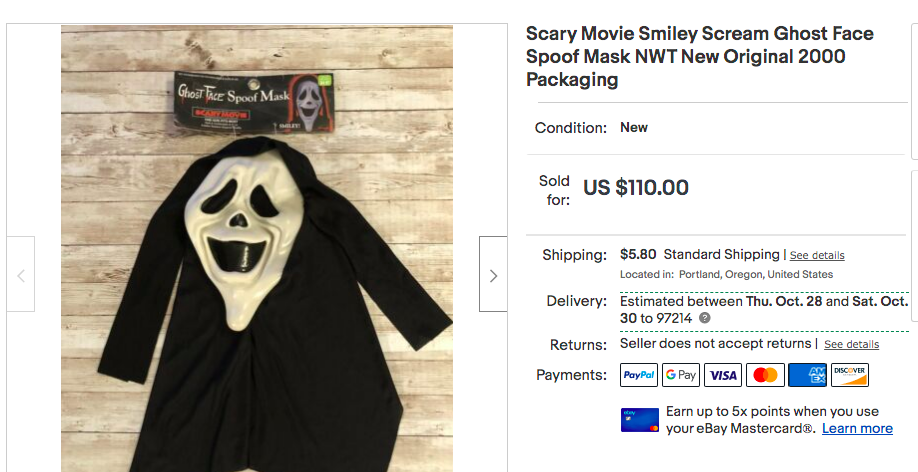 I Sold a number of random things on eBay, including:

• A vintage wool coat that I bought for $14.99 and sold for $125

• Some vintage Revere Ware pots and pans. Here and Here.

• A Girl Scouts patch that I found in a Goodwill Outlet parking lot and then sold for $4.

My post-graduate son is living at home as he gets his adult life off the ground. However, his bedroom doesn't match his status as a 23-year-old man. Specifically, his twin trundle bed — which was perfect for middle school sleepovers, but not his current adult body. Keep in mind that his room is teeny, so the only option was to upgrade to a full/double bed, as a queen would dominate the space.

Normally I don't buy anything new, but "mattresses" are on my exception list. I do my best to support locally owned businesses though, so we drove over to N.E. Portland's Mattress Lot, (not sponsored) where my son proceeded to lay across a dozen or so beds before deciding on a $400 traditional inner-spring mattress.

I'd put up a request for a full-size bed through my Buy Nothing Group, and got a offer for a free Ikea frame pretty quickly. A single wood support piece did need a repair, but my husband worked his magic with glue, dowels and pocket screws.

My son gave the bed a rave reviews for his first night's sleep, so all that's left is to offer up his old bed on the Buy Nothing Group.

I needed a new pair of comfortable warm slippers and my research led me to LL Bean's $79 Wicked Good Moccasins. I began searching on eBay and found a like-new pair in my size for just $20 plus $9.99 shipping. However, this specific pair had a small tear in the suede. But you and I both know that I'm fearless when it comes to mending. Literally fifteen minutes of work fixed the slippers and I'm now cozy as can be!

Click HERE to see the before and after.

I picked up some free bubble wrap and flexible styrofoam sheets from a nearby store for my eBay sales, I've been continuing to cook 100% from scratch since returning from NYC, my son picked up some free McNuggets as our NBA team scored over 100 points, my mother brought over some books for my Little Free Library, I fell down a Frugal Fit Mom YouTube rabbit hole and have been picking up a few food items from Dollar Tree, (corn tortillas, frozen peppers, ginger snaps, dry beans, seasoned salt) and my friend Lise and I have been socializing by pairing our dull errands as our rainy Oregon weather doesn't lend itself well to nice long walks.

I didn't buy a Lear Jet.
Katy Wolk-Stanley    
"Use it up, wear it out, make it do or do without."
Click HERE to follow The Non-Consumer Advocate on Twitter.
Click HERE to follow The Non-Consumer Advocate on Instagram.
Click HERE to join The Non-Consumer Advocate Facebook group.
Click HERE to follow The Non-Consumer Advocate on Pinterest.
Disclosure: This blog post includes eBay affiliate links, which earns a small commission for me. This costs nothing extra to you.