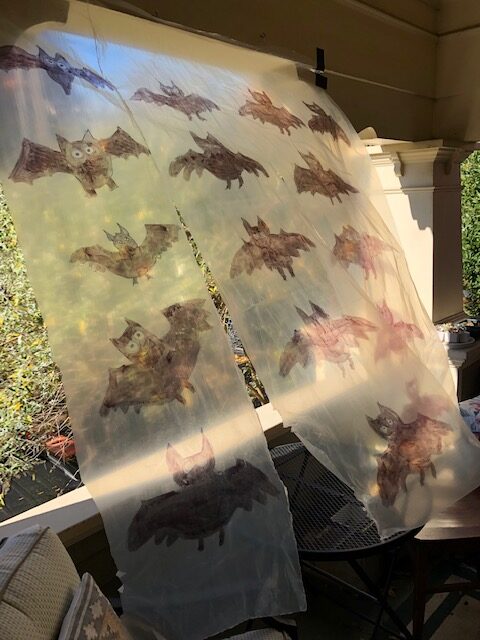 I sold a number of things, including:

• A pair of one of a kind Nike sample shoes for $85.

• Two Guitar Hero guitars for $60 apiece — HERE and HERE.

• A McCoy vase, which I sold locally for $30 through Facebook Marketplace.

My daughter started working at a high end grocery store and has been bringing home random leftover food, which is amazing, but also kind of a challenge.

So far I've been the lucky recipient of:

• Three (maybe four?) pounds of pastrami and sliced deli turkey. We ate "French dip" sandwiches swapping out the roast beef for turkey, as well as turkey wrapped around cream cheese and pickles. The pastrami went into my husband's work sandwiches.
• A large container of pickle spears. See above.
• Two beat up looking grapefruit, which ended up being really sweet and juicy.
• Multiple boxes of gluten-free donuts. No need to work these into a recipe. Urp . . .

I salvaged the sturdy plastic sheeting from my son's new mattress to create two drop cloths for future projects. I also cut another piece into strips and drew bats on them as reusable Halloween decoration. The last random bits got cut into pieces for use as packaging material.

Such a enormous amount of plastic, and I'm happy that it's not going straight to a landfill.

My neighbor let me put out an extra bin of leaves with his yard debris pickup, (he rarely puts one out) I was able to give away the under-bed trundle and mattress from my son's old twin bed through the Buy Nothing Group, and I went to Trader Joe's and bought nothing but the 19¢ bananas, truly a feat of self control if there ever was one!)

I didn't purchase a seat on a rocket ship with my fellow billionaires.
Katy Wolk-Stanley    
"Use it up, wear it out, make it do or do without."
Click HERE to follow The Non-Consumer Advocate on Twitter.
Click HERE to follow The Non-Consumer Advocate on Instagram.
Click HERE to join The Non-Consumer Advocate Facebook group.
Click HERE to follow The Non-Consumer Advocate on Pinterest.
Disclosure: This blog post includes eBay affiliate links, which earns a small commission for me. This costs nothing extra to you.