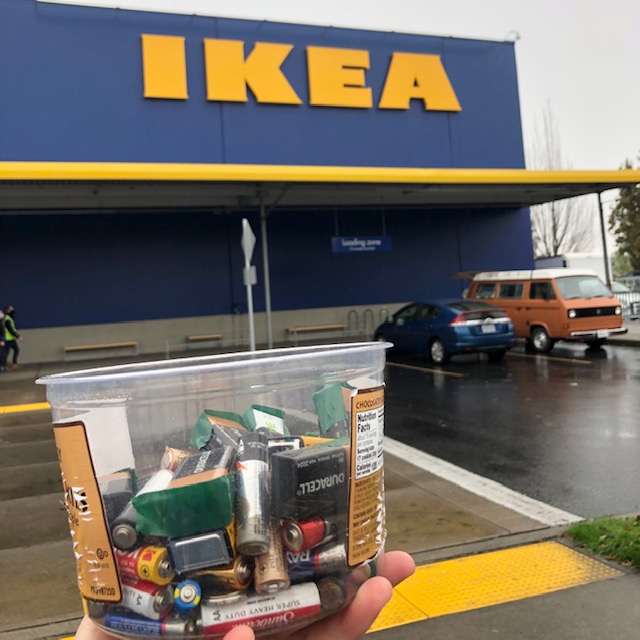 My daughter turned 26, so I planned an afternoon of adventures for the two of us. We normally celebrate family birthdays that include the four of us, but our schedules were all over the place, so it ended up being just the two of us. Her schedule was tight, so we ended up going to just two places.

• Our first stop was Purrington's Cat Lounge, which doubles as both a "cat café" and a feline adoption center. Together we enjoyed coffee, treats and the disinterested company of cats. My daughter's cat passed away recently, so this ended up being pet therapy, but very much enjoyed by both of us.

• Our second stop was a local restaurant that serves gluten-free fish and chips. This is one of my duaghter's favorite dishes, but a rare treat due to dietary restrictions. I would rate the food as decidedly "so so," but my daughter liked it, so who am I to complain?

My mother turned 79, so I hosted her and my step father for dinner, but also cobbled together a later "day of adventures."

• Our first stop was ¿Porque No? where we dined on "Bryan's Bowls" in the outdoor seating area. I had a filled punch card, which cut the bill in half.

• Our second stop was to Goodwill, where I picked up an end table to refurbish and my mom bought up a pair of drinking glasses.

• We then circled back to my house where I served tea and scones that I'd baked earlier. I'd also checked out a stack of library DVDs for my mother to choose from. We settled on The Bookshop, which ended up being the perfect rainy day movie for the two of us to watch while snuggled under blankets.

We as consumer are heading into the holiday gift giving season and are already being inundated with "black Friday deals," and cargo ship mayhem news designed to separate us from their money and fill our homes with crap clutter. I invite you to reconsider how you gift with your loved ones. It doesn't have to be a Day of Adventures, but there are so many better choices that don't fill up Jeff Bezos' Crammed Cavern of Cash™.

Shop local
Handmade
Buy used
Consumable goods
Experiential gifts
Gifts of service
No gifts <– seriously . . . do we need to give so many gifts to so many people?

Click HERE to read about previous Birthday Days of Adventure.

My son and I both got free haircuts from the Supercuts training center, which is a rare money saving tip that should work nation wide. (I know that my friend Joel who lives in Atlanta is also a fan of this frugal hack!) These cuts are performed by licensed hair dressers who happen to be new employees and are supervised by a manager.

We do tip, but it's still a huge savings.

I brought home a dozen or so green tomatoes from a neighbor's "free box," I shelved my Little Free Library with children's books from my mother and Shakespeare anthologies from my father, I stocked my freezer with pureé from a neighbor's gifted Halloween pumpkin, I finished listening to an audiobook of The Rose Code and then started listening to Radium Girls using the library's free Libby app, My son and I stopped at Ikea to buy a plant and also dropped off batteries to recycle and filled our travel mugs with their free coffee, I gave away some macaroni noodles, a fleece blanket, a pair of clip-on lamps, a pair of bow ties and some extra winter gear through my Buy Nothing Group, and my son and I drove through McDonald's for free McNuggets after Portland's basketball team scored over 100 points.

I didn't go on an ego driven space jaunt with my fellow billionaires.
Katy Wolk-Stanley    
"Use it up, wear it out, make it do or do without."