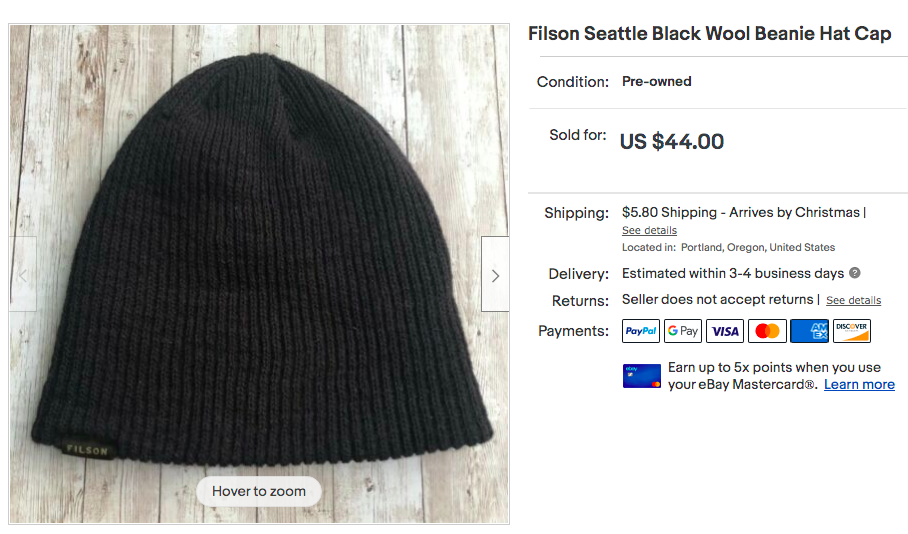 My husband installed a hood vent over our stove after a mere 25 years of home ownership. He'd been stumped on how it would vent as it wasn't an exterior wall. However, the discovery of a $99 clearance priced hood at Home Depot prompted him to watch some YouTube videos, and I am proud to say we are now proud owners of a fully functioning stove hood!

I found a soggy and rather filthy knit cap in the middle of a busy street and brought it home. I promptly gave it a thorough wash in a basin and then a quick once over with my sweater shaver. It turned out to be a Filson brand wool hat that sells new for $45. However . . . it was out of stock due to "supply chain issues" at the time, so I popped it on eBay for $44 and it sold within a couple of days.

Very satisfying.

My next door neighbor Nancy and I recently both read The Beneficiary, a biography about author's Janny Scott's wealthy and accomplished extended family. Scott's socialite grandmother was rumored to have been the inspiration for Katherine Hepburn's iconic character in the The Philadelphia Story, which prompted me to put the DVD on hold at the library.

Nancy and I then indulged in an afternoon movie date at her house, complete with popcorn and terrible impersonations of Hepburn's mid-Atlantic accent.

I thrifted a midcentury end table for $12.99 and proceeded to clean it, repair some chipped veneer, refresh the finish and then sold it for $200, I had enough thrifted candles to get through the eight nights of Hanukkah, I picked up some free used bubble wrap from a local business who gives it away, we hosted Thanksgiving dinner and then ate from the leftovers for over a week, I'm finishing up an audiobook of The Invisible Life of Addie LaRue through the library's free Libby app, I gave away some notebooks, an unused planner, socks, bowties and a jacket through my Buy Nothing group and I got my free Covid-19 booster shot at a community clinic.

I didn't go on an ego driven space jaunt with my fellow billionaires.
Katy Wolk-Stanley    
"Use it up, wear it out, make it do or do without."
Click HERE to follow The Non-Consumer Advocate on Twitter.
Click HERE to follow The Non-Consumer Advocate on Instagram.
Click HERE to join The Non-Consumer Advocate Facebook group.
Click HERE to follow The Non-Consumer Advocate on Pinterest.
Disclosure: This blog post includes eBay affiliate links, which earns a small commission for me. This costs nothing extra to you.