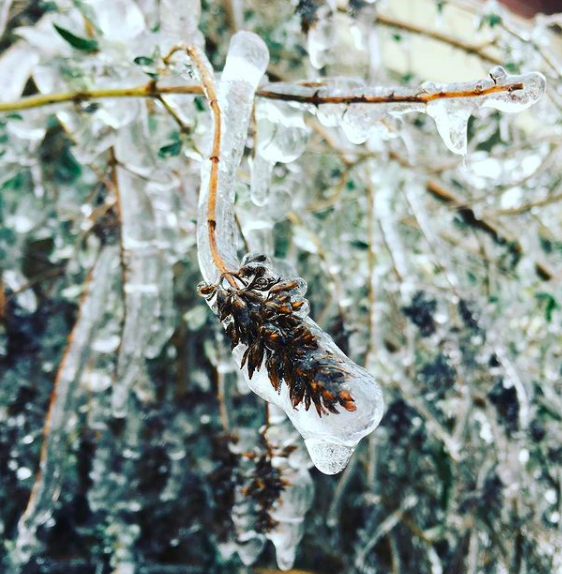 I sold just a few things, including a $20 curb picked boom box and a $75 Nintendo Wii system which were apparently worth trekking through the snow to pick up in person. Needless to say, there was no thrifting.

Here's what sold:

• A $55 midcentury floral painting that I picked up at Goodwill a million years ago, but had moved on from.

• A $20 teeny tiny Benjamin Franklin plate that had been in my eBay inventory for at least a year.

• A $25 set of midcentury silver rim "Dorothy Thorpe" glasses that are hopefully very well packaged.

• A couple more of my daughter's $5 Shonen Jump magazines.

• A cute and goofy $15 two-faced flowerpot. (Facebook Marketplace)

• Another pair of Dansko "Professional" clogs that I'm supposedly selling for $50 on Facebook Marketplace this afternoon. Edit: They didn't fit her, so they didn't actually sell.

Portland had a multi-day snow and ice storm that left thousands without power for days. Somehow we never lost electricity and didn't experience any damage to our home or property. (My husband and I were remarking on how we were the only people we knew outside of our immediate neighborhood that kept power. Seriously, even our next door neighbors lost power for a short period of time!) A friend of mine works for an arborist and has been burning the candle at both ends from the endless calls from homeowners with tree damage.

I stopped into Winco as soon as the roads were safe enough to stock up on a few necessary items such as bulk beans and produce. We're actually walking distance from two grocery stores, (a Kroger and a Whole Foods type store) but I prefer to drive to employee-owned Winco as they're massively cheaper and appear to be an ethically run company. I don't have a standard pantry for backup food storage, although recent weather events might nudge me over the edge to get creative about where I can store shelf stable dry goods.

I worked my way through my mending basket to darn eight individual socks while watching "The Good Place" reruns, my husband and I rotated our new mattress to encourage even wear, we watched the Wild Bill British TV series through my sister's "Britbox" Amazon Prime subscription, (I promptly thanked my sister, to which her response was "I hope I'm not paying for that." Indeed she had accidentally subscribed at some point, so I cancelled her monthly $6.99 subscription per her instructions) and then I ate countless bowls of homemade soup. I am the soup and the soup is me. Soup.

I didn't buy a Lear Jet or fly my family down to Cancun for a fun getaway.
Katy Wolk-Stanley    
"Use it up, wear it out, make it do or do without."
Click HERE to follow The Non-Consumer Advocate on Twitter.
Click HERE to follow The Non-Consumer Advocate on Instagram.
Click HERE to join The Non-Consumer Advocate Facebook group.
Click HERE to follow The Non-Consumer Advocate on Pinterest.
Disclosure: This blog post includes eBay affiliate links, which may earn you a discount, as well as a small commission for me. This costs nothing extra to you.