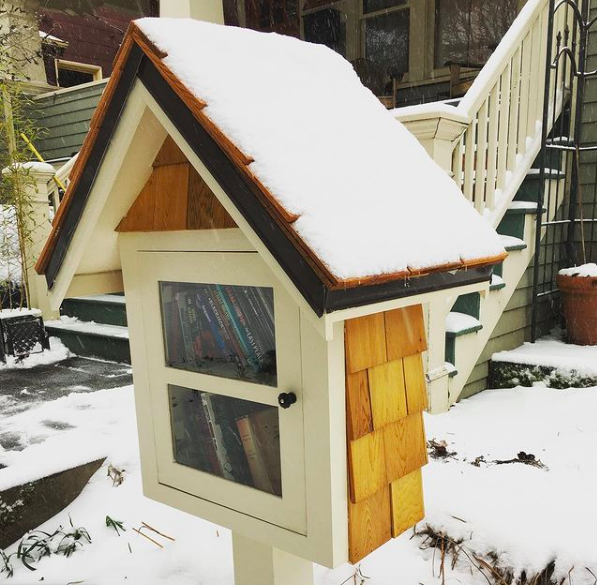 I slowly but surely sold some stuff on eBay, including:

• Seven yards of fabric that I bought for $3.50 and sold for $45.

• A Blues Brothers mug that I bought for 99¢ and sold for $20.

• Four bags of Bailey's Irish Cream chocolate chips that I bought for 10¢ apiece and sold as a lot for $22.

• A pair of Ugg's slippers that I bought for $4.99 and sold for $27.

I was super annoyed that my husband's schmancy pillow was wider than standard size and annoyingly stuck a good two inches past the pillow case. I even went so far as to put up a request in my local Buy Nothing group asking if anyone had an extra white king-size pillow case to gift. (I'm fully aware that this minor issue doesn't matter, but this goddamned pandemic is skewing my priorities.) Then I realized that all I needed to do was unstitch the wide hem and re-stitch it with the extra released fabric.

The unstitching-restitching process took at least an hour, but spare time is far from scarce these days, and this project gave me a much needed sense of accomplishment.

I discovered that there are some decent free-with-ads full-length movies on YouTube, so my son and I watched "That Thing You Do" which I'd been wanting to rewatch ever since the songwriter Adam Schlesinger died from Covid-19 at the beginning of the pandemic. It would have cost $3.99 on Amazon Prime.

This got me thinking about how much free streaming content is available, such as:

• Free trials, which are only a bargain when you remember to cancel your subscriptions on time.

• Kanopy, which is a free streaming platform available to most public library patrons and university students.

• Six months of Discovery Plus, (if you have Verizon wireless) which I signed up for and have been taking full advantage of. There are no commercials, (hip-fucking-hooray!) and my husband and I have been enjoying Rehab Addict Rescue and a few other shows.

• Free Hulu subscription, which seems to be available with most of the major cell phone carriers. (Verizon, Sprint and T-mobile)

• Sharing streaming services with friends and family members. For example, my sister and I share her Amazon Prime membership, and her family uses our Netflix.

I could go on and on with all the free available streaming content (PBS! Peacock! Tubi!) and the options seem almost endless. So I ask for you to share your favorite free streaming services in the comments section below.

I was able to enjoy the 10%-off "55-and-better" senior discount at Goodwill because my husband (who is two years older than I am) was shopping with me, (Wednesdays, for those who are local to the greater Portland area.) I was able to source a nice $35 desk through Facebook Marketplace for my 22-year-old son who had outgrown the one I bought for him in third grade, my husband and I watched one last BritBox TV show before my sister's subscription ends and I cooked and then cleaned up from 7,433 monotonous meals.

I didn't buy a Lear Jet.
Katy Wolk-Stanley    
"Use it up, wear it out, make it do or do without."
Click HERE to follow The Non-Consumer Advocate on Twitter.
Click HERE to follow The Non-Consumer Advocate on Instagram.
Click HERE to join The Non-Consumer Advocate Facebook group.
Click HERE to follow The Non-Consumer Advocate on Pinterest.
Disclosure: This blog post includes eBay affiliate links, which may earn you a discount, as well as a small commission for me. This costs nothing extra to you.