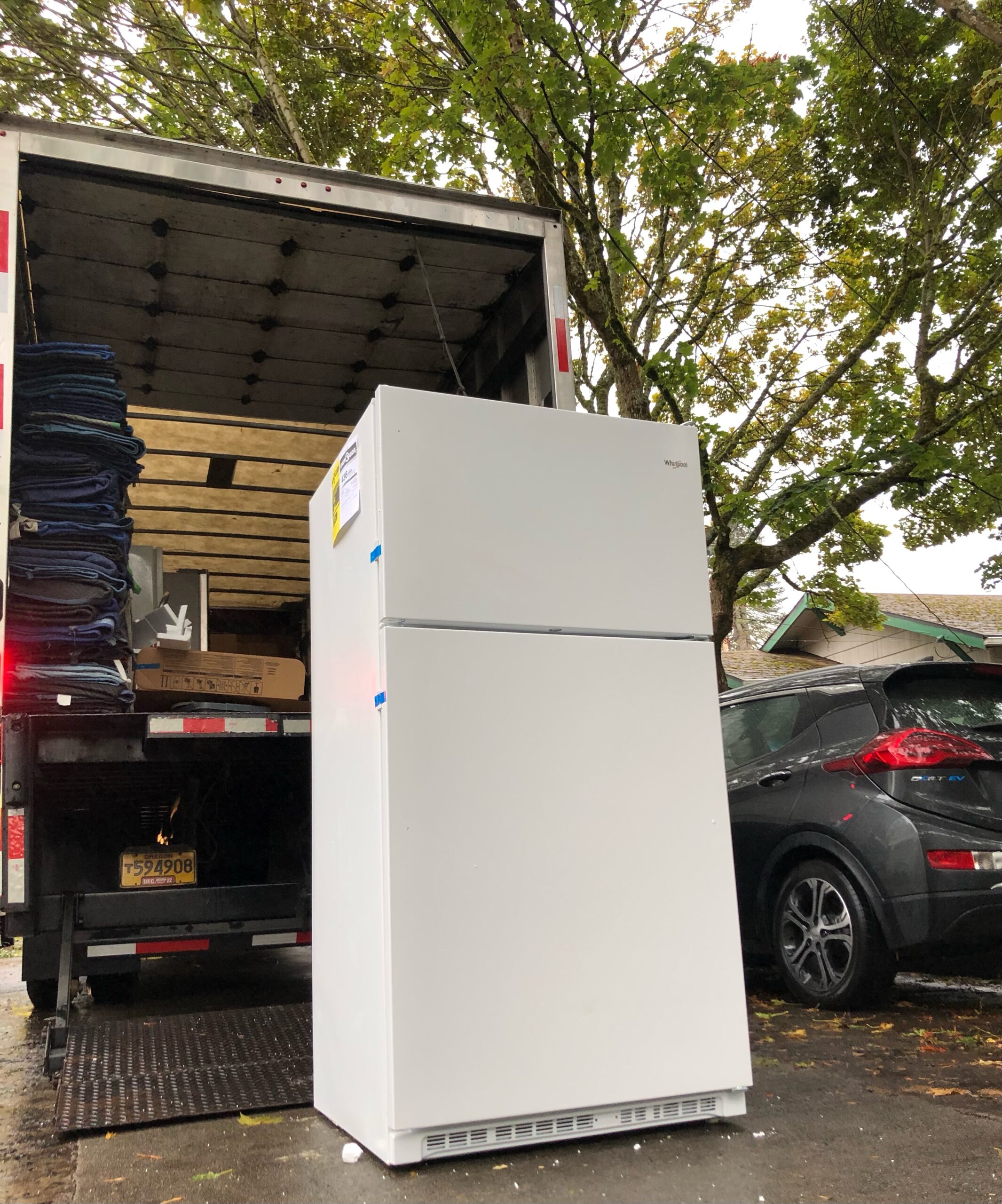 Our new Costco refrigerator was delivered today, but was lightly scratched in the transportation process. The installation worker took photos of the scratches and informed me that Costco would contact me to either replace the doors or refund some money as compensation.

I think you can guess which one I'll choose.

Portland finally remembered that it's a cold damp climate, not an arid desert. Here's what I'm doing to keep heating costs under control:

• I closed off the heat registers in the kids' empty rooms as there's no need to heat their unused spaces.

Edit: I've just been informed that closing off heat vents is a bad idea. I looked it up and here's what I found:

"The short answer is no; you should not close air vents in your house. Closing vents can actually waste more energy than operating your system normally. How does closing air vents waste energy? Because when you close vents in unused rooms, your central air system will push the excess air to other places in your home. Let's take a look at what happens to all that extra air."

'Nuff said. I guess I'll go open those vents back up again!

• I'm dressing in cozy warm layers to heat myself instead of the entire house.
• I ensure that there are ample lap blankets available to anyone who happens to sit still in the living room.
• I flipped the switch on our new ceiling fan so it can spin warm air towards the ground.
• I'm making sure to not run the bathroom and oven exhaust fans too long as I don't want to pay to heat a room to only suck that expensive heat back out of the room.
• I switched from Crocs/sandals to last year's eBay shearling slippers and have added wool socks to the equation.

My hair has once again grown to the "sister wife" length and I'm in desperate need for a haircut as I'm either wearing it in braids or it tangles with no in between. I've used the Supercuts "training center" for free cuts at least six times, but it was organized through a Facebook page which seems to have been abandoned. I finally remembered to call the Supercuts salon that houses the training center and was told that cuts are now arranged through email. I quickly typed out a request and am hoping I can zip over for a free cut in the next few weeks.

I've gotten my hair cut through beauty schools in the past and not had good experiences, but Supercuts' training centers use certified stylists who often have years of independent experience but happen to be new hires. It doesn't take any longer than a normal appointment and I get to hit an awesome Goodwill that's out of my normal sphere of errands. WIN-WIN!

My friend Lise texted asking if I wanted to go with her to the "bent vegetable store." I bought three salad kits, two bags of mixed greens, two cucumbers, three containers of fresh mozzarella, a pound of bacon and a restaurant size package of cut and prepped broccoli for $16.35, (I was accidentally double charged for the cucumbers, so it should have been $15.35.) I got my free Bivalent Covid-19 booster vaccine at  the CVS in Target and didn't browse for stuff to buy and my daughter continues to drop off free random groceries from her work which includes eggs, provolone slices, chocolate chips and cake.

I didn't buy a Lear Jet.
Katy Wolk-Stanley    
"Use it up, wear it out, make it do or do without."
Click HERE to follow The Non-Consumer Advocate on Instagram.
Click HERE to join The Non-Consumer Advocate Facebook group.
P.S. I drove to the library's free tech help session across town to get assistance with the excessive advertising situation on the blog. Unfortunately the person who's the supposed WordPress expert called in sick that day. In other news, I'm making enough money to cover blogging expenses again.