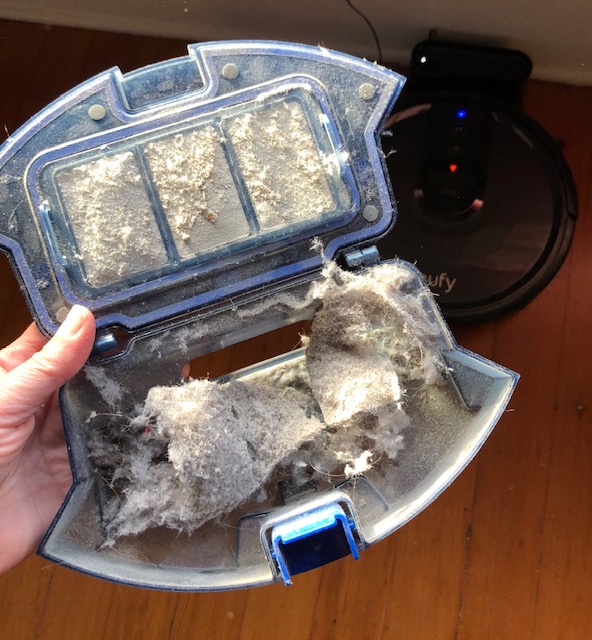 My daughter continues to gift me with random groceries from her job at a high end grocery store. This week it was two huge hunks of pre-cooked ham. Ham's not my favorite, (so rubbery!) but I do like how it adds a smoky richness to bean soup. My friend Lise had panic bought a survivalist amount of black eyed peas at the beginning of the pandemic and later foisted a big bag on me.

Free ham + free black eyed peas = a tasty combination.

I cooked up the black eyed peas and added onion, rice, diced carrots, celery, chicken bullion and chopped ham, which created a flavorful, albeit heavy meal. (Or four meals!) I then diced and froze a gallon-size bag and thinly sliced the last of the ham for my husband's work sandwiches.

My mother gave me $100 for my birthday, which I used to purchase a robot vacuum cleaner, which I've secretly coveted since they first rolled off the assembly line. I follow John and Sherry over at Young House Love, and they recently mentioned on social media that the Eufy vacuum they recommend was on sale for just $96. John is an obsessive researcher of products, so I felt I could trust the product.

I've used the same plain Jane vacuum cleaner since 2001, with no plans of replacing it for something cuter. However, I've grown sensitive to dust and pet hair and felt that a robo-vacuum could better clean under our bed, which collects a shocking amount of dusty grey matter. For reference, the above photo is from the second cycle of cleaning of our clean looking bedroom!

I'm only on day two of using the robot vacuum, but am unabashedly ecstatic with it. The amount of crap that it vacuums up is impressive, not just from areas I know to be dusty, but from other rooms in the house as well. To quote my neatnik father, "It's not a chore if you're a clean freak."

My niece and her boyfriend visited Portland, and although they mostly stayed with my father, I still had them for a couple nights and spent multiple days ferrying them around and hosting dinners at my house. My mom did spring for takeout one night, but I also cooked, including a frugal yet delicious taco buffet night that accommodated their vegan lifestyle.

Thank you, versatility of black beans!

My daughter also brought home three tubes of Pillsbury croissants, I can't find my laptop charger, so my son is bringing me an backup one to borrow, (which is directly correlated to the lateness of this blog post) I lent my niece some extra hats, gloves and scarves to go cross country skiing, my husband was able to fix our whiny bitch non-functioning oven with a $40 part, I'm almost done listening to Tomorrow, and Tomorrow, and Tomorrow by Gabrielle Zevin through the free Libby app, and one of my husband's co-workers gave him a dozen eggs from his backyard chickens.

I didn't buy a Lear Jet.
Katy Wolk-Stanley
"Use it up, wear it out, make it do or do without."