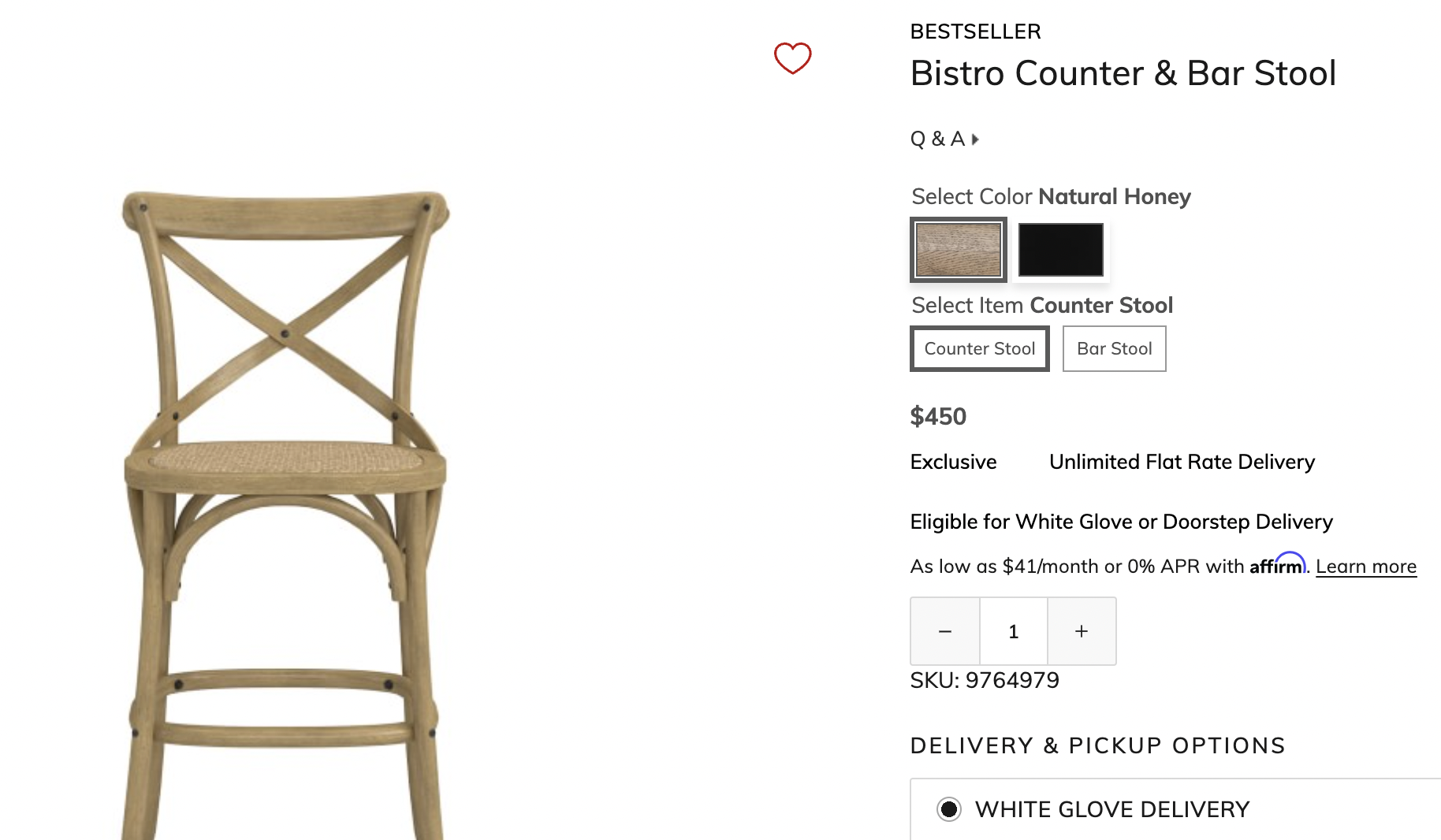 I stopped by Goodwill on my way to the dented vegetable store and scored two Ballard Designs counter stools for $9.99 apiece. They're currently on sale on the Ballard website for $265, but are an almost exact dupe of the $450 Williams-Sonoma's version.

How did I know to buy them? They stood out as quality pieces of furniture, so I examined them and saw the manufacturer information on the bottoms of the seats. A quick internet search gave me the value and a quick wiggly "sit test" sealed the deal.

I've since listed them on Facebook Marketplace for $150 apiece, but will lower the price if I don't find a buyer after a couple of weeks. Patience is key.

I convinced my doctor to switch me from a name brand medication to the generic. He was hesitant to do so, but the price difference for a 90-day supply is $107.09 vs. just $14.87 for the generic! This is an annual difference of $368.88, so it's at least worth a try.

I was chatting with my across the street neighbor as she unloaded her grocery order, and she complained about how she'd need to run an extra errand to return the plastic bags back to the store for recycling. Mind you, these were the heavy duty bags designed for multiple use, so I asked her if instead I could have them to use as garbage liners. She happily agreed.

My family doesn't put out a lot of garbage, which means that we're able to get away with a small kitchen bin, and this style of grocery bag works perfectly as liners. However, we're pretty good about remembering to bring reususable bags when shopping, so we don't actually get plastic bags that often. We are now the proud owners of a half-dozen or so sturdy bags and should be set for a month or two.

• I lent the across the street neighbor a fat stack of Pokémon "early reader" books for her son.
• I remembered to cancel our Paramount+ subscription before the 99¢/month deal expired.
• I scored a huge butternut squash for a buck at the "dented vegetable" store!
• My next door neighbor asked if we'd be interested in taking their TV room fold-out couch, as they're switching to recliners. I gave it approximately two minutes of thought before accepting their generous offer. I know from experience that anything from their house is sure to be immaculate, and I'd been puzzling how to turn our adult daughter's old room into a spare bedroom without spending an arm and a leg. A hide-a-bed couch is the perfect solution, as it allows us to reconfigure our current spare bedroom into a TV/family room, yet still have a backup bed for guests. The bed from the old spare bedroom can then be moved upstairs for our daughter's old room.

Luckily the recliners won't be delivered until April, which gives me enough time to wrap my brain around the details.

I didn't buy a Lear Jet.
Katy Wolk-Stanley
"Use it up, wear it out, make it do or do without."