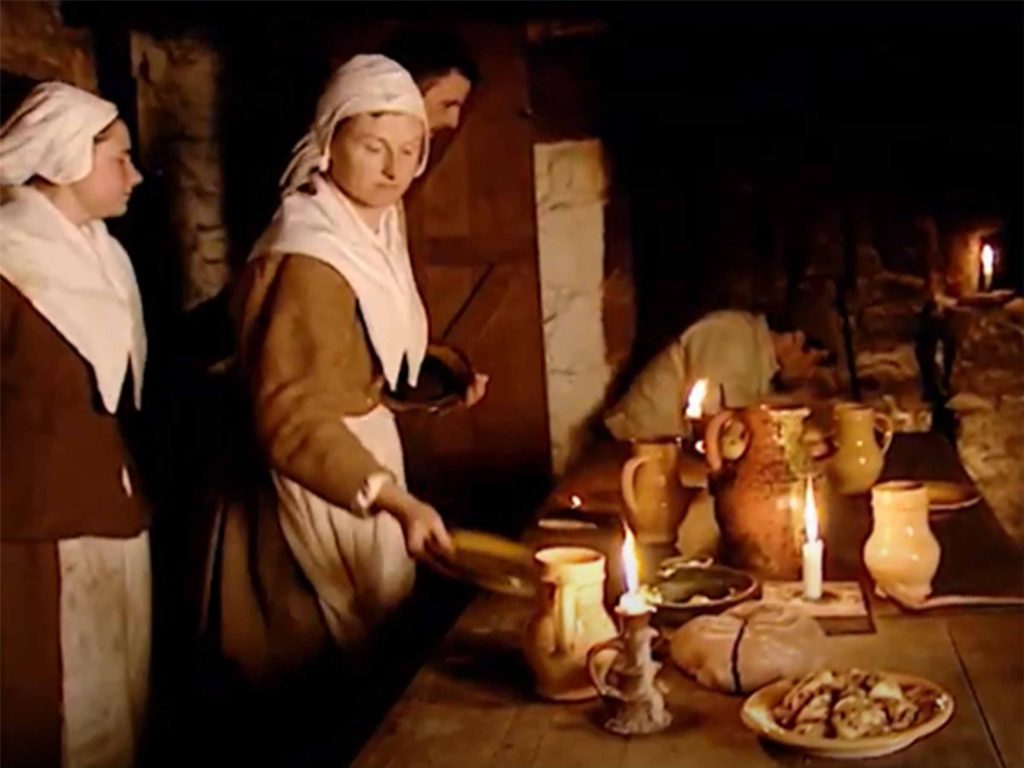 I watched a 5-1/2 hour YouTube video series about farming in 17th century Wales. This Tales From The Green Valley BBC video sent me down the deepest of rabbit holes to unapologetically binge watch Victorian Farm, Edwardian Farm and am now four episodes into Tudor Monastery Farm, all of which are thankfully on Amazon Prime.

The featured participants in these living history shows are deeply knowledgable archeologists and historians, which make these shows educational but also utterly fascinating. There's absolutely zero false drama or interpersonal conflict, which is a sharp contrast to how an American version would be produced. Just gently informative content.

How is it that I've been able to consume such a gluttonous amount of TV? A combination of an extended cold that knocked me off my feet and cloaked me with brain fog.

I haven't been thrifting at all and possess zero energy to list on anything on eBay, (I can't oversell how much this cold has sapped my energy, which is already minimal this time of year) this equates to selling almost nothing on eBay.

• I did sell this handmade wooden boat for $75, which I thrifted at least a year ago for $15.

• I sold a huge stained glass hanging light fixture that my parents commissioned in 1977 for their dining room. My step mother was going to donate it to Goodwill, so I brought it home and listed it on Facebook Marketplace. It took a long time to sell, but it finally went for $250 to someone for his soon to open Cuban restaurant, which I love. I look forward to being able to visit it again.

I may not have sold much, but I'm always happy when the physically large items I bring home to sell actually leave the house. Bringing stuff home without actually selling it is a slippery slope to being a hoarder.

My husband and I spent an afternoon running multiple tiny errands, none of which warranted their own trip, but together added up to a worthy accomplishment. Not only did it save gas to batch our errands, but it was nice to actually leave the house have a buddy for what would've otherwise been a dull endeavor. Together we dropped off plastic recycling, returned a glass milk bottle for a $2 deposit, returned and checked out new library books, stopped at a uniform store to order his baseball team's customized jerseys, dropped off lightbulbs and batteries at Ikea to be recycled, enjoyed Ikea's $1.15 veggie hotdogs and free coffee and finally stopped at Costco for a $5 rotisserie chicken and food for my husband's work lunches.

I hate when these tiny tasks build up, so it's cathartic to cross them from my to-do list.

• I gave each of my young adult kids a hundred dollar bill for Valentine's Day. These were from selling my parents' hanging light, which felt right.
• My daughter continues to gift me with random high end food items from her grocery store job. This recently included a glass jar of milk and some protein bars.
• I lent my son our new Eufy robot vacuum for his apartment bedroom. This room has wall-to-wall carpet, and although it seemed clean enough, it always smelled a bit stale. He ran it for four or five consecutive nights, each time sucking up an impressive amount from what had seemed like decently clean carpet. His room suddenly smells fresh and clean again and I can only imagine is a healthier breathing environment.
• My husband clamped and glued our son's roommate's dining room chair back to functionality.
• I cut some forsythia from the garden to force into bloom. No overpriced Valentine's Day roses here!
• This cold has turned me into an absolute and utter couch potato, which is a boring but frugal existence. Seriously, just concentrating on writing this blog post is making me feel a bit lightheaded and I think I need to cue up another living history video.

I didn't buy a Lear Jet, not even one from the Tudor period.
Katy Wolk-Stanley
"Use it up, wear it out, make it do or do without."