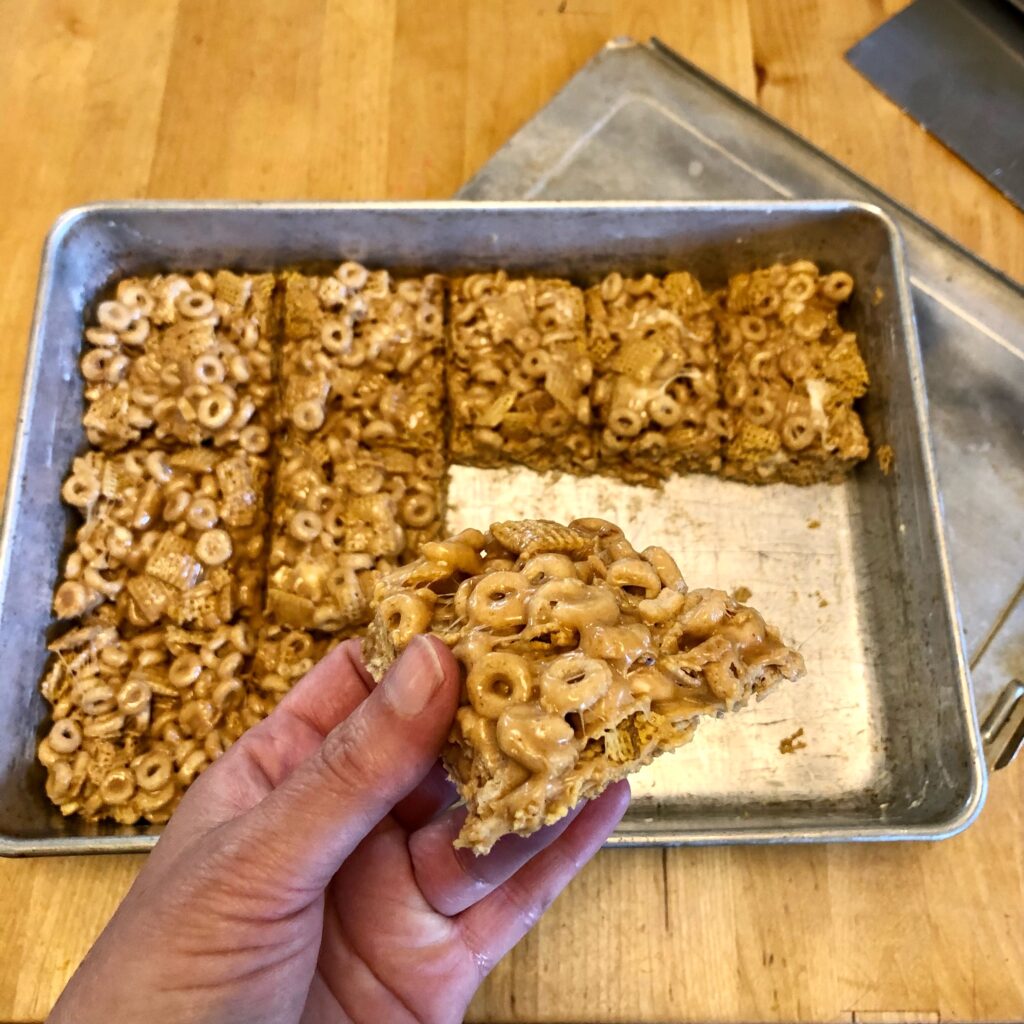 I took two partial boxes of stale cereal, two partially full but stale bags of marshmallows, the last of a jar of peanut butter and three-quarters of a stick of long leftover margarine and assembled a pan of the most delicious faux Rice Krispy treats.

I'm happy to rid my cupboards of this old food and ecstatic that the result was so delicious!

My husband and I took a spontaneous day trip to the Oregon Coast, which we timed to take full advantage of the low tide. As always, we stopped in Tillamook for Mexican food. Our favorite food cart was closed for the day, but the one down the road was decent enough. Our burritos were enormous and served as both lunch and dinner and we'd filled our travel bottles with enough water for the entire day.

We spent a couple hours on the beach looking through the tide pools for marine life and were rewarded with views of anemones, crabs, sea stars and tiny fish. The tide was even low enough to walk all the way across to some caves, although not low enough to actually go in them. We then sat on a bench to watch the tide come in while munching our burritos.

Lastly we drove up to the Cape Meares lighthouse to enjoy the view that never disappoints.

We could certainly rent a hotel room or a cabin to stay overnight, but I actually really like how a day trip puts me back in my own comfortable bed by nightfall. Less to plan, almost nothing to pack and the cost is simply a bit of gasoline.

I used some neutral Resor-A-Finish to gloss over a watermark from where I stupidly set my tea slightly off the inset tile on my midcentury coffee table. This stuff is a freaking miracle, although it's supposedly a controversial product in the furniture refinishing community. But really, can you argue with these results?

• My son and I drove over to a friend's house to ooh and ahh over her two-week-old kittens. She sent us home with 18 freshly laid eggs from her backyard chickens.
• Me being me, I'd just bought two packs of eggs at Safeway as they were priced at 97¢ per dozen. Oh well, I'm set for quite awhile!
• I boiled up the last of the 10¢ ears of corn and then poured the cooled down water over some backyard ferns.
• I received a free, yet new looking pair of Marimekko espadrilles through my Buy Nothing Group.
• I stopped by the dented vegetable store and came home with two grocery bags of produce plus two boxes of matzoh crackers for only $10.31.
• I picked up an extra $1 bag of organic Roma tomatoes for my friend Lise.
• I thrifted a $4 frame for a watercolor that my insanely talented and creative daughter painted her first year of college. It's been sitting dusty and propped up in her room ever since then, but it's now protected and on hanging the wall of her childhood bedroom.
• I know I already blogged about it, but I'm including that I painted over a large stain to keep my porch rug in use.
• I'm almost done listening to Willa Cather's My Antonia through the library's free Libby app.
• I found four items in my kitchen, (two mugs, a plate and a glass growler) that can go to Goodwill. Not an impressive amount, but it's these consistent small donations that keep my house from getting too cluttered.

I didn't buy a Lear Jet.
Katy Wolk-Stanley
"Use it up, wear it out, make it do or do without."
Click HERE to follow The Non-Consumer Advocate on Instagram.
Click HERE to join The Non-Consumer Advocate Facebook group.