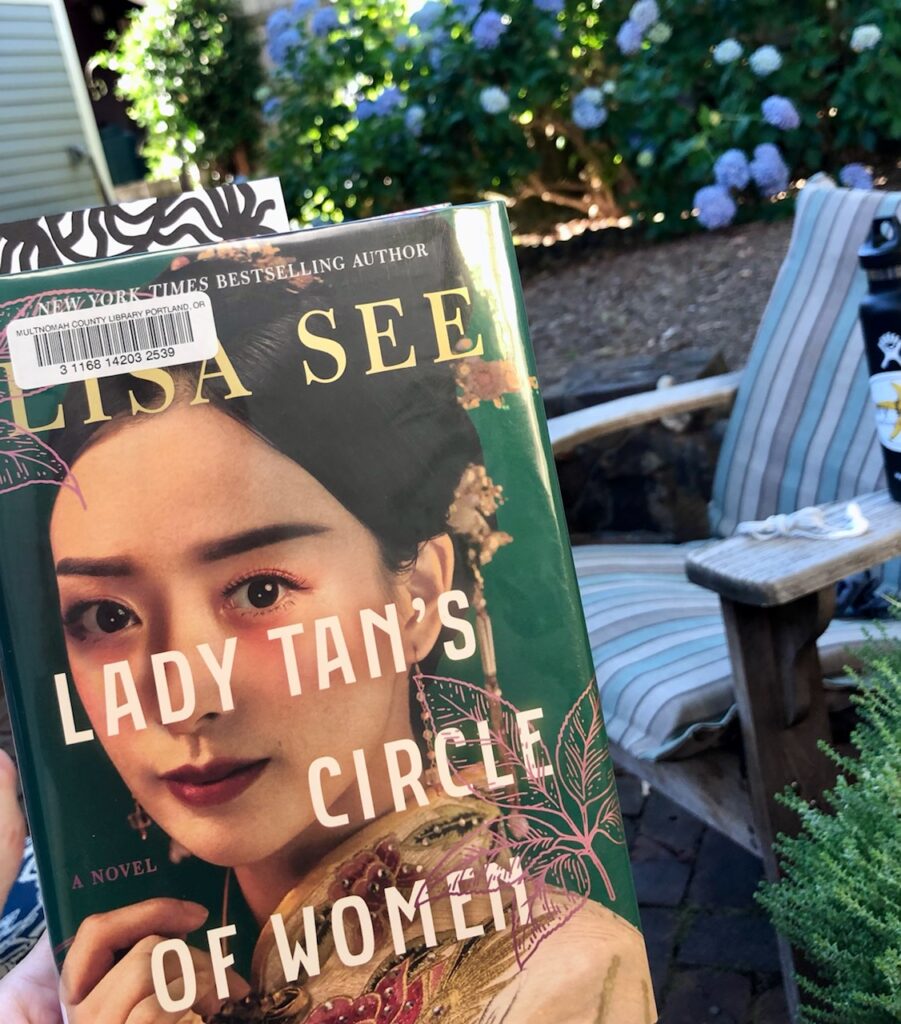 I read a library copy of Lady Tan's Circle of Women, by Lisa See, which was as close to perfection as a book can be. I usually bury my library reads at the end of a blog post, but this book deserves its own spotlight.

Click HERE for an excerpt.

My mother handed down an antique barrister bookcase that my parents bought in 1963 or so. I grew up with this piece of furniture and always liked it, so I knew I had to say "yes" now and figure out where to put it later. Luckily it tucked perfectly into a corner of the dining room where we'd always kept an antique tall boy dresser. The dresser got demoted our downstairs spare bedroom.

Putting this piece together was a challenge as my husband was out of town and it disassembles into twenty pieces and normally would require a second set of hands. I somehow figured it out without smashing any of the glass panels and feel like I should've been handed an acceptance letter to Mensa by the end.

The tallest top shelf is perfect for my husband's cocktail supplies and I'll figure out what to display on the lower shelves at a later date. You know, after I complete this Mensa admission exam.

I've been enjoying oatmeal for breakfast a couple times per week lately. Of course it's bulk purchased from Winco Foods, which makes it super über frugal. Having all my bulk food in such organized pretty jars makes this choice much more appealing.

• I watered a neighbor's garden for her while her family was out of town and she gifted me a jar of her fantastic homemade pesto as a thank you.
• I listed a couple items on eBay, which I haven't done in a long time.
• I sold a single item on eBay, which was a groovy Tate Museum T Shirt.
• I put "FREE" signs on a plant stand and a weird thrifted painting and then set them out on the curb. Fly free, stupid purchases!
• I cajoled my friend Lise into coming with me to Trader Joe's, which ticked off both "grocery shopping" and "socializing" from my to-do list.
• I stopped into Safeway and bought nothing more than the 97¢ sale-priced eggs.


I didn't buy tickets to go see Taylor Swift in Seattle.
Katy Wolk-Stanley
"Use it up, wear it out, make it do or do without."
Click HERE to follow The Non-Consumer Advocate on Instagram.
Click HERE to join The Non-Consumer Advocate Facebook group.