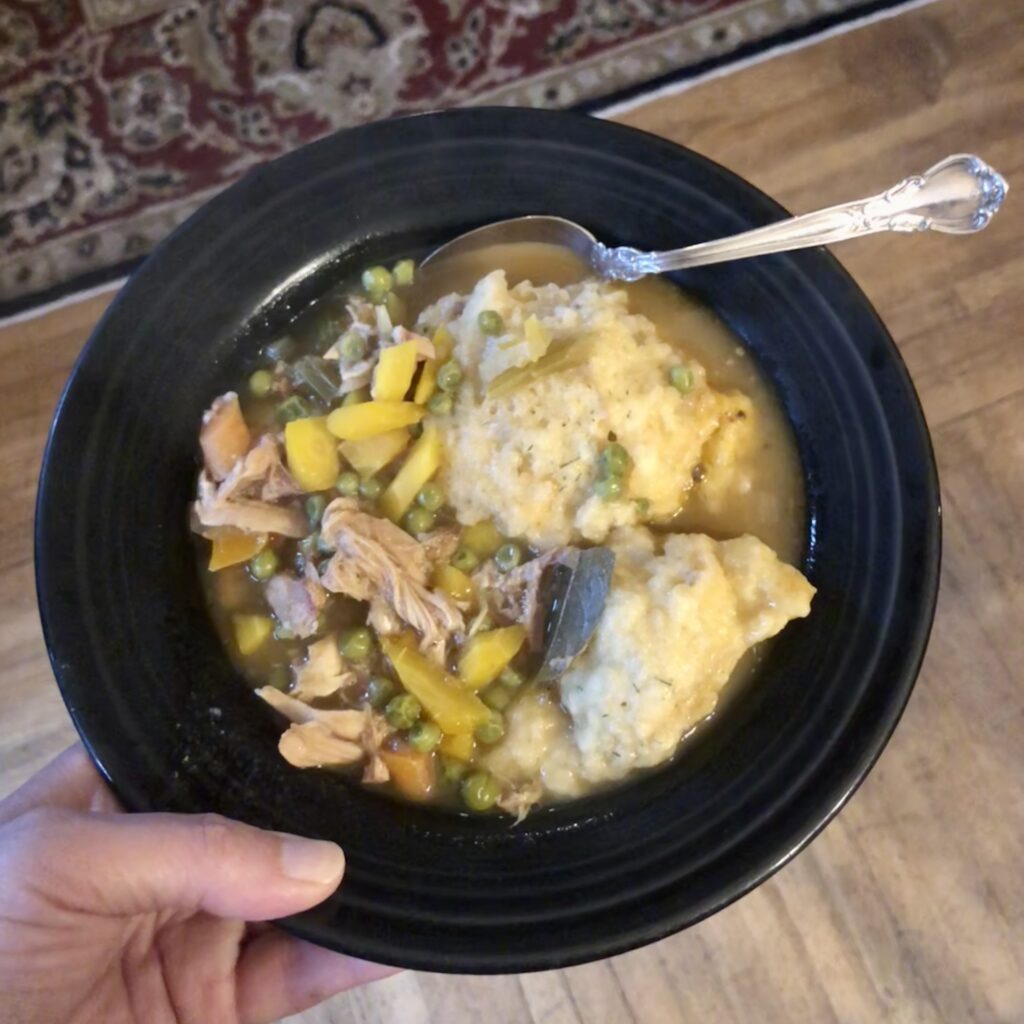 We celebrated my daughter's 28th birthday at the house featuring a gluten-free box cake with homemade chocolate frosting. My mother and stepfather provided takeout from our favorite barbecue restaurant, which was much appreciated even though the restaurant forgot to include my entree. Luckily I had a Costco rotisserie chicken in the fridge, which hit the spot just fine once I added BBQ sauce to my portion. My stepdad called the restaurant for a refund, so it was actually a frugal event?

I put the last of the rotisserie chicken in the Instant Pot and made two pots of chicken soup, (one with dumplings) plus enough broth to stock the freezer. This meal was perfectly timed as my son is nursing a nasty cold and Portland is finally enjoying some chillier weather. Soup and sweater season has finally arrived!

• My friend Lise brought over a surplus bottle of rice wine vinegar she no longer wanted.
• I also brought home more apples from the neighbor's tree. They'd set out a big bag with "FREE" written on it, so I took enough to bake a pie.
• My husband used a $25 Fetch Fred Meyer gift card to buy his work lunch supplies. It took forever to accumulate enough points to earn this card, but it was minimal effort so I'm happy to jump thorough a few hoops. I've been more consistent with tracking deals, which translates into earning points a little faster.
• I picked up three tubes of toothpaste and two bottles of shampoo from Dollar Tree.

I nabbed another Bonne Maman jar from my neighbor's recycling bin. I utilize these jars for bulk spices, as well as bits of leftovers as I prefer cohesive storage and think their faceted sides and gingham lids are super cute. Being able to easily source them for free ain't too shabby!

I didn't buy a Lear Jet, not even on Amazon Prime Day.
Katy Wolk-Stanley
"Use it up, wear it out, make it do or do without."
Click HERE to follow The Non-Consumer Advocate on Instagram.
Click HERE to join The Non-Consumer Advocate Facebook group.