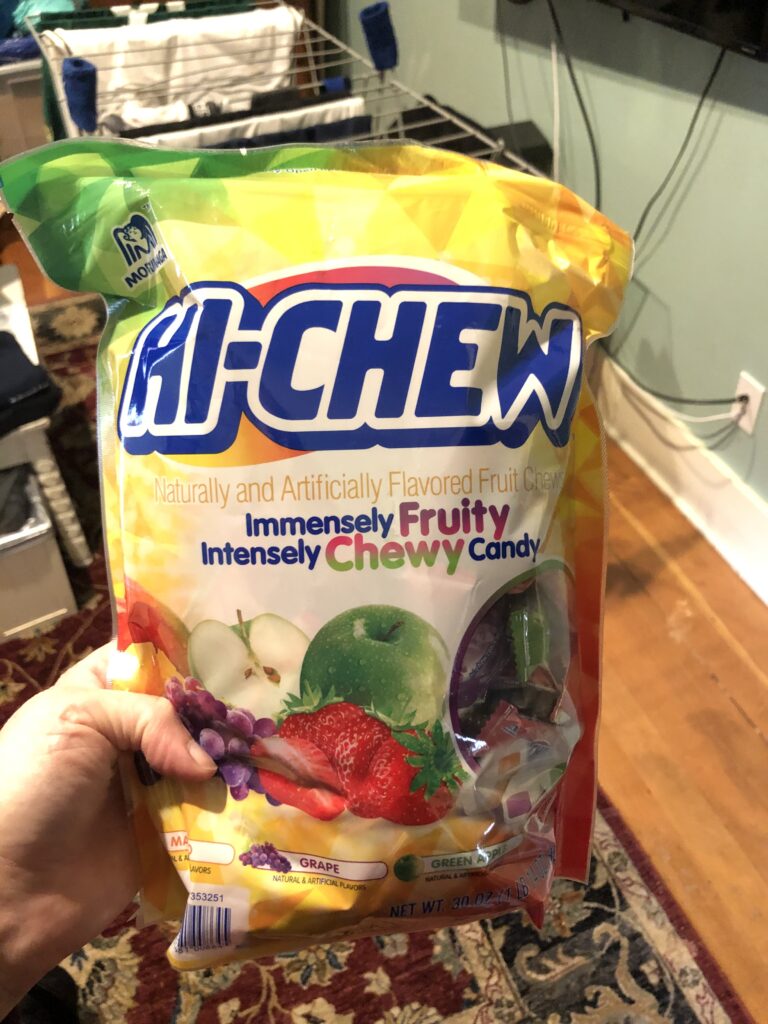 I stopped by the Franz Bakery outlet store with a completed punch card that would normally be worth five loaves of bread. Unfortunately pickings were slim so I grabbed just a single $2 loaf of Seattle sourdough bread and brought it to the cashier. I explained that I had a full card but wouldn't be using it since it was just the single loaf. She then gave me the bread for free and marked my card as such.

Hooray for free food! This bread is excellent for grilled cheese sandwiches and we've already used it for tuna melts.

My son's iPhone 8+ got wet from a leaky water bottle which frustratingly  happened on a Saturday night. The repair place we like is closed on Sundays, so we took it to a different place that charged us $35 to let us know that the phone was unresponsive. I picked up the phone the next morning and brought it to the good repair place where they're now subjecting it to a 48 hour intensive drying treatment. And unlike the other place, they don't charge you anything if they can't fix the phone.

My son has plans to buy a second hand phone if this one has truly kicked the bucket. The over-manufacture of consumer goods, specifically electronic devices has led to an environmental crisis, so I'll always at least attempt a repair.

** Update: The second repair shop was able to clean and dry the phone and even installed a new battery for just $50! Phone works fine now and we've avoided having to  buy a new phone!

Having said that, I did buy a brand new set of LL Bean sheets in 2020, which were actually a gift from my mother as a house-ish warming gift. (I suppose it was technically a "bedroom warming" gift, but that term gives me the icks!) My husband and I had repaired a few things in our bedroom, repainted everything and invested in a new mattress to replace the one we'd gotten for free over a decade ago.

The sheets were no bargain at $160, but I went with the NY Times' Wirecutter recommendation and profusely thanked my mother for her generosity. (Thanks, mom!) Unfortunately, the fitted sheet split in an odd spot the other day, which quickly turned into a 24-inch long raggedy tear that was in no way easily mended. So I called their customer service and was told that the one-year warranty had ended, but I could mail it back for them to evaluate. I know this seems silly, but I feel like three years is too soon for sheets to fall apart at any price.

I'll drop them off at the UPS store tomorrow and keep you updated.

I bought two bag bags of Hi-Chew packaged candies at Costco for just $6.99 apiece. (They were priced at $9.99, but had a $3-off instant rebate!) I'll hand them out on Halloween and won't even burden my neighbors with storing them, as I don't find them even remotely tempting. However, they were a huge hit with the trick-or-treaters last year.

I used to hoard Halloween candy coupons in order to not spend a fortune, but $13.98 is a bargain and so much easier than playing the coupon game.

I didn't buy a tiny Lear Jet.
Katy Wolk-Stanley
"Use it up, wear it out, make it do or do without."
Click HERE to follow The Non-Consumer Advocate on Instagram.
Click HERE to join The Non-Consumer Advocate Facebook group.