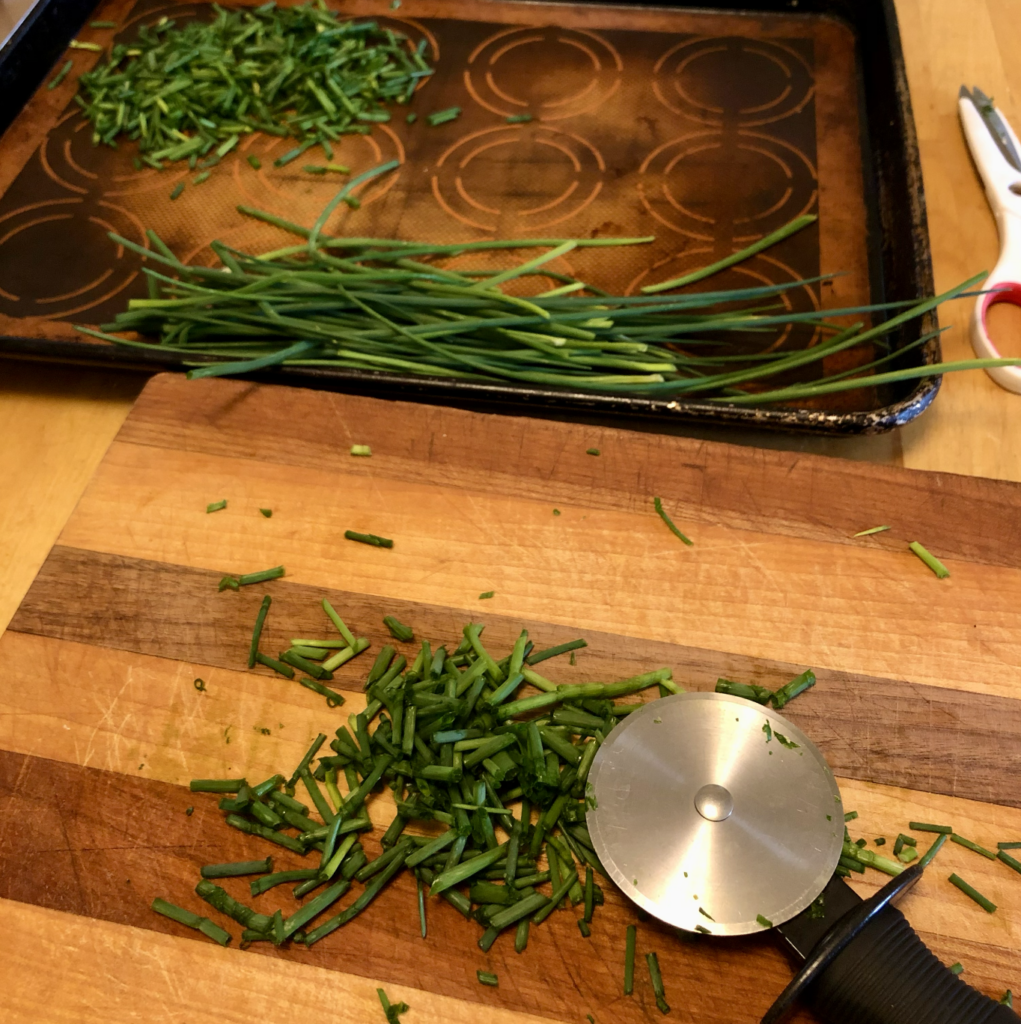 I have a pot of chives that I planted maybe twenty years ago. and they reemerge every year without fuss or bother, which is my kind of gardening! I snip bits throughout the summer and then forget about them until the following year.

This year I realized that I should be preserving the unused chives instead of letting them go to waste. I went outside with my kitchen shears and was surprised by how much was still left. I looked up how to preserve chives and read that it's as simple as cutting them up and just setting in a bowl to air dry. Just shuffle them around every day or so. They were taking a bit to dry as Portland's been especially damp this week, so I set the bowl at the back of my stove to take full advantage of any oven heat.

This action saved me maybe 50¢ as I buy my spices in bulk from Winco, but I'm sure my freshly dried chives will be tastier and certainly more satisfying!

I got an email from LL Bean this morning to contact them about the ripped fitted sheet that I mailed back (at their expense) a couple weeks ago. They explained that although my 2-1/2 year-old sheet was outside the normal return period, they'd replace it anyway. It took a few minutes on their end as I'd bought it as part of a set, yet wanted just the single sheet replaced. It's back ordered for a few weeks, but that's no problem as I'm embracing dim rainy weather with flannel sheets at this point in the year.

Their fitted sheet normally costs $69.95! So yeah . . . it should've lasted much longer.

I stopped by the Franz Bakery Outlet on my home from visiting my father. (I had a completed punch card and carbs are my love language.) Normally I have to pick through the shelves to find what I want, but today they were overflowing with amazing choices.

In the end I came home with two loaves of their Dave's Killer Bread dupe, an eight-pack of pub rolls, a restaurant size loaf of whole grain bread and a loaf of sourdough black rye bread. I paid nothing and found a penny in a puddle outside the store.

I picked out every single goddamned embroidered stitch on the hand towel that I bought at the pay-by-the-pound Goodwill Outlet last week. I completed this task over the course of two evenings and I would estimate I spent close to five hours on this task! However, it was while watching TV and I like to keep my hands busy as I zone out.

Does it look great? Not exactly, as you can definitely see where the stitches used to be. But that doesn't bother me and there aren't a lot of new frugal "hacks" to add to my repertoire at this point in my journey and I like to challenge myself to find new ways to take my frugality that much further. Total cost was maybe 15¢.

Here, see for yourself. Before:

During:

After:
5. I didn't buy any tiny Lear Jets.
"Use it up, wear it out, make it do or do without."
Click HERE to follow The Non-Consumer Advocate on Instagram.
Click HERE to join The Non-Consumer Advocate Facebook group.