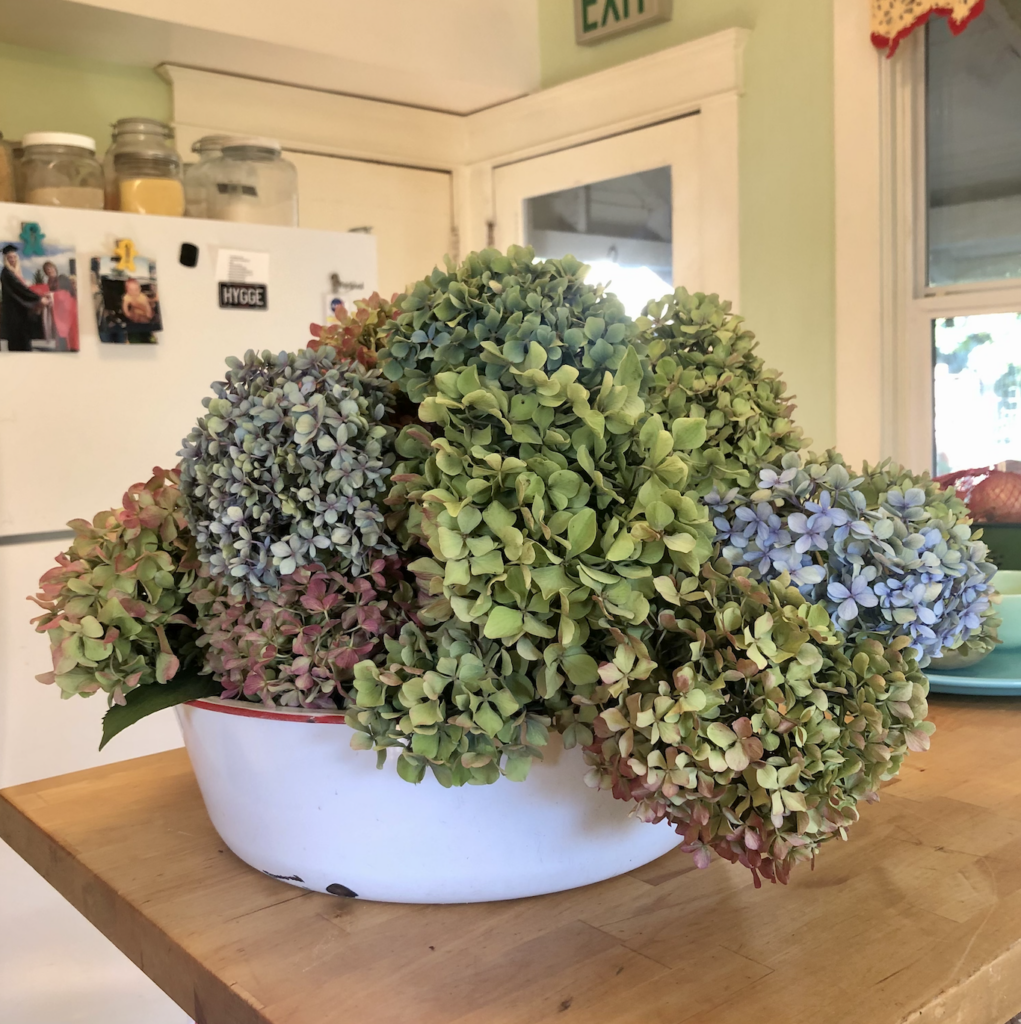 I made my own sauerkraut on Saturday, which is still in the fermentation phase so I can't report on its success yet. However, I'm feel very optimistic as the process is so simple I can't imagine how anything could've been done incorrectly. I wrote a blog post about it on Sunday, but am including it here in case readers didn't catch it.

I cut multiple armloads of flowers from my backyard hydrangeas as I didn't want their blooms to be destroyed by an overnight frost. Instead of clogging my home with floral arrangements, I put together eight bouquets of five flowers apiece for various neighbors. Some of whom I know well, others less so. However all appeared happy to receive a surprise flower arrangement.

I even brought flowers to my backyard neighbors who I barely know as they're renting the house from a family member. They weren't home when I deposited the hydrangeas on their porch, so I texted their cousin so he could let them know who the flowers were from. (I didn't want them to be weirded out.) They in turn surprised me with a thank you note and a heavy bag of apples from their tree!

This was so much fun, I know I'll repeat the practice in 2024.

I spent the week that my husband was playing baseball in Las Vegas visiting with friends and family, puttering around the house and garden; and indulging in the most delightfully low brow TV shows.

I'd initially planned to accomplish mighty tasks, but somehow somehow it felt better to chill out and not force myself to be performatively productive. It was cheap, relaxing and not too shabby!

P.S. My husband didn't gamble a single penny.

• I set out the very same Halloween porch decorations that I've put out every year since 2006 or so, when an old neighbor handed them down to us.
•  I pulled a pound of sale price butter from the freezer as I've decided to make my Thanksgiving apple pies ahead of time. (Seriously — so many apples!) Stocking up on sale price food saves me a ton of money in the long run, even when it costs extra at the time of purchase.
• I raked my sidewalk and brick patio by myself instead of paying someone to run a leaf blower as many of my neighbors do.
• I made a huge pot of chicken soup with carrots, onion, celery and peas using the last scraps of a Costco rotisserie chicken. Cooking it down in the Instant Pot also supplied extra broth for the freezer, which is a favor to my future self. A perfect meal for this cold weather.
• I walked with my friend to drop her paper grocery bags at a consignment shop that'll put them back into use.
• I haven't touched the Halloween candy that I bought at the beginning of September at Costco. This, my friends is a true frugal accomplishment!

I didn't buy a Lear Jet.
Katy Wolk-Stanley
"Use it up, wear it out, make it do or do without."
Click HERE to follow The Non-Consumer Advocate on Instagram.
Click HERE to join The Non-Consumer Advocate Facebook group.