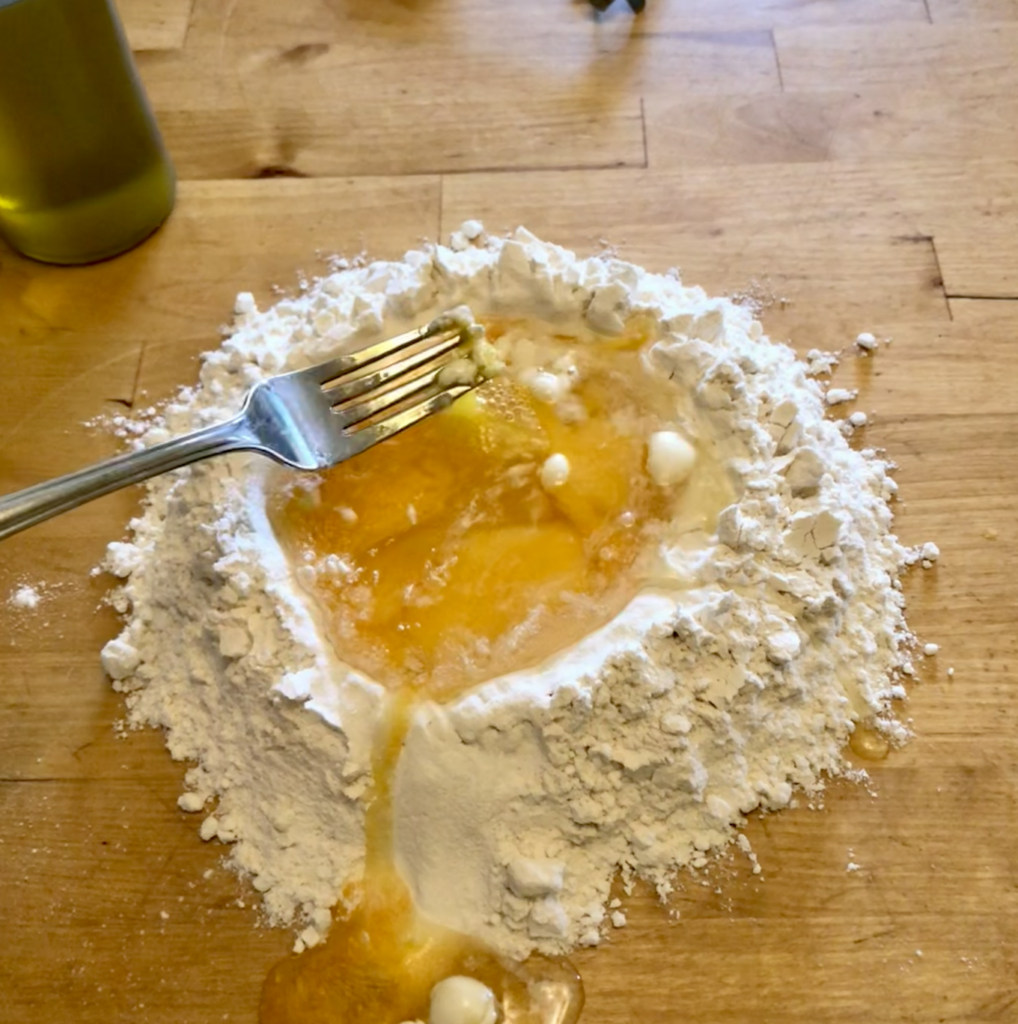 I made a batch of homemade pasta for the family which was both fun and tasty. It didn't turn out perfectly as I coiled them into little nests before they were sufficiently dry. However, it was still a success as most of the linguini-style noodles separated just fine and I used kitchen scissors to fix the rest. Here's the recipe I used.

I topped the pasta with chicken breast and Costco pesto, which was almost unbearably salty. (I won't buy it again.) It made me think about how my summer pasta dishes were made with homemade pesto and store bought pasta, so this was an opposite meal. I loved having endless fresh basil this summer and need to remember to grow extra next year.

For those who might think I'm an impressive urban farmer, let me remind you that I just buy the $3.99 pot of Trader Joe's basil and just separate out the twenty or so small plants that come in the pot. I'll make sure to double my investment in 2024!

I brought my friend Lise a small jar of the taco seasoning that I buy in bulk at Winco as she'd expressed curiosity about it. I use it to add a flavor punch to chili, refried pinto or black beans. She had three leftover uncut pumpkins on her front porch from a family jack-o-lantern carving party, and she sent me home with one. It was uncomfortably heavy and I thought my arms might drop off before I got home.

It reminded me of a story from when I was in kindergarten and my class walked to Lloyd Center Mall to pick out pumpkins. The other kids chose cute little ones, but I had my eye on a behemoth. I then had to carry it the full 12 blocks back to the school, which absolutely did me in. My mother began to worry when I didn't come home on time and left the house in search of my five-year-old self. She located me sucking my thumb and sitting on my pumpkin a couple blocks away from the house.

So yes, that's what I felt like yesterday. But without the urge to suck my thumb.

I used a ziploc freezer bag for my pasta dough instead the suggested saran wrap as I try to avoid single use plastic. I buy "freezer" bags as they're thicker and stand up to multiple gentle washes. I grab a box every four years or so and although I'm not precisely sure how many times I'm able to reuse them, it's at least a couple dozen. This kitchen cabinet sits above a heat register, so the clipped inside-out bags dry efficiently in this spot.

I've tried the silicone ziploc bags, but they always pop open so I'm no fan.

I didn't carry a Lear Jet home.
Katy Wolk-Stanley
"Use it up, wear it out, make it do or do without."
Click HERE to follow The Non-Consumer Advocate on Instagram.
Click HERE to join The Non-Consumer Advocate Facebook group.