In my unending quest to spend as little as possible on quality groceries, I decided to try making my own sauerkraut. I'd heard that it was easy, but the idea of doing my own fermentation was a bit intimidating. I looked for a recipe and settled on this one from The Kitchn and picked up a big ol' head of cabbage from Trader Joe's.
Why Trader Joe's? Because they price per item instead of by-the-pound, so you can get bargain produce if that item happens to particularly heavy. Examples being butternut squash, cantaloupe, cauliflower and yes — cabbage. I paid $1.99 and you shouldn't be surprised that I did my best to buy the biggest one!

The only ingredients in this straightforward recipe were cabbage and 1-1/2 tablespoons of kosher salt. I used the Himalayan pink sea salt that I already had on hand from Dollar Tree as it's similarly chunky.
Once the cabbage was chopped and sprinkled with salt, it was time to get to work. The recipe described it as "massaging," so that's what I did. (Wow mon petit chou chou, you really hold a lot of tension in your shoulders!") The amount of slivered cabbage was massive, so I assumed I'd need two quart-size canning jars, but the volume went down an absolutely tremendous amount.
From this: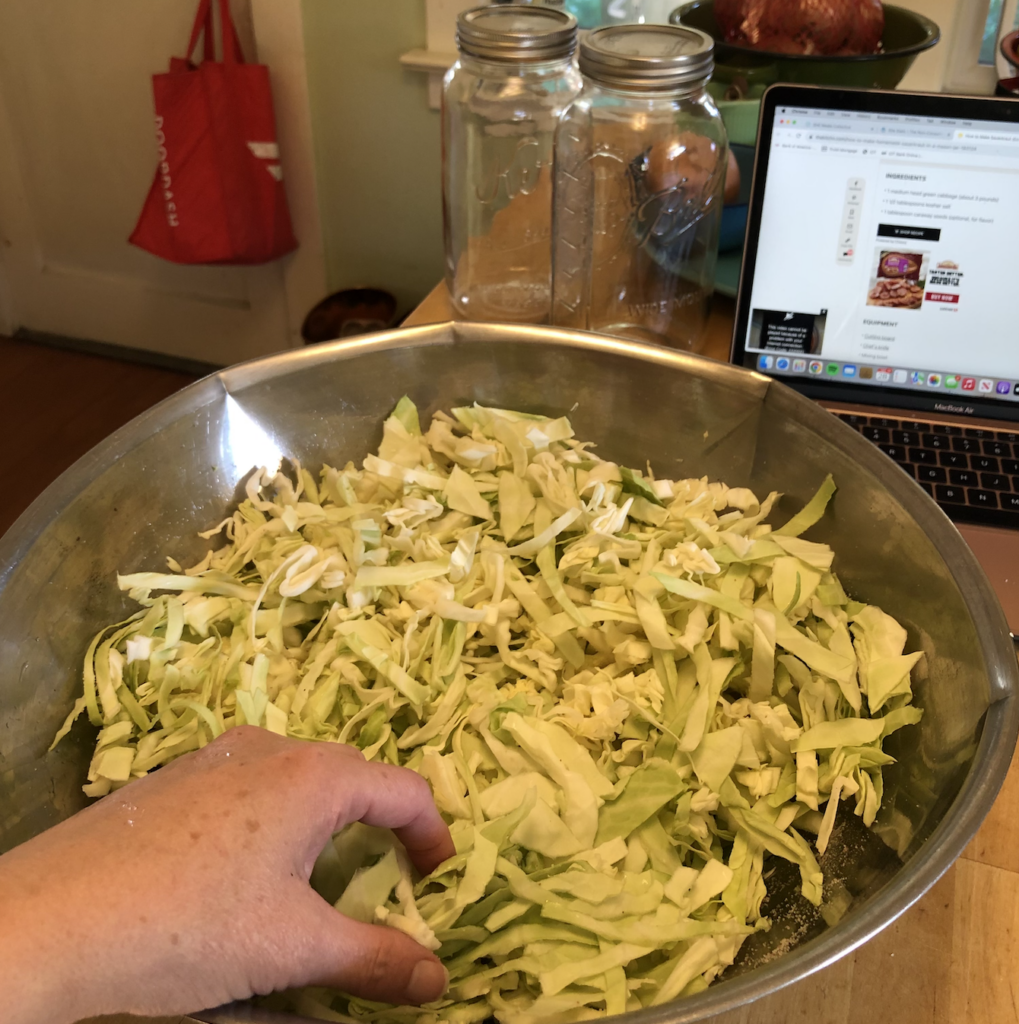 To this: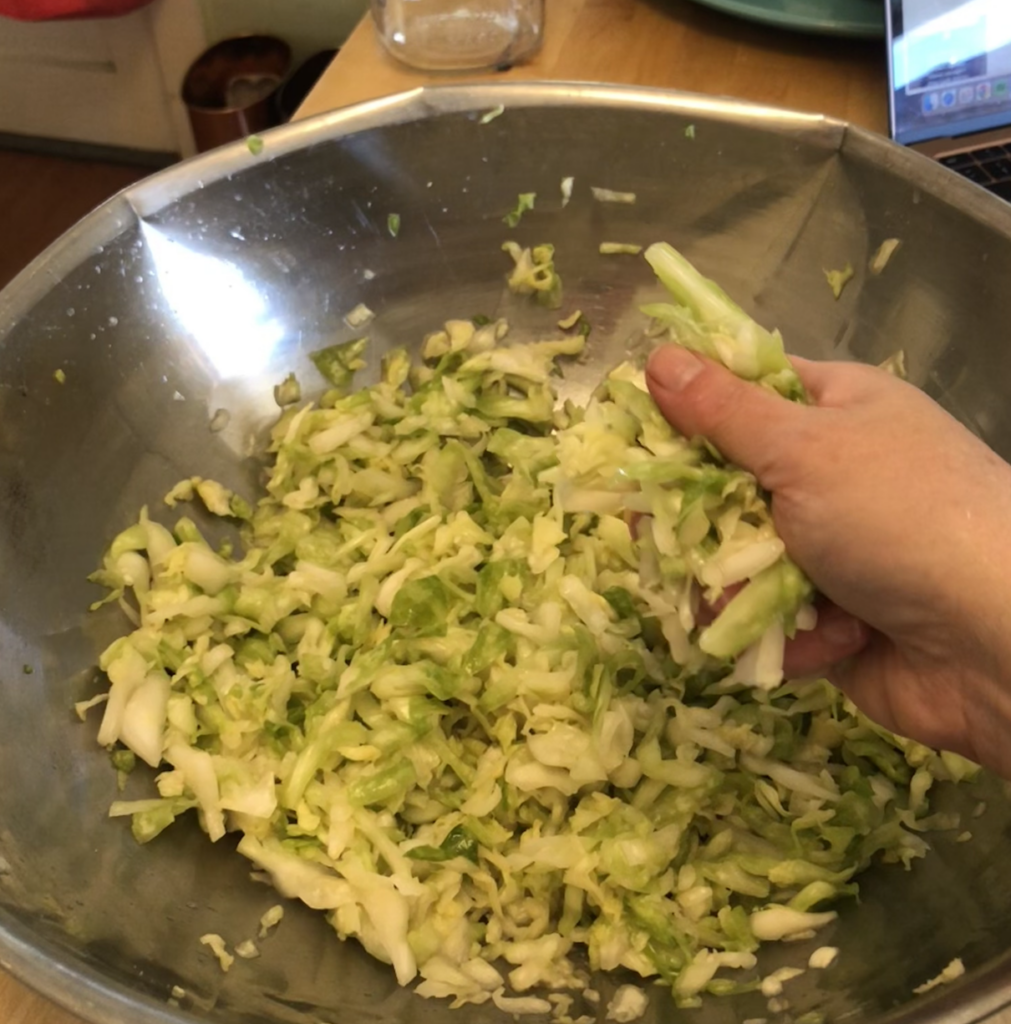 All sauerkraut recipes call for it to be weighed down in order to ensure that the cabbage stays under the briney liquid for proper fermentation. I used a brand new Ziploc freezer bag filled with glass marbles and I also placed a single cabbage leaf between the two layers, which I saw in a different recipe. The top is then covered with a bandana so it can breathe while staying clean.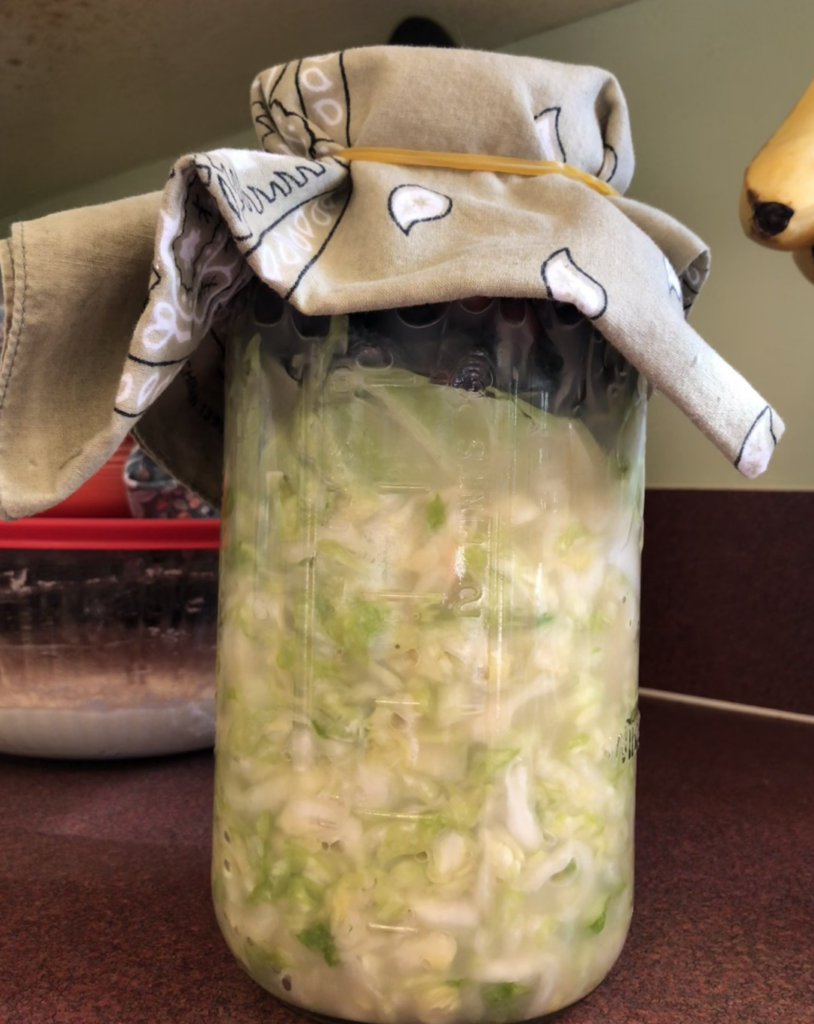 The recipe did suggest caraway seeds as an optional addition, but I didn't have any and I wanted my first attempt to be as simple as possible. Other recipes include additions such as carrots, beets, lemon peel and even juniper berries.
The jar now sits on my counter and I'll start to taste it after three days of fermentation, although it can take up to ten days. I'll then cover it properly and stick it in the fridge once the flavor is right. I'm very pleased with myself for making my own sauerkraut, even though it couldn't have been more straightforward!
I kind of feel like an ole timey Alaskan homesteader. Maybe I'll go out panning for gold as my next frugal hack!
Have you made your own sauerkraut? Please share your stories in the comments section below.
Katy Wolk-Stanley
"Use it up, wear it out, make it do or do without."
Click HERE to follow The Non-Consumer Advocate on Instagram.
Click HERE to join The Non-Consumer Advocate Facebook group.