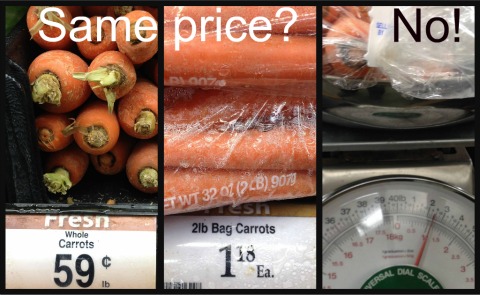 I took my older son to Costco yesterday to deal with a pair of woefully misshapen wire-rimmed prescription glasses. You may recall that we just had his frames replaced, but my son fell asleep while wearing them and warped the frames all over again. The woman was somehow able to twist them back into shape using that weird hot bin of plastic crystal thingies. Since we have prescription glasses coverage, I had her check into how much a backup pair would cost, and it ended up being a mere $25 for another pair, including the extra scratch protection! We then ate a few samples and gassed up the Prius, even though it only needed a half tank of gas. Might as well get the cheap gas whenever possible!
I called our insurance agent yesterday and had a long conversation with her about our car insurance. I'm wanting to increase our collision and comprehensive deductibles, but I also asked about any additional discounts we might qualify for. When I told her about how my husband bicycle commutes, she bought up the "low driver's discount" which is going to save us $448 dollars per year! All we have to do is drive less than 8,000 miles per year and fill out odometer paperwork a few times per year! And when I call her on Monday to let her know which deductibles we've chosen for the cars, we'll save even more. Hmm . . . I just realized that we didn't even begin to discuss our home owner's insurance.
I used the PLKMP982 Redbox promo code to rent two free movies over the past two days. First was Interstellar for my husband and second was Big Hero 6, which my 19-year-old son had wanted to watch. I think I'll likely go into withdrawal after April 30th when this code expires. (Remember, this code can be used across the U.S., but is only good for placing movies on hold through their website or app.)
I walked over to Fred Meyer yesterday and picked up a discounted $1.39 gallon of milk and a bag of carrots. Only, the individual carrots were 59¢/pound and the two-pound bags were $1.18. Same price, right? Nope. I brought three heavy feeling bags over to the scale and chose one that weighed in at almost 2-1/2 pounds.
I recently discovered that you can make tasty roasted vegetables in the George Foreman grill, which I had previously only used for somewhat lousy panini sandwiches. Just toss the carrots in a small amount of olive oil and roast for ten minutes or so. I've been on a carrot kick, but plan on trying sweet potato wedges, beets and mushrooms soon. And the best part is the flavored oil that leaks into the tray can be used repeatedly. People, this treat is heavenly! And I'm guessing a helluva lot cheaper than heating up an entire oven to 450º. (Thank you to Simply Being Mum for sharing her yummy tip!)
Now your turn. What frugal things have you been up to?  
Katy Wolk-Stanley
"Use it up, wear it out, make it do or do without."