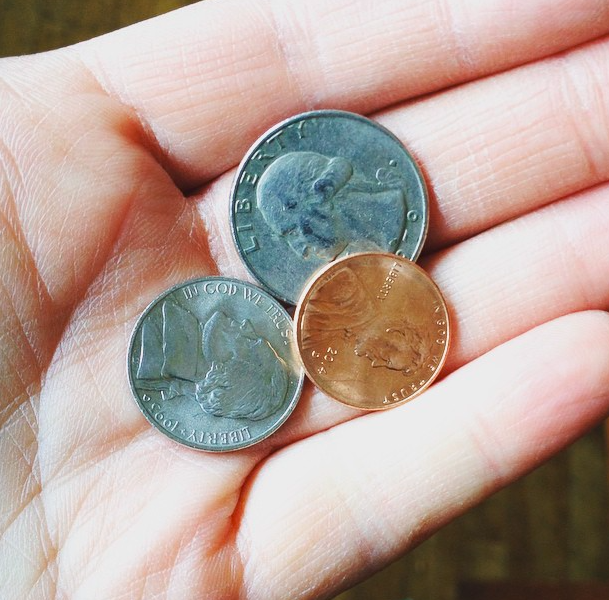 I noticed that some previous customer had left a Grocery Outlet receipt in the bottom on their shopping basket, which included a $3-off-$30 coupon. It wouldn't be valid until the dates of June 10-30th, but I sure as heck snagged it for myself. $3 off already discounted groceries? Umm . . . that's a no brainer!
I finally sold my $15 thrifted backpack for $60 through Craigslist. (Okay, maybe not really finally, but I did have to relist it probably four times.)
I meant to walk over to Fred Meyer at some point yesterday to buy lettuce for a salad to accompany our dinner. (Hamburgers on homemade buns.) I never got around to it, but I remembered that I'd already cubed a 59¢ Grocery Outlet cantaloupe, which was waiting patiently in the fridge. I served the fruit instead of a salad, which both saved me an errand and kept me from impulse buying anything at the grocery store. And by the way . . . perfectly ripe and delicious!
The zipper on my wallet is broken, and I've been keeping an eye out for a new (okay, used) replacement with no success. I posted in my local buy nothing group, but got zero-point-zero responses. (The group seems very keen on accepting free stuff, but isn't so great when it comes to offering up free stuff.) I browsed at the boutique Goodwill near my house, but their wallets were priced at $10, which is too rich for my blood. (Less money spent on a wallet = more money in the wallet!) But then I remembered that I still had a store credit at The William Temple House Thrift shop across town. I'll be halfway there after dropping my older son at school tomorrow, so I'll stop by afterwards. Don't want to break my 2015 streak of spending no money on stuff!
I stopped at the credit union this morning and found 30¢ under the coin counting machine, I found a shiny penny at Fred Meyer, I finished one library book and started another, I donated at Goodwill and precisely wrote down the items on the receipt, I cooked from scratch, I used yesterday's tea kettle water to water a plant, I listened to free podcasts from Gretchen Rubin and Dave Ramsey, I resisted a cross town errand as I knew it could be batched today and I didn't buy a Lear Jet!
Now your turn. What frugal things have you been up to?
Katy Wolk-Stanley
"Use it up, wear it out, make it do or do without."