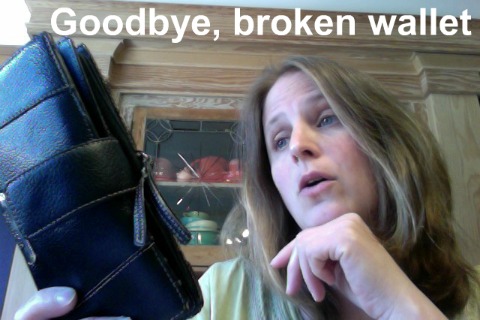 Because I follow The Compact and choose to only buy used, my purchases have to be planned out ahead of time. There's no "Oh, I need a new whatsit, I guess I need to swing by Target." Instead I have to allow time for the process of buying used to unfold. I'm going to use my recently replaced wallet as an example. (Please imagine me sitting in a sun dappled meadow petting a kitten while I ponder the wallet dilemma. In this scenario I'm wearing a breezy sundress which highlights my nipped in waist and ample yet perky bosom. Also, there should be thought bubbles.)
Crap, my thrifted wallet has a broken zipper, and my coins keep spilling out into the bottom of my purse.
I wonder if it's fixable? Sure, I probably spent only $4 or so on it in the first place, but I'd rather fix something and keep it out of the landfill. Then again, the card slots have been getting increasingly stretched out to the point where I have to stuff dead gift cards behind the regular cards to keep them from falling out.
Damn, I think I actually need to replace the wallet.
I wonder if anyone has one lying around that they'd just give to me? I should post on my local Buy Nothing Facebook group. Hmm . . . nobody replied to my listing. I guess I need to admit defeat and just buy a used wallet.
I like to buy used, but I also like to save my dollars. (After all, less money spent on a wallet means more actual money in the wallet.) I've spent all my Goodwill gift cards, but I do have around $10 left on a William Temple House thrift shop gift certificate. I should go there.
Then again, The William Temple House is way across town. I should wait to run this errand until I'm already in the area.
I'll be dropping my son downtown for his last college final. That's not too far from The William Temple House. I should go and see if they have any wallets that I like.
Here I am at The William Temple House, I wonder where the wallets are? Oh, here they are. There's only one in the large style that I like. It's an Ann Taylor and it looks brand new and is priced at $5. I could swing that. However . . . it's black patent leather with a zebra-printed cowhide flap. That's unbelievably tacky. However . . . maybe I can pull it off as ironic tacky, sort of an homage to all that is tacky. Yes, I can definitely pull it off. Move over, Carmela Soprano!
So I introduce to you to my brand newish wallet, in all her tacky glory: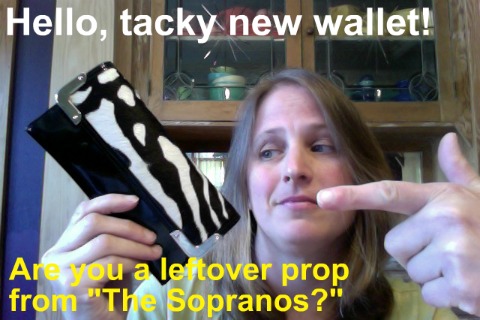 This is a totally normally shopping process. Right? Imagine the boring wallet I'd have ended up with had I gone the traditional American route and shopped at the mall. A newly manufactured wallet shipped from across the world, having been manufactured in a far flung and likely sketchy factory. No thank you!
I'll take tacky over sketchy any day of the week.
Fuggedaboutit.
Katy Wolk-Stanley
"Use it up, wear it out, make it do or do without."